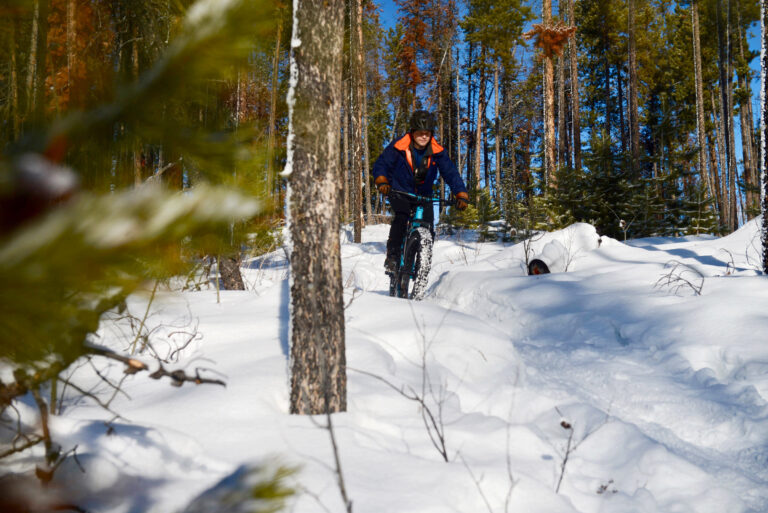 Tuesday, February 16, 2021
Midnight groomer sculpts a snow trail to perfection
This story originally appeared in the March 1, 2020 edition of The Jasper Local.
---
Some artists paint pictures, some artists write songs and some artists design buildings.
And then there is Jasper's JF Fortin. Fortin sculpts trails out of snow.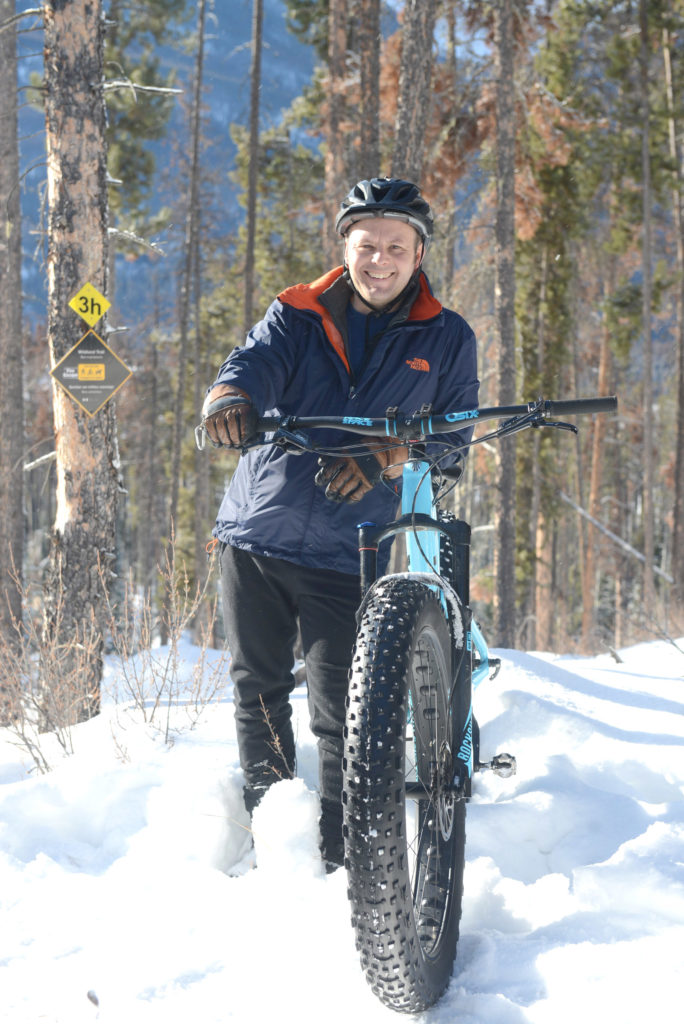 Every Thursday and Sunday, after his daughter goes to sleep, Fortin puts on his winter boots, dons his gloves, coat and hat and clicks on a small headlamp. He walks out his front door to his yard and locates two orange ropes—one of which he'll connect to his backpack and one of which he'll hold in his hand.
The other end of the ropes are attached to a six foot long pulk sled, which itself is kitted out with a custom-machined tiller and grooming "comb" that Fortin adapted himself. In five minutes, Fortin can walk to the Cabin Creek trailhead, sled in tow, ready to embark on his twice weekly winter mission: grooming an 8.5 km trail circuit on the Pyramid Bench.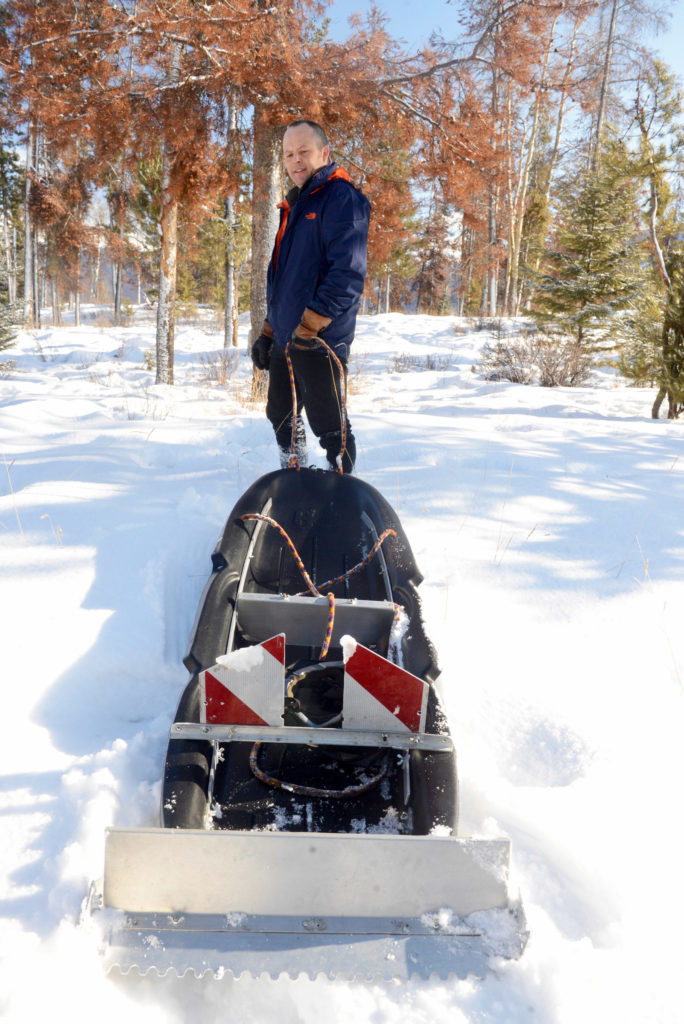 "I used to do it for myself," says Fortin, who works as a mechanic at the Fairmont JPL. "But now I do it as a sort of project for others to enjoy."
Since January, JF the Trail Faery, as he's been christened by Jasper fat bikers and hikers alike, has put in hundreds of hours on the west end of Jasper's extensive trail network, smoothing, raking and packing down a snow trail with his homemade sled-groomer. Depending on the trail building required, the grade of the slope and the energy in his reserves, Fortin will fill the sled full with snow to weight it down, stopping periodically to fill in soft spots with a shovel. For up to five hours he'll trace paths between Trail 3 and Trail 8, always culminating with a pass on what's become known as his piece de resistance, the Wildland Route know as Fire Escape.
"It's got the perfect flow," he says. "And I think it's even better in the winter than the summer."
Fellow fat bikers are in agreement. The snow fills in the spaces between the rocks and roots, makes the soggy, swampy sections a distant summer memory. Like a digital tracer in a video game, the path shows the rider the perfect line to maximize the landscape's natural contours and transitions. With just the right momentum, taking the trail's banked turns seems effortless.
"It is such a fluid trail," Fortin says. "It flows so easy."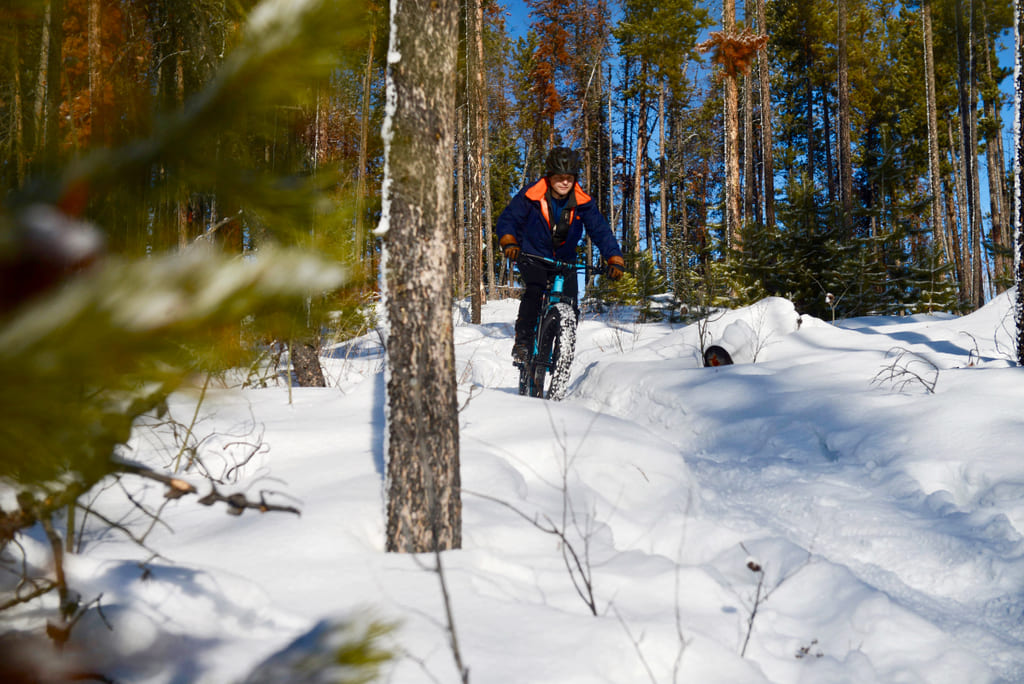 To get it in such terrific shape, of course, has been anything but easy. But although the grooming and the shovelling and the shaping has been hard work, for Fortin, it's also been a meditative experience.
"I love looking back and seeing those groomer marks, it's very satisfying," he says.
And what's even more satisfying is knowing that others are enjoying it too. Fortin says he gets a kick out of reading other trail users' comments on social media. Even better is when he sees someone in person, riding or running with a huge smile on their face.
"I love it," he said. "The other day someone said 'You must be JF… thank you!' and rode by."
Not that he's done the work entirely solo. Other walkers, riders and bootpackers have helped pack down Fire Escape and its connecting arteries, and he's even lent out his sled to keen Jasperites who want to open up other trails on the Pyramid Bench (watch the Jasper Winter Trails Facebook page for updates on Sidewinder and Razorback).
That's all good for Fortin, who, when he's not logging miles on local snow biking circuits, is working on a new grooming prototype which will carry his bike while he leaves crisp corduroy in his wake.
For although he may be a dedicated trail sculptor, he's not about to claim exclusive rights to his art work.
"This is for all of us to enjoy," he said.
---
Bob Covey // bob@thejasperlocal.com