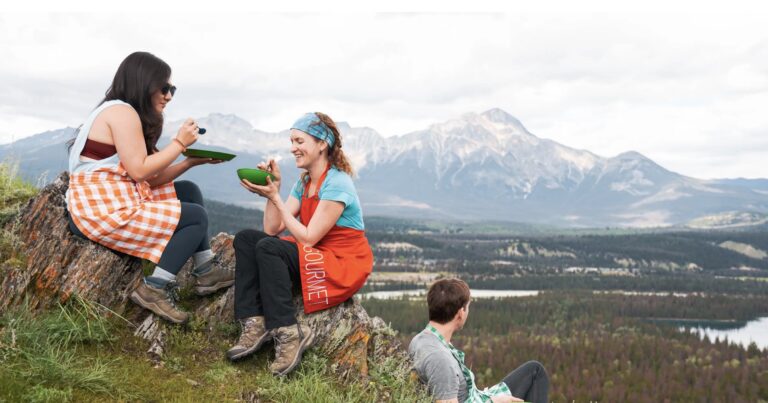 Thursday, August 3, 2023
Cooking with gas: Jasper Food Tours laps up travel experience award
If Estelle Blanchette had a crystal ball in 2018, she definitely wouldn't have started Jasper Food Tours.
The business launched just 18 months before the COVID-19 pandemic changed the world and devastated the local economy.
"I wouldn't have done it," she said. "Trying to operate in the midst of all that…I had panic attacks every day."
Five years on, she's glad she persevered. Thanks in part to its new "Bites on E-Bikes" offer, her business is cruising along on turbo speed and recently, Jasper Food Tours was recognized among the best in Canada by Viator, a Tripadvisor subsidiary which specializes in providing exceptional travel experiences.
Because of the high number of exceedingly positive reviews from Viator's customers who took a Jasper Food Tour, the company has rocketed to the Top 10 in rankings among Food Tour Experiences in Canada.
"There are a lot of food tours in Canada," Blanchette blushed. "We couldn't be happier to be receiving this award."
And visitors to Jasper—particularly self-identifying "foodies" who also have a taste for adventure—apparently couldn't be happier to take a Downtown Food Tour, the offer which has become JFT's bread and butter (or should we say artisan sourdough with oil and vinegar). The tour's mixed menu of sampling creative food and drink, learning Jasper history and meeting new foodie friends has pleased enough patrons that, on summer days, Blanchette is often sending two groups of 12 guests to delve into Jasper's delicious dining scene.
"We're not a farming community, we aren't a huge city with celebrity chefs, but what really makes the difference with the food scene in Jasper is that we have a ton of owner-operator restauranteurs," Blanchette explained. "That translates into high quality food and service that's not to be ignored."
If you're a food-loving cyclist, JFT's Bites on E-bikes program is also hard to ignore. Starting downtown, the tour wheels its way by Old Fort Point and the Fairmont Jasper Park Lodge before its first pit stop at Maligne Canyon Wilderness Kitchen. After being satiated there, riders hop back on their steeds and throttle by Lake Edith and Lake Annette en-route to the Fairmont's Thompson Terrace, adjacent to the Jasper Park Lodge Golf Club. After some very civilized snacking, they then meander to Tekarra Restaurant for dessert, and finally, the riders can reflect on their gastronomic adventure while overlooking the spot where the Athabasca and Miette Rivers meet.
As she reflects on her own career's flow in Jasper—learning hotels with Mountain Park Lodges, finding her way on the board of the local tourism bureau, and identifying an unfilled cultural niche for a food-savvy clientele—Blanchette is just happy to be doing something she loves. The "Peak-Nic" experience offered by Jasper Food Tours, which helps visitors discover the joy of cooking in the backcountry, is particularly close to her heart.
"As Jasperites, a lot of us have those skills but many visitors are intrigued with how you cook a feast on top of a mountain," she said.
Now, not only is she showing how to make paneer from scratch while overlooking her home town, Blanchette is enjoying the view from the top of the Tripadvisor heap. Along with tourism expert, entrepreneur, rock climber and ice carver (yes, she does that), the Quebec native can add Viator Experience Award winner to her diverse resume. Although when it comes to the latest accolades, she is quick to give credit to her staff.
"There's a big difference between a good guide and a memorable one," she said. "A memorable guide is going to make you laugh, evoke emotions and really make a connection."
It's a menu that Jasper Food Tours is executing every day. Book a food tour at jasperfoodtours.com
---
Bob Covey // bob@thejasperlocal.com