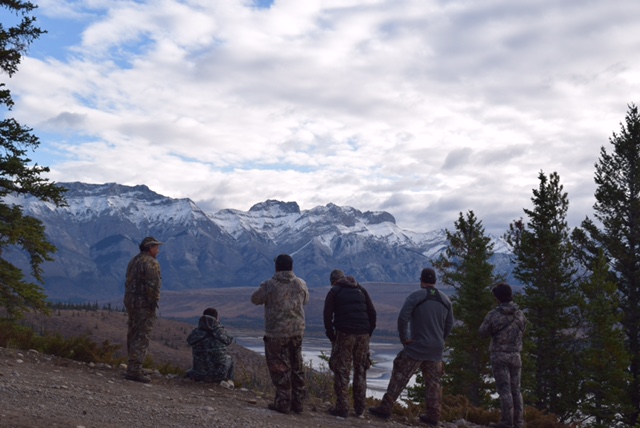 Wednesday, October 18, 2023
Indigenous harvest in Jasper to reconnect First Nations
Two First Nations have signed an agreement with Parks Canada to carry out a traditional hunt in Jasper National Park.
The two nations, whose traditional territories overlap the Rocky Mountains, are reawakening their relationship with each other and the landscape, said Stoney Nation spokesperson Barry Wesley.
"This is a long time coming," Wesley said. 
For time immemorial, every four years, the Stoney and the Simpcw First Nation had an agreement to trade and hunt together. A formal treaty in 1895 ratified this historic relationship, but when Canada's Rocky Mountain national parks were created in the early part of the 20th Century, the quadrennial meet-up was prevented.
"All of a sudden we were denied access to practice our treaty rights," Wesley said. "We weren't able to harvest or do ceremonies for healing and hunting."
It remained that way for more than a century. Then, in 2017, members of the Simpcw took part in a traditional hunt in Jasper National Park. The occasion marked an historic return to the land for the Simpcw, whose main village is near Barriere, B.C.
Now, six years later, Jasper National Park is again working with the Simpcw, but also with the Stoney Nation, to facilitate another Indigenous fauna harvest. From October 23 to November 13, a temporary closure covering the areas east of the Snaring River—north of Highway 16 and the Athabasca River—will be in place to support the three-day hunt.
The area can sustainably accommodate the harvesting of up to six white-tailed deer, four elk, two bighorn sheep, one moose and two black bears, according to Parks Canada's wildlife specialists, who collaborated with Simpcw First Nation and Stoney Nation to come up with harvest recommendations.
"It takes partners to get this to happen," Wesley said.
Jasper National Park Superintendent Alan Fehr has said Parks Canada has a strong interest in helping Indigenous, Aboriginal and Métis communities reconnect with their traditional home lands.
"Facilitating this harvest is just one way we're supporting the Simpcw First Nation and Stoney Nation to reconnect to their territories," Fehr said in a press release. 
The Simpcw are part of the larger Secwepemc, or Shuswap Nation, whose traditional territory extends from south of Barriere to McBride, B.C., up to Grand Cache, close to Hinton and down towards Banff and Revelstoke.
The Stoney Nation's traditional territory is along the eastern slopes of the Rockies, including parts of British Columbia, all the way down to Montana, Wesley said.
"We are the Mountain People," he said.
But in the recent past, the Mountain People were not welcome to practice ceremonies, hunt nor harvest plant medicine in Jasper National Park. Wesley remembers his grandparents having to surreptitiously harvest plants in the national park.
"They were threatened by park authorities with fines, tickets and being put in jail," he said.
Those were "dark days," Wesley said. More than two decades ago, his mother, a traditional healer, asked him if he could help affect change.
"She told me 'I'm tired of sneaking in to my home, my backyard, can you do something?'" Wesley remembered. "I told her 'let's see how far we can get.'"
In 2005, Wesley and other First Nations leaders, alongside Parks Canada, helped establish the Jasper National Park Indigenous Forum. Among other steps toward reconciliation, those meetings helped incubate discussions of plant harvesting and establishing dedicated ceremonial grounds for Indigenous Peoples.
"She was so happy when we did ceremonies at those sacred sites," Wesley said.
Wesley's mother has since passed, but he believes she would be equally pleased by the efforts of today to establish a traditional fauna harvest.
"I'm sure she'd be proud," he said. 
Parks Canada has also said that the agreement between Parks Canada, the Simpcw and the Stoney Nation is part of a larger move within the agency to restore First Nations' influence on how national parks are managed.
"We've been moving in this direction for about 20 years now, in term of providing greater influence for Indigenous communities with ties to Jasper, in the management of Jasper National Park," spokesperson Mark Young said.
Wesley said reawakening the treaty between the Stoney and the Simpcw will help connect younger generations to traditions that have been lost over time.
"From the 1900s up to my generation, we missed out on the journey of this treaty between two nations," he said. "Now we're bringing it back for the next generation."
---
Bob Covey // bob@thejasperlocal.com