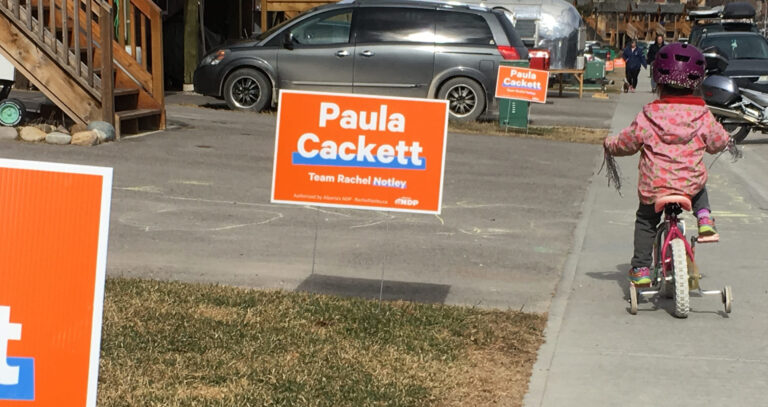 Sunday, April 14, 2019
Opinion: NDP platform appeals to young families
Most mornings, if I'm on the ball, just before our toddler pulls out all of her toys and books and crafts and games and spreads them all over the floor, I try to get us outside.
This has been much easier as of late, what with the winter finally relenting. Bundling isn't as critical. Arguments about neck warmers are a thing of the past. I don't have to trick anybody into wearing thick mittens.
And bike rides, hooray for bike rides! We've got a regular route around the block (which usually ends up with me carrying the bike back uphill). It takes about 30 minutes, depending on how many people, dogs and sticks we meet along the way.
These days, however, our route has a new look. The neighbourhood has a decidedly orange flavour.
There's no doubt in my mind that residents are showing their support for newly-minted NDP candidate Paula Cackett because she's a Jasper local. We're proud to call a smart, ambitious, fresh-faced leader one of our own.
But there's something else going on, too. I think the reason there is a preponderance of Team Notley signage in the 1,000 block of Bonhomme Street is because of the preponderance of young families who live there.
Young families appreciate the $25 daycare that was introduced to childcare facilities across Alberta. Young families care about their kids having enough teachers in their schools. Young families want their teenagers to earn a higher minimum wage. Young families want their children to feel safe in school if they identify as LGTBQ. Young families don't want their kids to have easy access to tobacco products.
Young people, in general, want to know their government is moving forward on climate change policy. Young people like green transportation initiatives. Young people want tuition freezes.
The signs aren't a coincidence. They're not just a case of a hometown favourite. The NDP's social policies have resonated with Jasperites who want their elected officials to govern with more than just the economy in mind. The fact that lagging oil prices are, for the most part, beyond the control of the government, is not lost on these folks, either.
If our regular bike route is any indication, on April 16 there will be strong support to give the NDP another mandate—from the folks on my block, at least.
How other Albertans vote will remain to be seen, but they'd be wise to listen to young families. After all, it's young families' province to inherit.
Bob Covey // bob@thejasperlocal.com