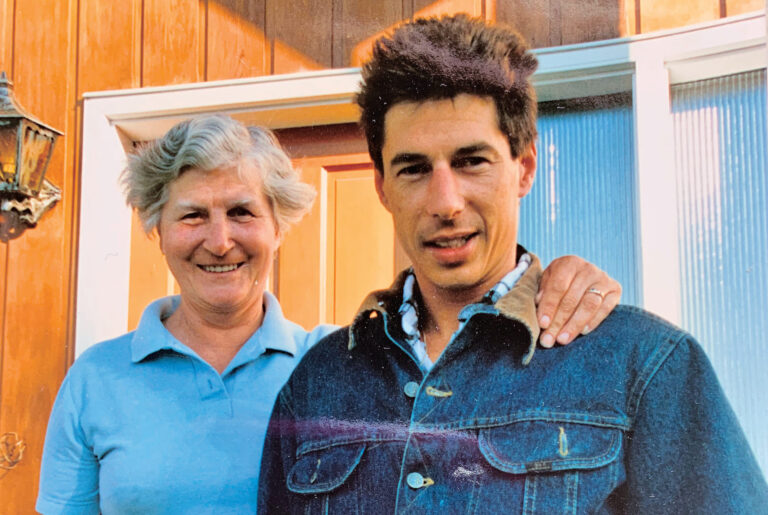 Tuesday, June 18, 2019
Pioneer, prankster, athlete and artist: Remembering Steve Stanko
There aren't many photos of the Stanko boys from their childhood in Jasper.
The ones that do exist look as though the photographer had a hard time getting the three brothers to stand still long enough for a snap.
"We were always on the go," youngest brother Ron Stanko, now 60-years-old, remembered. "We just couldn't wait to get up in the morning."
In the 1960s, the area now known as Cabin Creek was still a forest. The Stankos lived on the edge of it, right near the motel (now the Maligne Lodge) where Lydia, their mom, worked long hours at the front desk. The three boys—Steve, Mike and Ron—would spend all their free time chasing each other through the bush, building forts, catching fish and bringing back every bird, bug and beast they found in distress to their already crowded one-bedroom home.
"I'm sure our parents must have begrudgingly agreed to the two crows in the living room, the duck in the bathtub, Pinky the deer in the front yard and Spot the dog chasing all of them throughout the house," Ron laughed.
The Stanko boys had an exuberance for life, an unquenchable thirst for adventure. That curiosity never waned, but on May 30 a big part of it was dampened when the eldest Stanko, Steve, died in an accident at Lost Boys, one of the many local rock climbing crags he helped establish.
When the shocking news filtered through the tight-knit climbing community, then made its way through the larger circles that Steve inhabited, the immediate feeling was one of disbelief. How, people wondered, could Steve Stanko—a man so precise, so detail-oriented and who had so many technical climbs under his belt—have made a tragic error while at the crag he knew and loved so well?
The truth is, there will never be a satisfying answer. We do know that the type of accident that occurred is all too common in the climbing world. According to first responders, Steve failed to capture both strands of his rope in his rappel device, a mistake that has accounted for hundreds of injuries and fatalities since 1951, as chronicled in Accidents in North American Mountaineering. Ryan Titchener, who himself had a near-fatal mountaineering accident in 2016, met a fellow spinal cord injury survivor in the hospital during his recovery. That climber's accident occurred much in the same way that Stanko's did, Titchener said.
"It's hard to believe, but that type of accident happens way more than we think," he said.
Titchener, like many local climbers, first met Stanko through the pages of the local climbing guides before getting to know him as a friend and mentor.
"His name is everywhere," Titchener said. "He was more than just a legendary Jasper climber, he was monumental in the development of the sport here because he was so willing to share his knowledge."
Stanko's generosity and mentorship is what many of those connected to the Jasper climbing fraternity are remembering in the wake of his death. Karine Pigeon spent time with Stanko at the bouldering wall and remembers him walking her through sequences of climbs that were on the edge of her limits.
"He lent me his rope before I could afford mine…and took the time to set up easier routes for me," she said. "I'll never forget his stoke for life, his patience and his genuine interest in helping out."
That was in the late 1990s, but Stanko never stopped helping younger generations learn the sport he loved. With an easy smile he would offer a tip here, an encouraging word there. To 14 and 12-year-old Henri and Thomas Leclerc, with whom Stanko would play different climbing games at the gym, the 63-year-old was an idol.
"He made us feel like his friend," they wrote in a tribute email.
Steve's friends were many, and his sport climbing influence was far-reaching. Jasperite Sam Wall didn't spend a lot of personal time with Stanko, but he has spent hundreds of hours finding his way up the routes that Steve first set.
"As a young person living in Jasper whose life revolves around climbing, my friends and I know what Steve did and are deeply appreciative of it," Wall said.
As much as he did for sport climbing, however, it's arguable that Stanko's biggest impact in Jasper mountain culture has been in the cycling world. Longtime friend and Freewheel Cycle business partner Dave MacDowell called Stanko the "Godfather" of biking in Jasper. His creativity, innovation and good-natured competitiveness helped develop road, mountain and even town biking in this community. And it came about organically, in a way that wasn't intimidating, but inspiring.
"Spork was a bike freak," MacDowell said. "He was one of the first guys in Jasper with a mountain-style bike (he converted a cruiser by putting an extra ring on the chainset). He was the first guy to mountain bike with clipless pedals. He was always about 'how fast and how far?'"
Although Ron and Steve were leading separate lives in their early 20s, the younger brother remembers that side of Steve well.
"He always competed with himself," Ron said. "It wasn't an ego thing, it was a self transformation thing. He was always asking himself 'What if I could…?'"

As in, 'What if I could bike for 600 km to Lumby, B.C. to visit my friend?' Or 'What if I could ride harder by ditching my seat post during a race up the Cavell Road?' Or 'What if I could customize my bike to be a little bit lighter and a little bit faster?'
"Everything always had to be the next level," MacDowell said.
Their famed "Ride the World" summer solstice epic would fall into that category. The annual two wheeled marathon included biking the Twenty Mile Loop, Mina Riley connectors, the now-closed Ho Chi Minh and Bike Toss trails, the Overlander Trail, Tea House, Valley of the Five Lakes and finally the Wabasso Lake trail. Basically all of Jasper's trails, back then.
Yes the trails. As much as Stanko's name will forever be etched into the climbing crags around Jasper, it will be equally blazed into the trails that cyclists now associate with cross country, wildland riding here. Long-time Kona Bikes rep Richard Cox loved Stanko's unique trail building style. It utilized ridges and rocky outcrops. It always found funky flow.
"It was janky, technical and challenging," Cox said. And like nearly everything Stanko did, it was artistic. Watching him stick to sheer rock, watching him streak down the wing on a hockey rink before snapping a top-corner wrist shot, watching him climb the dustiest, steepest hills on a bike, watching him carve on a snowboard…those who saw Stanko perform knew they were seeing an artist in his element.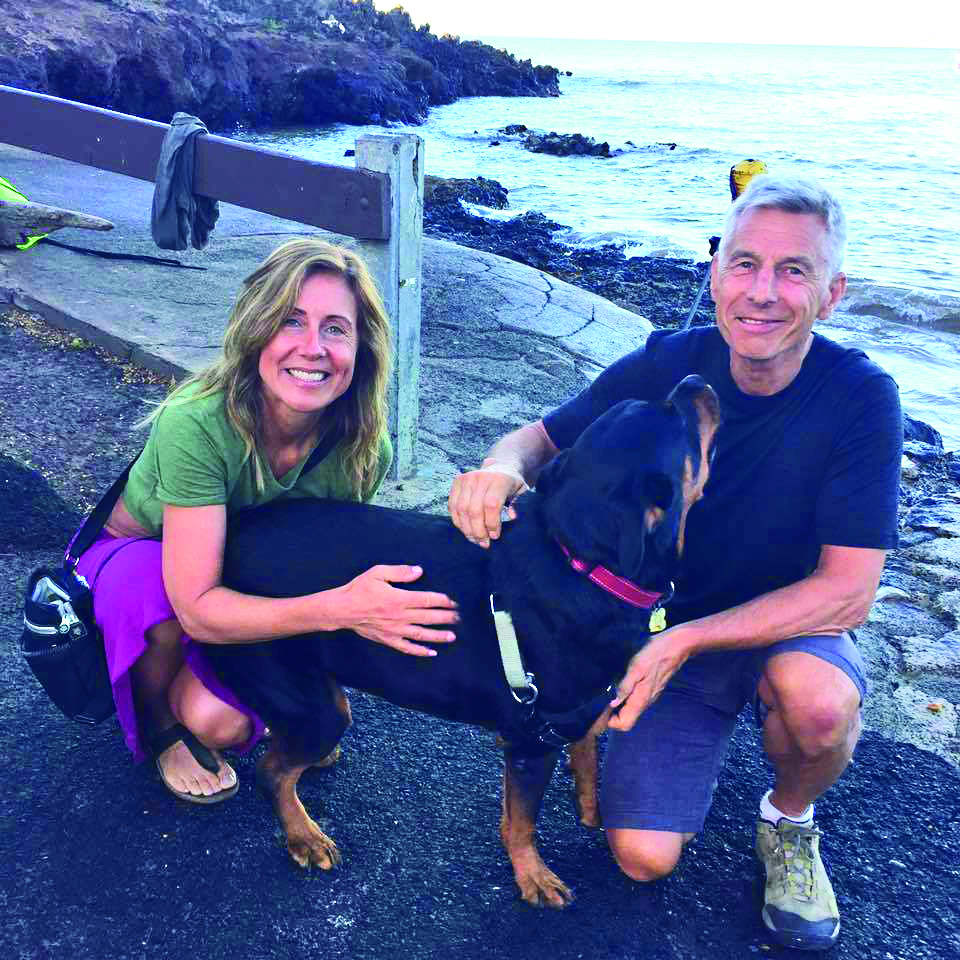 And no one saw it more close up than Leanne, the love of his life. She admired his work ethic, his commitment to family and his love for animals. She admired his confidence. She admired his kindness. When they first met, they were drawn to each other, but it wasn't until 10 years ago that they realized they were soulmates.
"He was an artist of compassion, self discipline and humanity," Leanne told a tearful audience at Stanko's service, June 8. "He was an artist of life and how to live it to the fullest."
"Steve gave me a love I had never seen or felt before," she said.
So say we all.
Bob Covey // bob@thejasperlocal.com