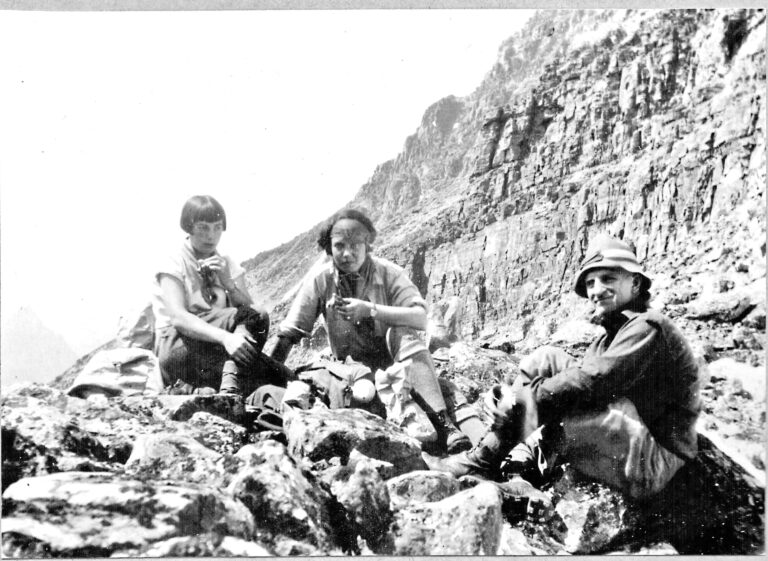 Tuesday, December 31, 2019
Family of renown mountaineer donates treasury of alpine artifacts to museum
Cyril Geoffrey Wates (1883-1946) was a composer, choirmaster, science fiction writer and photographer.
He was also an inventor, an astronomer and an engineer. Not long after he constructed what was, at the time, the largest telescope in Alberta, Wates was awarded the Chant Medal of the Royal Astronomical Society of Canada for his contributions to the field. Later in life, after he went deaf, he built a hearing aide to help him communicate.
Wates was, as his great niece Jean Knopp told an audience at the Jasper Yellowhead Museum and Archives last week, "a remarkable man." Yet despite his incredible academic resume and proclivity for the arts, it was Wates' accomplishments as a mountaineer with the Alpine Club of Canada (ACC) for which he is most well regarded.
On August 21, relatives of "The Skipper," as he was known by his climbing friends, bequeathed an extraordinary collection of artifacts from Wates' mountaineering career to the JYMA. Knopp, who made the trip to Jasper with 18 of her family members, presented to the museum a treasury of photo albums, trip reports, songs and poems which document Wates' various adventures in Jasper National Park. Knopp had come into possession of the albums by way of her aunt, who'd helped Wates' widow manage her affairs when she was in hospital. Knopp and her sister, Doreen Ralston, said they take great comfort in knowing that the memories from these albums will be safely protected.
"There's a lot of history contained within them," Knopp said. "We felt they should be in a place where they'd be well preserved."
The family also brought copies of the albums to the Alpine Club of Canada's hut on Outpost Lake, which, along with his fellow mountaineer, Evelyn Reginald "Rex" Gibson, bears Wates' name. While not all of the family members made it to the Wates-Gibson hut, the group of 19 did march nearly 20 km to the shores of Amethyst Lake where they absorbed the history, scenery and splendour of the Tonquin Valley—just as their great uncle would have, nearly a century before.
"Thanks to the photographic legacy he has left behind of the climbing adventures he undertook in the Tonquin Valley, our family has gained a much better understanding of his personality and character," Mike Knopp told those who gathered at the museum.
In 1924, Wates, along with Val Fynn and M.D. Geddes, made the first ascent on 3,298-metre Mount Geikie. His earlier attempts on the mountain are chronicled in a photo album documenting climbing activity from 1922/23, while a 1927 album documents not only the eventual successful bids on Geikie and Mount Postern, but also on Redoubt Peak. It was Wates and his partners who were able to verify that climbers F.H. Slark and F. Rutishauser did in fact gain the summit of Redoubt before perishing on the descent in 1927; Wates found their record on the top of the mountain the following summer.
Mike Knopp noted that the artifacts left behind by his uncle demonstrate how Wates embodied the values of the ACC. Moreover, he said, they document the romantic relationship which was budding between Wates and Knopp's aunt, Helen Burns.
"I have no doubt that Helen was in Geoff's mind when he wrote "The Climbing Girl," he said, reading the chorus lines from Songs of Canadian Climbers, the book which Wates dedicated to the ACC:
Give me the girl who can cut a step so neatly/That the summit of the peak will soon be won/Who can climb a rotten chimney or negotiate a crag/Who never breaks a snow-bridge/Or allows the rope to drag
Wates participated in 20 summer ACC camps and climbed more than 50 peaks as part of the ACC, which he joined in 1916. He was Chairman of the Edmonton Section in 1925 and from 1932-1935 he served as Western Vice-President. He then served as President of the ACC from 1938 to 1941.
His friend and colleague from the University of Alberta, J.W. Campell, memorialized Wates by recalling what the mountains meant to him.
"He was in succession impressed by the mountains for their mystery, their friendliness, their aloofness, their beauty, their grimness, their difficulty, their sweetness, and then in the course of his mountaineering experience by the companionship, the sharing and the fun which they engendered," Campell wrote. "This joy of sharing was so characteristic of his life."
Now, a century later, his family is ensuring Wates' joy of sharing continues.
"He was a remarkable mountaineering gentleman, and our family is so very pleased that his legacy can now be shared with others," Mike Knopp said.
---
Bob Covey // bob@thejasperlocal.com