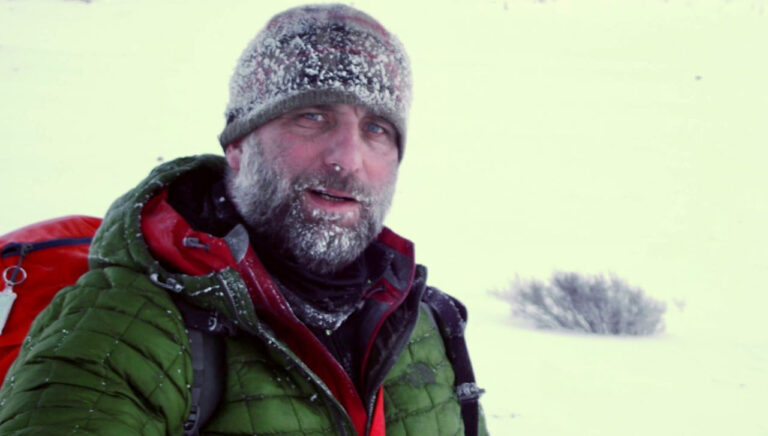 Monday, February 3, 2020
Strong, solitary and suffering:
Remembering the man and the mountaineer, Ken Wallator
---
The stories about former Jasperite Ken Wallator are jaw dropping.
Perhaps the most incredible one took place on the limestone cliffs on Cirrus Mountain. Wallator was establishing a new route in the Weeping Wall area when he took a hard fall and landed on a ledge. His back was broken, but since he was alone, he had to self-rescue, which meant first climbing up back up to a rappel station, rapping down the face, then dragging himself out of the bush to his car. Wallator then drove to the Icefields campground, where he used a payphone to call for help.
Falling off of that mountain in 1991 didn't kill Wallator, but he couldn't survive another, nastier fall—a fall down a dark hole of depression, mental illness and loneliness. The legendary mountaineer died sometime between December 14, when he posted a desperate notice on social media and December 21, when mounties discovered his body by the sand dunes near Brule, AB.
Mountaineers are often vaunted for their ability to "suffer," and Wallator certainly had that trait in spades, using his grit, determination and toughness to scale some of the most daunting walls in the Rockies. But to those who knew him—including family members from whom he had estranged himself for years—Wallator's internal suffering was not heroic, it was tragic.
"Ken became very distant," his older brother, Calvin Wallator said. "He was not a happy guy. He had been struggling for 30 years since he lost his girlfriend."
On December 11, 1988, Wallator and Heidi Schaefer were climbing Mount Belanger, a 3,060 metre peak south of Jasper when they stopped to take a photograph. They had just got off the face, finishing the technical part of the climb, when the cornice they were standing on gave way. Schaefer fell 480 metres down the side of the mountain. He climbed down to her, but she died in Wallator's arms while he carried her through a snowstorm towards a climbers' hut.
"He struggled a lot after that," remembers his sister, Carol Henderson, who recalled Ken being nursed back to health by their mother after Wallator's Weeping Wall accident. "Our mother could see he was emotionally very hurt."
In the late 1980s, Wallator was becoming known as one of the most bold, talented alpine climbers coming out of the Rockies. Ice-climbing icon Will Gadd, who grew up on the same street as Wallator and who, along with Gadd's father, Ben, helped get Wallator into alpine sports, said his friend was incredibly strong, both physically and mentally.
"He could put up with a lot of adverse conditions that would stop a lot of other humans," Gadd said. "He generally ran towards things that other people ran away from."
Take Wallator's first ascent of the northeast face of Storm Mountain in Banff with Tom Thomas, for example. Wallator famously offered a free rope to anyone who could repeat it. Or his first ascent (with Tim Friesen and Charles Scott) of an alpine route on the south face of McArthur Peak in Alaska. Or, perhaps the most legendary of all, his 16-day self-propelled push in the middle of a February deep freeze to bag the first ascent of Mount Clemenceau's north face (with Thomas and G. McCormick).
"That's as remote as it gets," said Jasper climber and friend to Wallator, Dana Ruddy. "The story goes they ran out of food four days from the road."
Ruddy was too young to climb with Wallator in Ken's heyday, but he recalls Wallator reaching out in 2013 to tie in together, Wallator trying to rekindle his passion after getting into trouble with the RCMP and falling into a dangerous scene. It was good to see the then-45-year-old getting straight, but Ruddy said there was still a person hurting deep down.
"I do think there was some resentment there," Ruddy said. "I think there was a chip on his shoulder."
Wallator was always supremely individualistic. That may have led to his isolation in his later years, but early in the Jasper climbing community, where most people with alpine aspirations were cut from the Alpine Club of Canada cloth, Wallator's renegade style made him stand out.
"He was the first local dirt bag climber," Ruddy said. "He was the guy working odd construction jobs to make enough money to live in his van and climb."
Wallator may have felt he was looked down upon by the up-and-coming guides of the day. And Ruddy said he probably was. But that didn't mean Wallator stopped pushing the limits.
"He was the guy that said F-you, I'm doing it my way," Ruddy said. "I think people were jealous of his accomplishments, that he was far exceeding theirs."
Gadd went as far as to say Wallator, had he been a bask-in-the-spotlight type, could have been one of the best known climbers in the world.
"He was as good or better than anybody in the world," said Gadd, who himself has been called the best ice-climber of his generation. "I think one of the tragedies is that we're never going to know how many routes he did."
From a young age, Wallator stuck to himself, his sister said. Henderson, who was 13 years his elder, remembers him being the easiest kid to babysit; he was content to play by himself for hours, happily occupied with only his imagination. And although he went out for hockey and other team sports, he was much happier in solitude.
"I remember he tried hockey but eventually asked mom to just get him a pair of cross-country skis," Calvin Wallator said.
Scrolling through his Facebook feed, Wallator did indeed seem to be most comfortable in companionless pursuits. He posted photos of himself soloing moderate-grade ice climbs, hanging a fishing rod over a row boat or sitting by a campfire with a beer. Having said that, most Jasper climbers from 20 years ago would remember that Wallator always had his dog with him. Jessie the Mountain Dog went everywhere with Ken, including, as Calvin remembers it, on top of Mount Edith Cavell.
"Ken took him in the bush a lot," Henderson said.
Sometime in mid- December, Wallator went back into the bush and never returned. Before he did, he left a final, despairing message to those who knew him. Ruddy was among many who went out looking for his old friend, skiing into little known trailheads west of Jasper, where the sound of trains shunting through the Miette Valley echoed off the unsympathetic mountains.
In the wake of Wallator's death, his family is trying to remember the happier times in their brother's life. Like the time they hiked into Jacques Lake in 1977—a nine-year-old Ken's first overnight trip in the backcountry. Or the ski tours into the Fryatt Valley.
"When he was on his A game, his love was the mountains and climbing," Calvin said. "He would open up to you and talk about his adventures."
His sister, whom Calvin credits (along with her husband, former park warden Ed Henderson) for getting Ken into outdoor activities, remembers a shy little guy with steely blue eyes.
"He could do marvellous things with stone and wood. He was passionate. He was creative."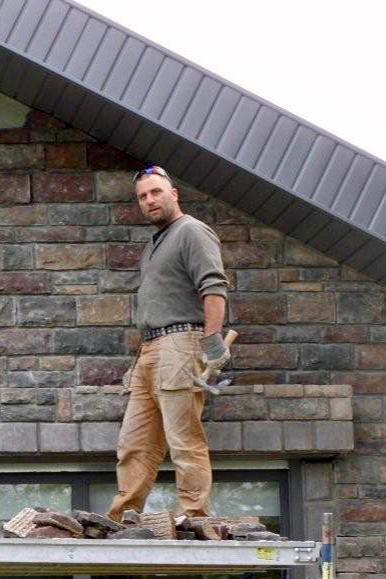 And he was suffering. Calvin said it's hard to reach out when family members close themselves off. Back when Wallator experienced his trauma, there was no such term as PTSD. Tough guys didn't ask for help.
"Nowadays guys are more apt to come forward when they're hurting," he said. "I think Ken probably wished he had."
---
Bob Covey // bob@thejasperlocal.com