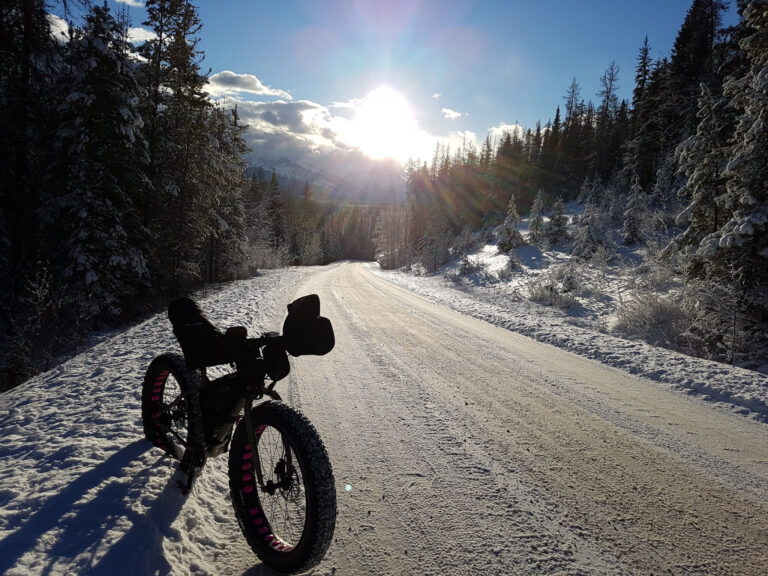 Saturday, February 6, 2021
SkyTram's the limit: Everest Challenger completes winter fat bike feat
A foot of snow, a broken bike and 9,000 metres of elevation gain couldn't stop Dean Anderson from completing the first recorded "Everest" challenge on a fat bike.
Jasper Local readers might remember Anderson from a similarly audacious assault on Signal Mountain in August, 2019, wherein the St. Albert resident chugged up and down the eight kilometre, 800 vertical metre fireroad 11 times in order to equal the height of the world's tallest peak (8,848 m).
On January 14, Anderson was back in Jasper National Park, having traded his single speed mountain bike for a chunky-tired fattie and his polyester jersey for fleece. Instead of Signal Mountain, he was taking the Everest Challenge to the SkyTram Road. What didn't change, however (besides his preferred snacks: Clif bars and hotrods), was Anderson's desire to test himself.
"I like the challenge," he said. "I look at is as testing my limits."
Anderson had originally hoped to complete the Everest Challenge on the Pyramid Mountain fireroad, but 25 cm of fresh snow made riding a bike—even one with soft, floaty tires—next to impossible. Plan B was the SkyTram Road which, thanks to the Parks Canada plow, made for much easier rolling. The change meant his wife's dreams of supporting her husband's adventure from the toasty Pyramid Lake Resort were suddenly dashed. Instead, she'd be car camping.
"My cozy hotel basecamp at Pyramid Lake Resort was no longer in play," Kristin Anderson laughed.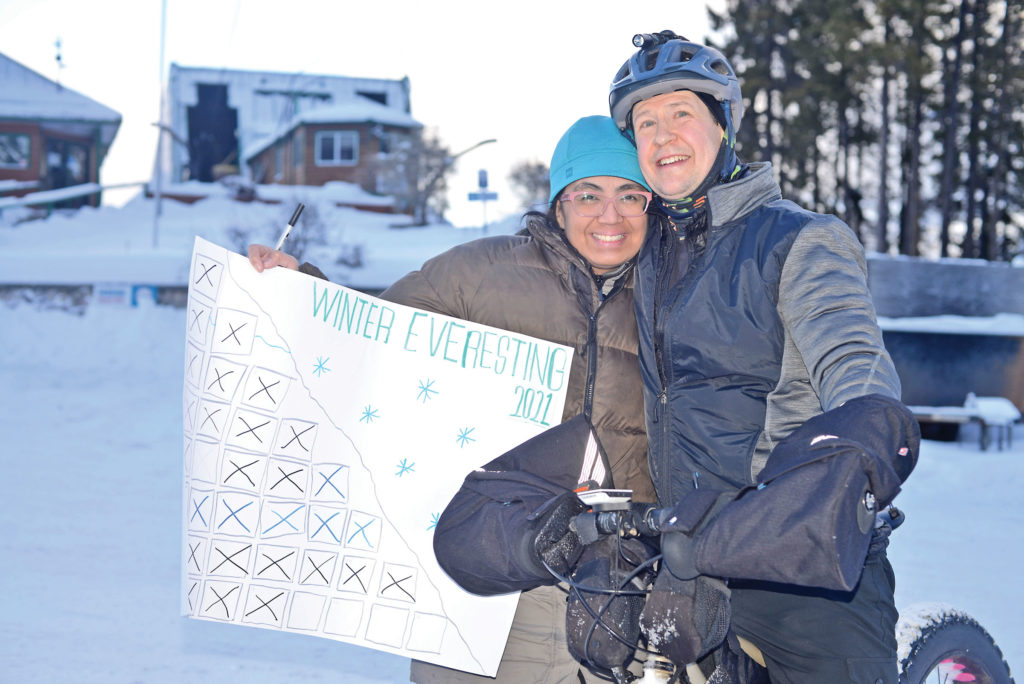 Dean Anderson, a 47-year-old structural engineer, has done his fair share of self-supported, ultra-distance cycling, including the Banff-to-Mexico Tour Divide, the Alberta Rockies 700 bike packing race and the notoriously savage, 300-mile Arizona Trail Race.
"I think it's about trying to see how far can I go, before it's too far," he said.
At 3:30 a.m. on January 15, approximately 16 hours and 22 laps after he began, Anderson's bike decided it had gone far enough. His pedals were spinning, but the back wheel would not. In a sleep-deprived daze, Anderson used his lifeline: he rang up local bike mechanic and fellow long-distance cyclist (and hotrod eater), Jasper's Chris Peel.
"I told him he could call anytime if he needed help," Peel said. "I didn't think he actually would."
Peel talked Anderson through his mechanical issue, and together they determined that servicing the bike was not feasible.
"I think he just needed someone to tell him to ditch the bike," Peel said.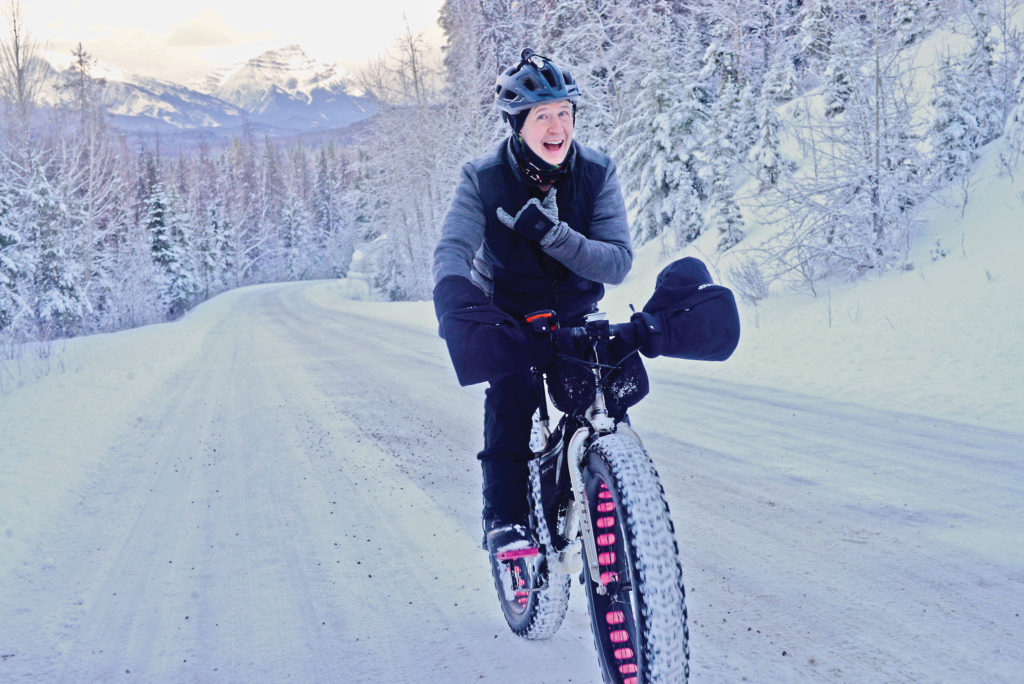 Fortunately, Anderson had a spare. He and Kristin headed back to the hotel to make the swap and two hours later, he was back on the road.
Unfortunately, the replacement bike was older, heavier and had a harder gear ratio. Anderson was losing steam. His legs were pedalling, but his head was drooping. Drowsiness was causing him to drift all over the road. Motivation was getting harder and harder to summon. Suddenly, just as he was starting to lose the battle to the dreaded sleep monster (Everest Challenges forbid sleeping and walking), a vehicle approached. The driver cheered him on. Anderson rallied.
"That snapped me out of my delirium," he said.
As daylight broke, Anderson gradually perked up. Not long after, Peel checked in, followed by a car of curious locals who'd got word of Anderson's efforts on social media. More cars encouraged him. At 3:30 p.m., with five laps left to go, a couple of sympathetic cyclists rode alongside Anderson for a few laps. The support went a long way in getting him over the hump, Anderson said.
"Those visits were such a huge lift," he said.
At 6:39 p.m., 31 hours and five minutes after he initially set out, Anderson climbed the last pitch of the SkyTram Road for the 36th time. He was done…almost. Besides biking nine vertical kilometres in a day and a half, besides becoming the first person to complete a winter Everest Challenge on a fat bike and besides raising $3,345 for the St. Albert Food Bank, Anderson had one more goal. He needed to continue his consecutive-days-biking streak, which was sitting at 404. Even though his Everest Challenge took place over two days, his digital fitness tracker would only count the continuous motion as one ride. He needed to get in a few more kilometres.
He straddled his bike once more.
"I like the challenge," he said, riding off.
For a full breakdown of the ride, including his gear list, check out Anderson's blog.
---
Bob Covey// thejasperlocal@gmail.com