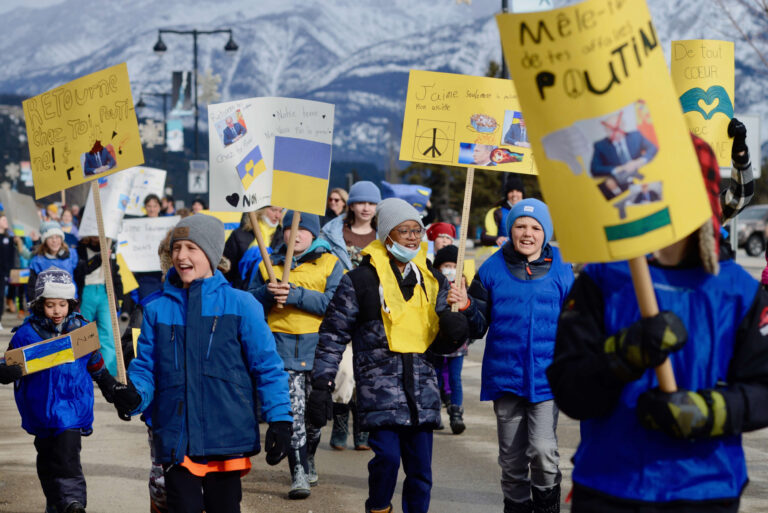 Wednesday, March 23, 2022
Jasper to welcome 14 Ukrainian refugees
Jasperites have been extending their hands and hearts to Ukrainians.
Now, in the wake of the Russian army's invasion and the displacement of more than 3 million Ukrainian citizens, they are extending their homes.
As of March 22, 14 Ukrainian refugees—with more in the works—have been offered places to live and jobs to work in Jasper.
"We're lucky in Jasper, we've got everything," said Jasperite Nancy Addison, who's been facilitating the relocations.
In 2016, Addison helped bring nine people to Jasper from Syria, when civil war in that country was escalating. That experience helped quell any hesitation she might have had to reach out to Ukranians, she said.
"This is where my heart is," she said.
She's not alone. After Addison met online several Ukrainian families in need of safe refuge—families who had been split up when the mothers and children fled to neighbouring Poland, or Moldova, while the men stayed behind to fight—she reached out to local business owners. Soon she had jobs lined up at local restaurants and hotels. A Jasper pharmacist said he'd take on a new employee. Residents said they'd make rooms available.
"There was a domino effect," Addison said. "Jasper has always had a big heart."
One woman who Addison is helping is in her late 50s. She is from Dnipro (pop 1 million), a central-Ukrainian city that is currently surrounded by Russian forces. Addison said the future Jasperite was communicating from a bomb shelter.
"She was hearing bullets and sirens and shelling as we spoke," Addison said.
Six years ago, when Addison helped families from Syria to come to Canada, she had to raise $25,000 per person. It was a requirement to demonstrate to Canadian authorities that the people coming into the country would have sufficient means to build a new life. Back then, the paperwork was extremely onerous. All told, it took Addison three years to bring nine people from Syria.
Today, the immigration system is being fast-tracked as Ukranians flee their country.
"This time, within three days we had 12 people confirmed," Addison said.
Addison herself is hosting three Ukranians. She asks anyone else who might have room for others escaping the conflict to get in touch with her via Facebook.
"We're all humans, we're all brothers and sisters in one shape or form," she said. "How can you say no to people who are suffering?"