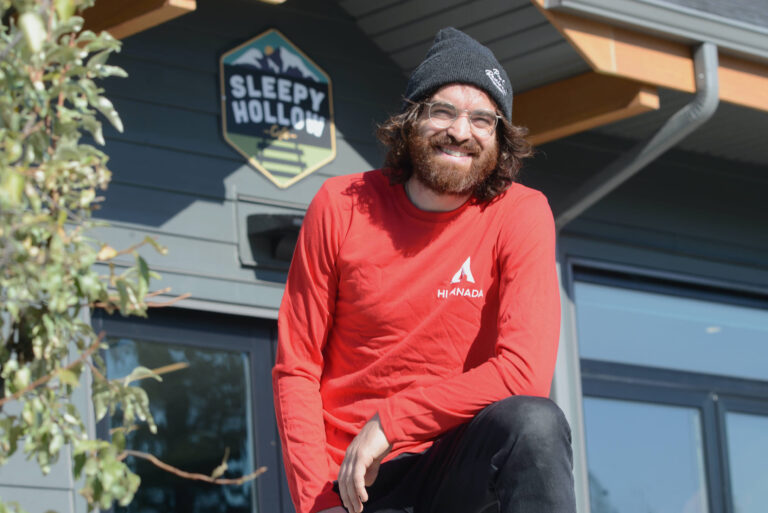 Thursday, October 13, 2022
Live music event will focus on community housing
HI Sleepy Hollow hosting Oct 19
---
A collective of artists and community-minded organizers are hosting an evening of live music and conversation October 19 about the challenges surrounding finding safe, affordable housing in Jasper.
Derek Loewen, a staffer at Hostelling International's HI Jasper, said the idea was borne out of a common theme he sees while working at the hostel's front desk: guests wanting to work in Jasper but who do not have accommodations.
"We see these stories everyday," Loewen said. "We meet so many people who say they're trying to live in Jasper and waiting for staff accommodations to open up."
Loewen, who has been helping create a community hub and occasional jam space at HI Jasper, on Sleepy Hollow Road, figured a night of discussing Jasper's housing issues while listening to talented musicians would help nudge the housing conversation forward.
---
---
"We want to bring people together and discuss some of the challenges in a positive way," Loewen said.
With help from Chantiers Jeunesse, a Quebec-based charity specializing in empowering young leaders in their communities, Loewen wants to celebrate Jasper's welcoming spirit while raising awareness of some of the challenges the community has in receiving new community members. He cited a July 2022 Municipality of Jasper-commissioned housing study which found a housing gap of roughly 687 units.
"That shouldn't be," he said. "That's a surprising number."
Loewen and his fellow colleagues at the hostel are used to seeing the faces and hearing the stories that represent that housing gap. He wants others in the community to have a similar perspective—and also wants to learn from them. To help in that aim, he's recruited local artists Wade Rimstad and Jacob Kurtulus, as well as Edmonton musicians Jon Capus and Ejazz, a spoken word and conscious rapper who will headline the event. Funds raised at the event will benefit the Jasper Community Team.
The evening will also feature food and prizes, including free stays at Hostelling International Canada's wilderness hostels within Jasper National Park.
"We hope Jasperites will come out in support of this event, enjoy some free food, share memories with locals and travellers alike and support a local cause," Loewen said.
The live music and community housing event will take place on October 19 at HI Jasper. Doors open at 6 p.m.
Find the event in The Jasper Local's event listings.
---
Bob Covey // bob@thejasperlocal.com