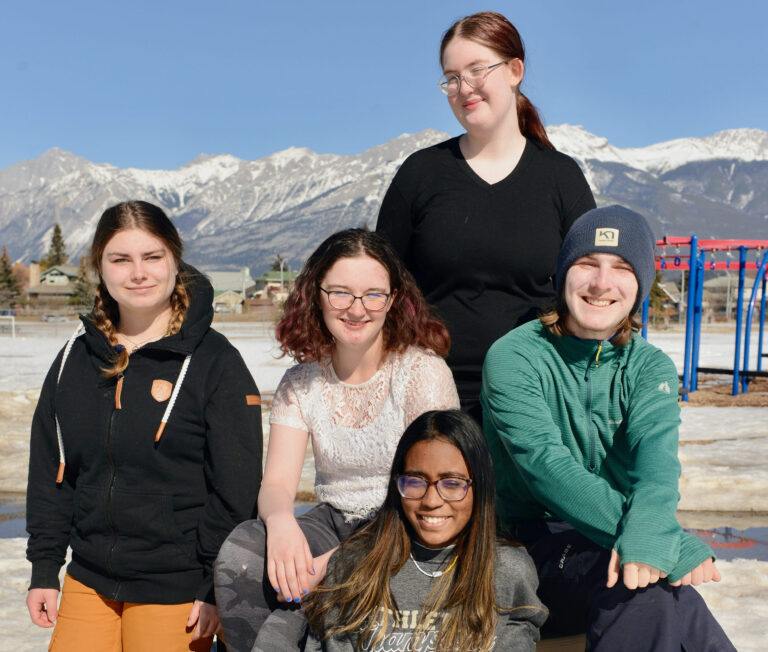 Wednesday, March 22, 2023
Syrahs' special menu supporting Québec-bound students
The menu is confirmed, the food order has arrived and the high school students of École Desrochers are set to serve up a meal fit for royalty—or at least a meal fit to help them discover Place Royale.
In preparation for their upcoming exchange to Ottawa and Québec City, five Jasper high school students are helping the culinary team at Syrahs of Jasper serve a Québecois-themed three-course dinner. It's a fresh fundraising project with local ingredients: namely, the ideas and energy of a group of peers wanting to expand their educational horizons.
---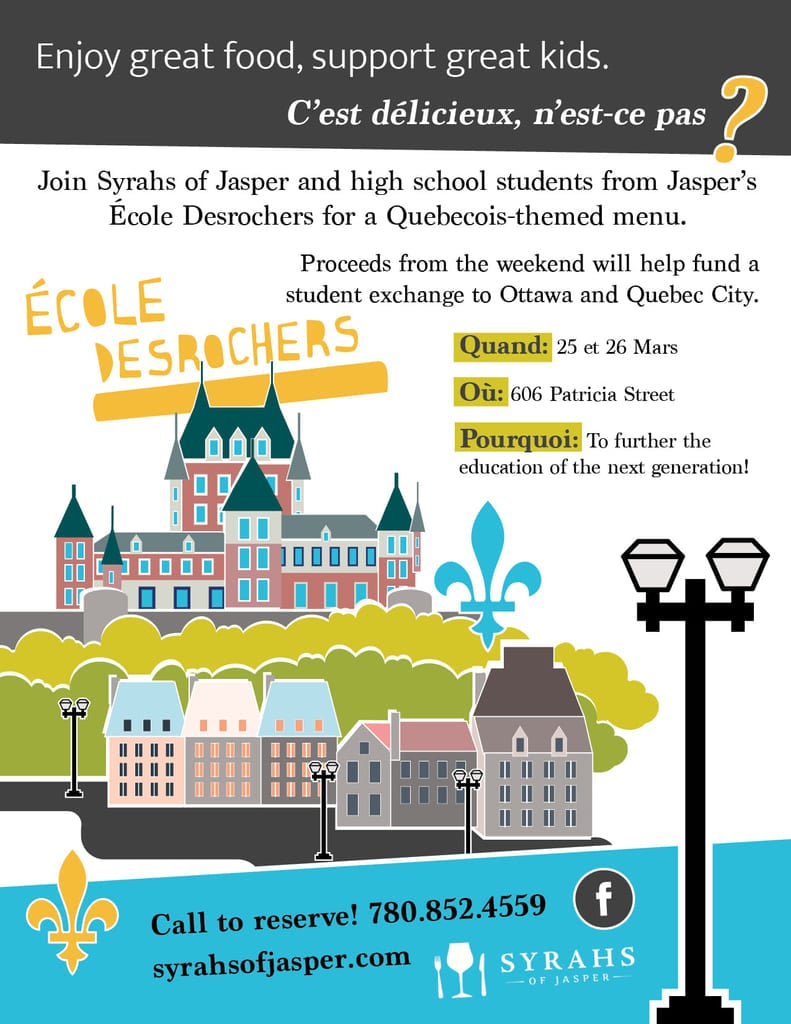 ---
For nine days at the end of April, Grade 10, 11 and 12 students from Jasper's francophone school, École Desrochers, will take in the parliamentary significance of the nation's capital and learn about the 400-year history of Old Québec, a UNESCO World Heritage treasure.
Before they can elevate their education, however, they've got to raise their reserves. Each student needs approximately $1,000 to help pay for things like flights, hostels, train tickets and museum passes. Along with the requisite bottle drives, bake sales, coat checks and relay race volunteering, their efforts are getting a big boost from the upcoming Taste of Spring from Québec Fundraising Dinner, taking place at Syrahs of Jasper this weekend (March 25 and 26).
Syrahs' chef and owner, Jason Munn, said when he was approached by his daughter—Grade 11 student, Alex Munn—on whether he'd be willing to contribute to the cause, he suggested the students and Syrahs work together to design a menu unique to the occasion.
"I wanted them to be involved," Chef Munn said.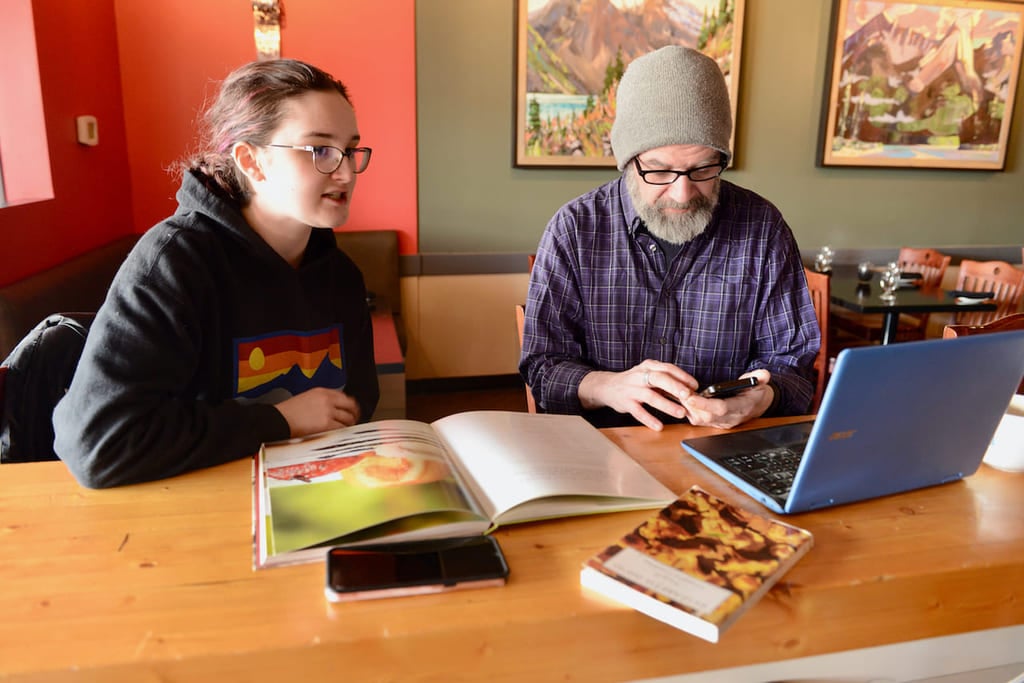 And so the group got to work, pouring over cookbooks that Munn had handy. In time, they landed on an appetizer, entrée and dessert that they agreed would capture some of the Québecois culture they would soon be experiencing in person.
"I figured if the students had a hand in selecting what we're preparing, it would be more meaningful to them," Munn said.
And the service plan will be more meaningful to the diners, as well. On Saturday and Sunday evening at Syrahs, the students will fill in as wait staff—delivering and describing each of the courses to the patrons who order the special menu. Alex, who for two years worked at her dad's restaurant as a busser, is looking most forward to dropping off the foie gras.
"I've had to explain to most of my friends what it is," she said. "So that's given me some practice for when people order it."
---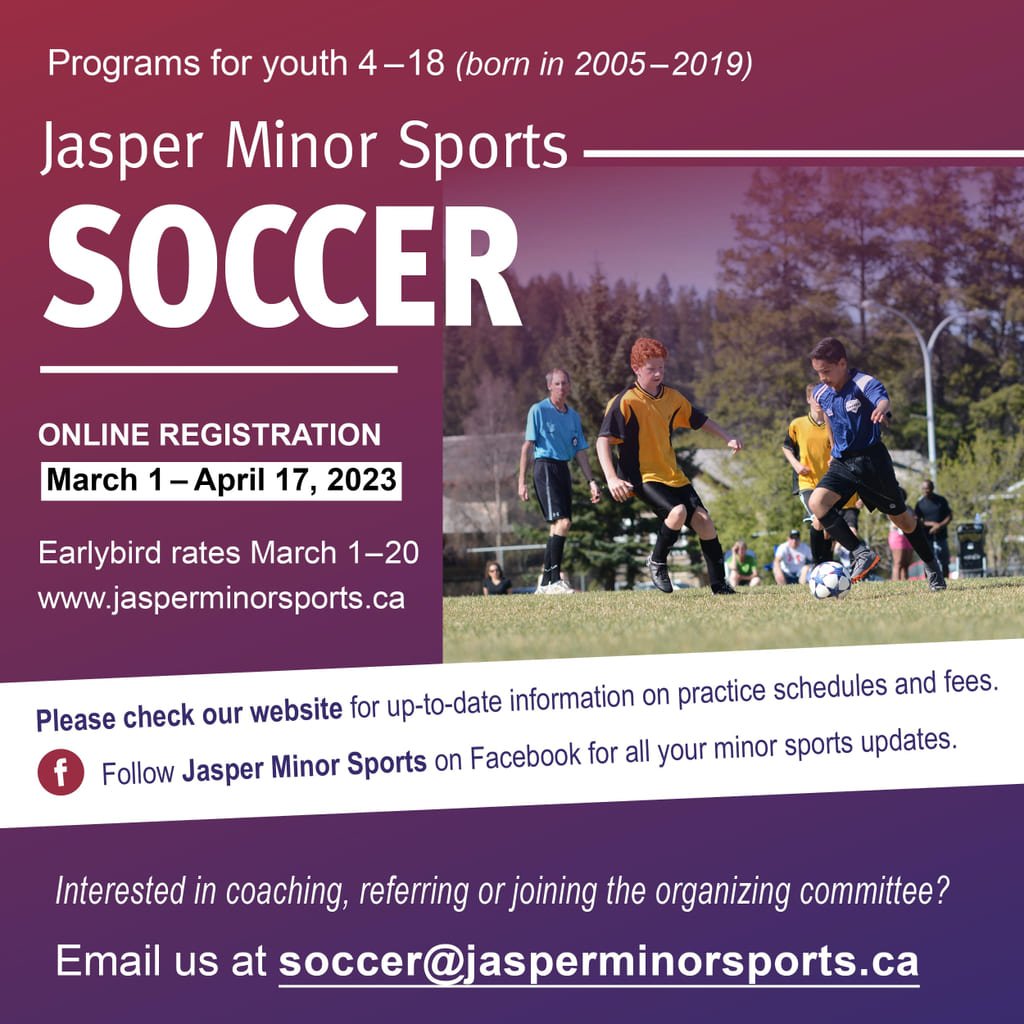 ---
Along with the well-known French delicacy (served with a rhubarb and onion salsa), the students will be bringing out arctic char (with mashed potatoes and oyster mushrooms) as the main course and maple butter pound cake (with maple ice cream and rhubarb compote) for dessert.
Chef Munn, who always likes a culinary challenge, said the evening's main goal is to inspire community support.
"It's going to be a fun weekend, we're looking forward to helping bring this unique Québecois menu to our guests and raising some money for the class trip."
---
Bob Covey // bob@thejasperlocal.com