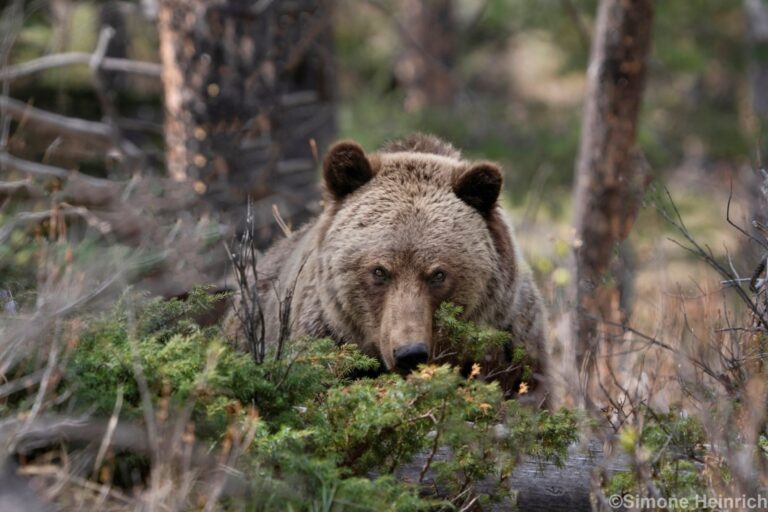 Friday, May 12, 2023
Here's looking at you: Wildlife peeking, warnings peaking
As grizzly bears are peeking, visitors' excitement for a wildlife encounter is peaking. But so are wildlife warnings in Jasper National Park.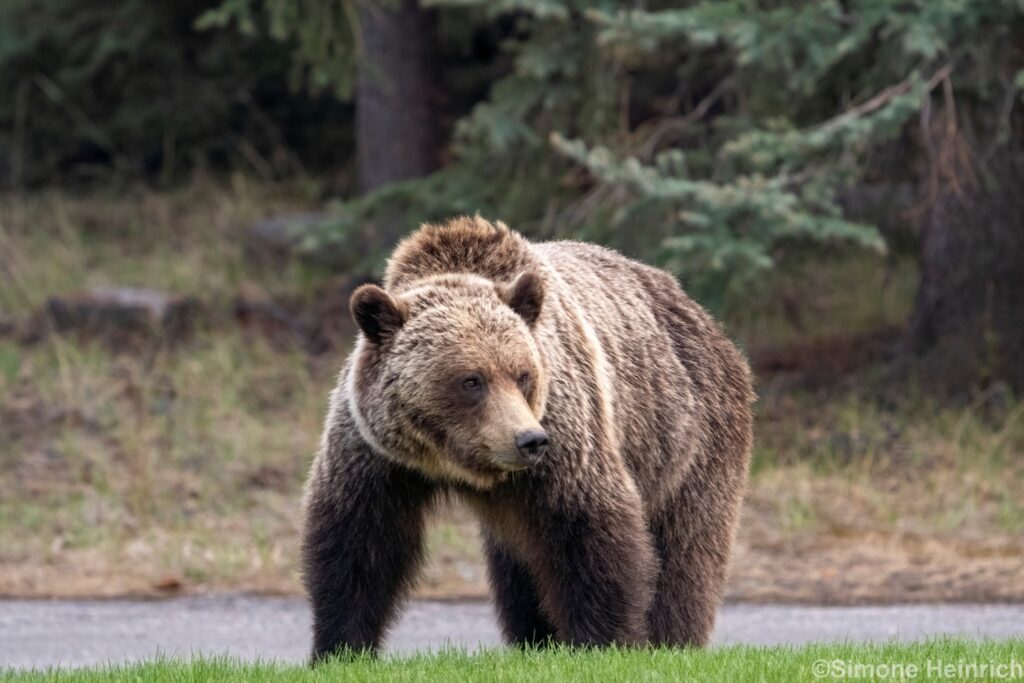 It's spring. Grizzly bears and black bears are out of hibernation and gorging themselves on Jasper National Park greenery.
---
---
Because that nutritious vegetation first sprouts in the valley bottoms, visitors and residents who spend time there—driving, walking, biking or golfing, for example—have been spotting the first bears of the season.
While those sightings can be incredible—as attested by those lucky enough to view this magnificent grizzly near a property south of Jasper recently—springtime brings a greater potential for negative interactions with these large and powerful animals.
On Wednesday, May 10, Jasper National Park officials issued a special warning for the public at the Fairmont Jasper Park Lodge Golf Course. Golfers, dog-walkers and staff will want to be alert for grizzlies and black bears frequenting the area, a special bulletin suggests.
"To minimize the potential of a bear encounter while golfing you should Watch for bears; Make noise to alert a bear of your presence; and Carry bear spray," Parks Canada warns. "If there is a bear on your fairway do not play past it."
On the same day (May 10), Jasper National Park closed a section of Trail 7 along the south and east borders of the Jasper Park Lodge Golf Course because of the increased potential of a grizzly or black bear encounter. The area is closed to the public use with the exception of equestrian travel.
"Equestrian riders are not to dismount," the memo states. 
As well, as of yesterday (May 11), another two area closures are in effect in two locations for elk calving. Protective mothers will aggressively protect their newborns by kicking and charging at people, the park warns.
"Female elk can be very aggressive during this period."
---
---
The closures are across from Whistlers Campground and on the west side of Lac Beauvert, along the Athabasca River from Old Fort Point.
Elk calving season typically lasts until the end of June.
What to do if you can't avoid an elk encounter, according to Jasper National Park, includes: Acting dominant; Raising your arms or flapping a jacket to make one' self appear larger; Maintaining eye contact and moving away and; Seeking protection behind a tree or vehicle.
"Contact encounters are rare. If you're knocked down, get up and move away. Do not play dead!" a May 11 memo suggests. 
Parks Canada reminds the public of its responsibility for its own safety around wildlife in Jasper National Park.
---
---
"Pay attention to closures and warnings, and remain alert when enjoying the park. Travel in groups and keep everyone together, with children within arm's reach. Make noise during your travels. Travel slowly when biking or running, and do not wear earbuds. Be alert!"
---
Bob Covey // thejasperlocal@gmail.com