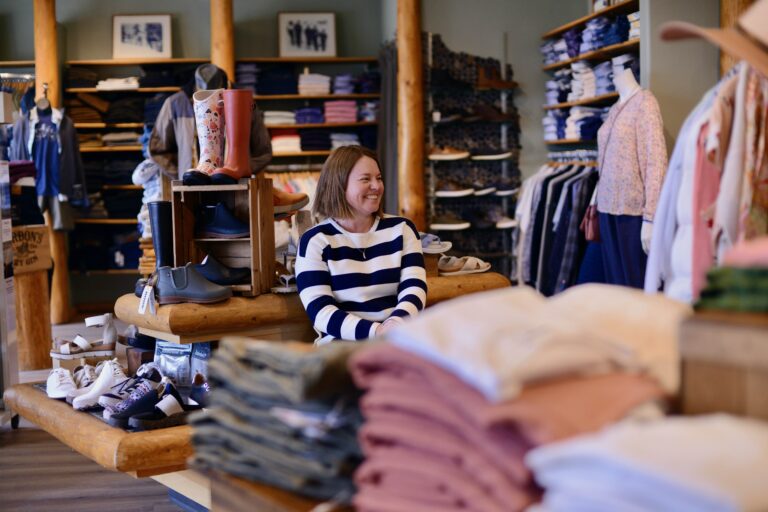 Wednesday, May 17, 2023
Forty and fabulous: Mountain Air an OG of Jasper retail
Mountain Air stands as one of Jasper's most unique, well-established shopping locations. Having celebrated the store's 40th anniversary recently, the shop also serves as a long-standing archetype—an OG, if you will—of Jasper retail.
With their anniversary date in the bag, owner Karen Jacobs has taken some time to reflect on the origins of Mountain Air.
In 1983, Jasper's Doug McPhee opened the store under the name Jasper Sports Center. Among other things, the business specialized in refilling scuba tanks for divers—a service which ended up inspiring the store's future name.
Over the years, Mountain Air dove from sports gear into clothing, gradually taking on the boutique image recognized by locals today. Precipitating that evolution was when Jacob became the store's new owner, in 2010. Her purchase from McPhee was far from unexpected—she'd worked at Mountain Air since 1995—but she laughed as she recalled her early, renegade approach to sales.
"I was meant to be my own boss, no one else would put up with me," she said. 
Having learned from McPhee, Jacobs developed a solid understanding of Jasper's retail needs. Jasperites place more focus on athletic gear, rather than everyday wear, she realized, but there was still a niche to be filled.
 "The right clothes, smart advice and the perfect fit," as her store motto goes. 
---
---
Mountain Air also places a great deal of focus on what lies behind the brands they provide. Jacobs prioritizes Canadian, fair trade, and women-owned brands. With the increased prevalence of "fast fashion" and similarly eco-unfriendly or exploitative retail practices, Jacobs wants Mountain Air to tread as lightly as possible.
"I want to pick things that, in my own small way, make a difference," she says.
While the store has seen a considerable amount of change over the years, certain aspects have remained constant: customer service, for example. Catering to both locals and tourists can be a difficult thing to balance, but Mountain Air has upheld its reputation among both clienteles. With service aimed towards finding useful, re-wearable wardrobe staples, Mountain Air's goal has remained centred on providing customers with a welcoming, personable experience.
As retail in Jasper has evolved over the years, Mountain Air has found itself in the company of numerous other boutique-style retailers. While others may see this landscape as competitive, Jacobs sees it as collaborative. The various retailers work together to ensure that each store is being supported—each business carries unique items, avoiding any product overlap. These Jasper retailers recommend each other to customers, putting shoppers' interests first.
---
---
Honed by four decades of trend-setting, gaining an intimate knowledge of their customers' needs and operating collaboratively in a unique market has enabled Mountain Air to stay relevant in an era of increased online shopping.
For Jacobs and her staff, forty feels fabulous.
---
Jack Mastrianni // thejasperlocal@gmail.com