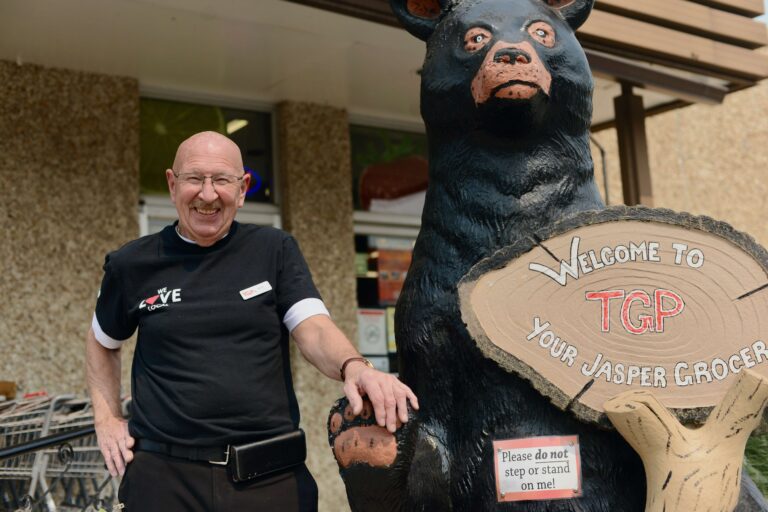 Thursday, May 18, 2023
Store manager leaving a legacy of customer care
Rick Lagace has stocked his last shelf.
The store manager at TGP Your Jasper Grocer is retiring. Over hotdogs and pop in the TGP parking lot, Lagace spent one of his last days on the job embracing a warm send-off from customers and staff. Jasper Mayor Richard Ireland said Lagace has been embedded into the community. He congratulated Lagace on his … legacy.
"He fills bags, does whatever managerial duties are necessary and I'm sure late at night he's stocking shelves, and I have watched him in the winter time sweep the snow off of customers' cars, that's just the kind of individual Rick is," Ireland said.
---
---
Lagace came to Jasper in 2009 by way of the Northwest Territories. He didn't anticipate a 14-year stint in Jasper.
"It was only supposed to be for five years," he laughed.
Based on the hugs, handshakes and high fives he received on May 17, Jasperites are happy he stuck around.
"Thanks for everything and good luck!"
"Best of luck to you Rick!"
"Jasper will always be here for you!"
Lagace was always here for Jasper—and his staff. Will Baart, who will take over as store manager for Lagace, said his boss made the corporate-owned store feel family-run.
"To know you've got somebody that cares about your welfare and your well-being says a lot," Baart said. "And Rick didn't do that just one time. He proved it time and time again."
---
---
The COVID-19 pandemic helped highlight how critical grocery store staff are to a community's safety and security. Lagace said his staff rose to the challenge—just like they do every summer.
"The staff are excellent," he said. "If you don't have good staff, it's tough."
Rick's tough. His commitment to a small store in a challenging industry set in a town plagued by staff shortages proves as much. The Jasper Seniors Society presented Lagace with a banner, signed by dozens of local seniors, thanking him for his dedication.
This summer, however, he won't have to worry about shelves needing stocking, or new products to bring in or staff to train.
"I'll miss the people, but I won't miss the hard work," he said.
---
Bob Covey // thejasperlocal@gmail.com