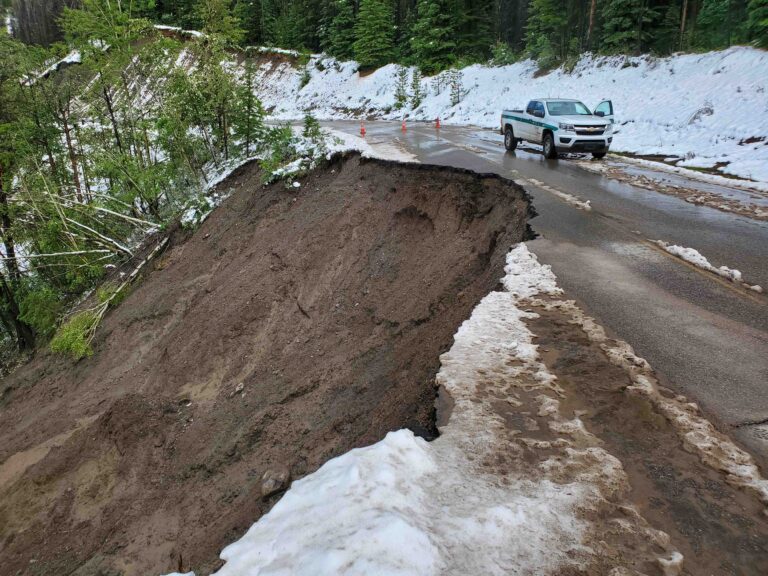 Tuesday, June 20, 2023
Visitors stranded at Miette, Maligne, after snow storm
Road closures have stranded visitors and staff in Jasper National Park's subalpine.
Guests of the Miette Bungalows operation in Jasper National Park have been stuck at the Miette Hotsprings area—without access to the hotsprings facility—for more than 24 hours after heavy snow and rain washed out the Miette Road June 19.
At the same time, campers who were evacuated from their campsites in the Maligne Range area were stranded at Maligne Lake overnight. They stayed with public safety officials at the Maligne Lake warden station and were flown out by helicopter today (June 20).
Jasper National Park received more than 100 millimetres of rain and up to a metre of snow in some locations of the park since late Sunday night.
Parts of the Miette Road have been washed away, forcing officials to close the road.
Similarily, the Maligne Lake Road has been closed since Monday after receiving nearly 100 cms of snow in some places. It will remain closed to allow for any avalanches triggered by the storm to come down and to complete debris removal. That process could take between 48 and 72 hours, Parks Canada said on the afternoon of June 20.
"Parks Canada is working on assessing the safety of roads, including the risk of avalanche or mud slides," Jasper National Park media officer Janelle Verbruggen said in a statement. "We recognize this situation may cause delays and impact visitor travel plans."
Parks Canada expects to have the Miette Road open for single lane traffic for visitors to leave the Miette Hot Springs area by 7 p.m., tonight (June 20). No estimated time of re-opening is available at this time.
The Miette Hotsprings and the Miette Bungalows resort are located 61 km east of the Jasper townsite, 17 km south of Highway 16, up the Fiddle River Valley.
Maligne Lake is 48 km south of the Jasper townsite.
If members of the public are aware of a backcountry camper who hasn't checked in or arrived at their destination as anticipated, they are advised to call Parks Canada Dispatch at 780-852-6155. If members of the public are aware of a motorist who hasn't reached their destination, they are advised to call the Jasper RCMP detachment at 780-852-4848.
---
Bob Covey // bob@thejasperlocal.com