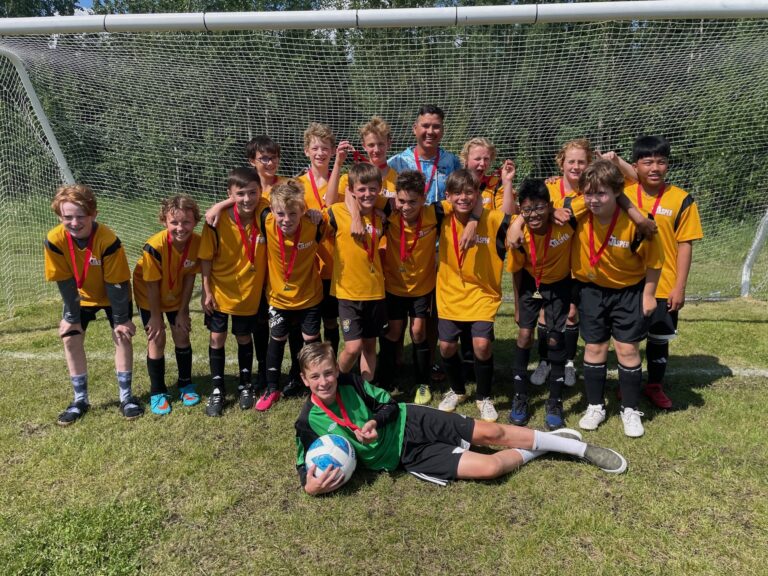 Thursday, July 6, 2023
Provincial stage set for Jasper's U-13 soccer stars
In Jasper, the soccer season is short and intense.
It's a tiny two-month blip between the seemingly interminable hockey season and the madness of summer vacation. But it's a season that many of the players look forward to all year—if you've ever walked by the schoolyard at lunch hour in the winter, you'll have seen the dedicated footballers practicing their rainbows and bicycle kicks in their snow boots.
So when the Municipality of Jasper declared the fields ready to go in the final week of April, the U13 boys were ready for kickoff. The U13 tier (11 and 12-year-olds) is the first level that Jasper teams play in league games, something this group had been anticipating for years. Unfortunately for them, the start of the season coincided with disruptive wildfires and road closures; with some of the league's teams under evacuation orders and with Highway 16 closed to all travel, the long-awaited first games were postponed.
When the whistle finally sounded to start the first match, Jasper coaches Paco Artiaga and Max Peregoodoff had the team ready to go—they thoroughly beat up on Whitecourt, posting a clean sheet in a 27-0 victory. That was just the start of an incredible season. The team swept through the league with an undefeated record, clinching top of the table in the Northwest Central Soccer Association. This achievement guaranteed them a berth in the provincial championships, taking place this July 7-9 in Cold Lake.
The sole blemish on the boys' season came in a tournament in Sherwood Park, where Jasper was ultimately victorious in the B final. Their one-goal loss in the semis was to the eventual champions. Since then, the boys have improved in every aspect of the game. Their passes are crisper, their shots quicker, and their throw-ins … more legal. Their success is all the sweeter because many of these boys played on the same hockey team, a squad which was nearly winless over the winter.
Manager Dave Argument and Jasper Minor Sports soccer co-chairs Janice Branch and Geoff Danks have put in a lot of work to get the team to this point.  As they stream out onto the field in Cold Lake in their vintage yellow "bee sting" jerseys this weekend, the kids will be pumped to be playing at this level. They might be facing teams who have had the luxury of training on indoor fields all winter, or perhaps their raw skill will rise to the top. Either way, provincials will be an incredible experience.
Check back next week for a report on how it went.
---
Lucas Habib // info@thejasperlocal.com