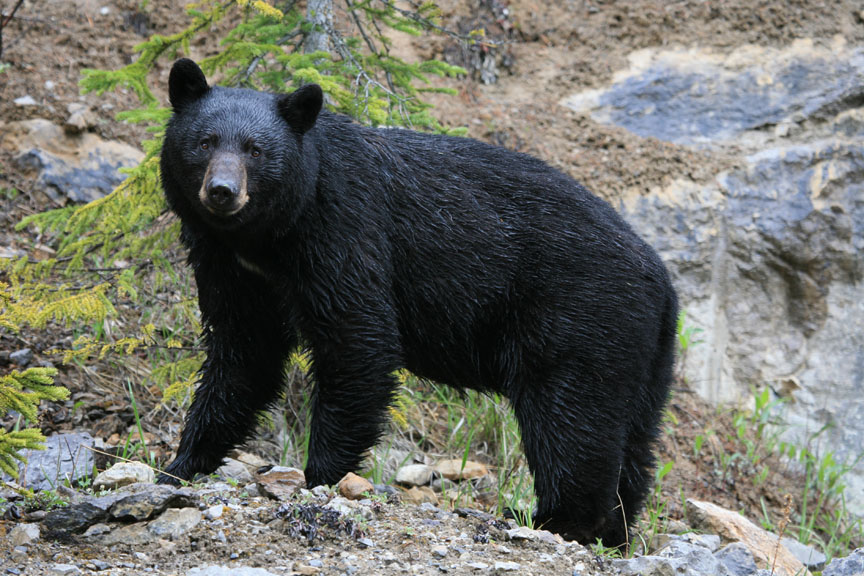 Wednesday, July 5, 2023
Guilty plea for black bear shooter
A man who shot a black bear while hiking with a firearm in Jasper National Park has been fined $7,500.
On August 6, 2022, Serge Painchaud of Edmonton was hiking with two friends on the Overlander Trail, a popular hiking trail along the Athabasca River, east of the Jasper townsite.
The group was hiking to the Colin Hut, an alpine climbers' facility operated by the Alpine Club of Canada. According to the court, Painchaud grew tired and turned back, electing to hike out to Maligne Canyon's Sixth Bridge.
However, as he descended a creek bed, Painchaud encountered a black bear.
St. Albert Provincial Court heard that Painchaud, a 41-year-old welder from Edmonton, is terrified of bears.
"He has a real fear of bears," defence attorney E. O'Neill told Justice Rosanna Saccomani. "Probably more pronounced than most people."
Painchaud was carrying a 20-gauge shotgun. Carrying a firearm in a national park is illegal under Section 2 of the Canada National Parks Act.
According to the agreed-upon statement of facts, when he encountered the bear, Painchaud discharged his firearm, intending to scare the bear off. The bear did not immediately flee from the "warning shot," according to crown prosecutor Adam Karbani.
"The defendant then fired one shot into the bear," Karbani said. "There was about five seconds between shots."
When this incident was first reported, The Jasper Local learned from Jasper National Park officials that after the accused shot the bear, the animal "rolled down the embankment of this creek and out of the man's sight."
Later, wardens could not locate the bear. They did, however, discover two shotgun slugs at the scene and a "substantial amount of blood," according to the agreed statement of facts.
After the incident, Painchaud made cell phone contact with his friends, who had continued their hike to the Colin Hut. Those hikers alerted Parks Canada authorities and filed an incident report. Parks Canada law enforcement wardens then met Painchaud at the Sixth Bridge trailhead and made an arrest.
In court on July 5, Painchaud's lawyer argued that his client did not realize that carrying a firearm in a national park is illegal.
"He thought he was allowed to carry a firearm for protective purposes," O'Neill said. "He thought he was authorized."
Painchaud, when questioned by Justice Saccomani before sentencing, confirmed his ignorance of the law.
"I honestly had no idea national parks carried different laws than any other crown land," he said.
Justice Saccomani told Painchaud, who is a hunter, that his fear of bears is justified, but being unaware of national park regulations is not.
"You choose to be a hunter and put yourself in situations where you will encounter wildlife," she said. "You choose to hike in Jasper National Park, which is one of the world's jewels as far as I'm concerned, knowing wildlife are there. Why would you not check the national park website?"
The crown was asking the court to fine Painchaud between $8,500 and $10,000, as well as a 12-month probation from visiting Canada's national parks, a two year firearms prohibition and between 50 and 80 hours of community service. The defence was asking for the minimum fine: $4,500.
Deciding on a $7,500 fine and no other probations, Justice Saccomani noted Painchaud's cooperation with law enforcement, his blank rap sheet and his guilty plea.
"You've come before court as a law abiding citizen, a hard worker and a family man … some will view [the fine] as high and those who live, work and enjoy the national park will view it as low." Justice Saccomani said. 
"I know you've learned an important lesson but general deterrence is the primary sentencing objective."
---
Bob Covey // bob@thejasperlocal.com