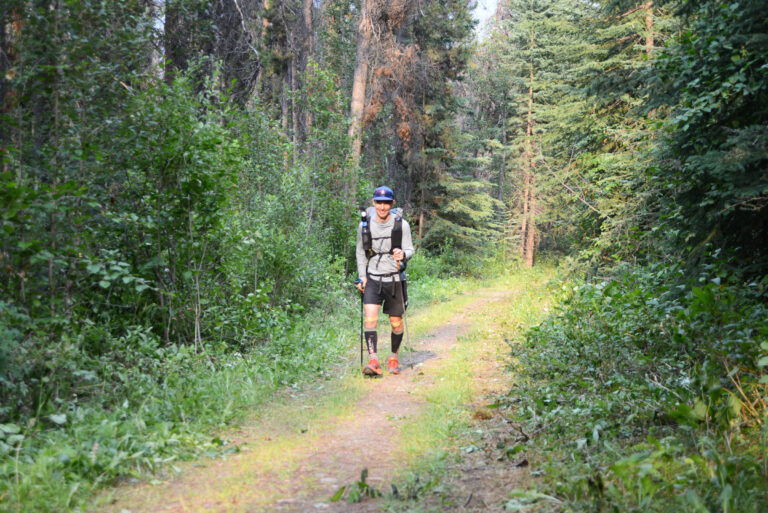 Tuesday, August 3, 2021
Great Divide Trail speed hiker raising money for at-risk youth
August 2 update: Andrew Cotterell finished his hike of the 1130 km Great Divide Trail in 20 days and 7 hours, a new fastest known time.
This story is from the August 1, 2021 Jasper Local
Every time that Canmore's Andrew Cotterell told a fellow hiker that he was headed to Jasper National Park's Skyline Trail, he was warned about the Signal Mountain fire road.
Boring, he was told. Monotonous, they said. Gruelling. Long. Interminable. Lame.
But Cotterell, who is attempting to set the fastest-ever through-hike on the 1,130 km long Great Divide Trail, didn't mind the nine-kilometre link. After hurdling endless deadfall along Mount Robson Provincial Park's Moose River and thrashing through shin-splintering willows in Willmore Wilderness' Jackpine Valley, Cotterell was enjoying the ease of traipsing up Signal's recently-brushed, double-lane corridor.
"I'll relish these sections, for sure," Cotterell said while keeping a brisk pace—something that was impossible to do earlier that day while making his way through the overgrown Miette Valley portion of the GDT.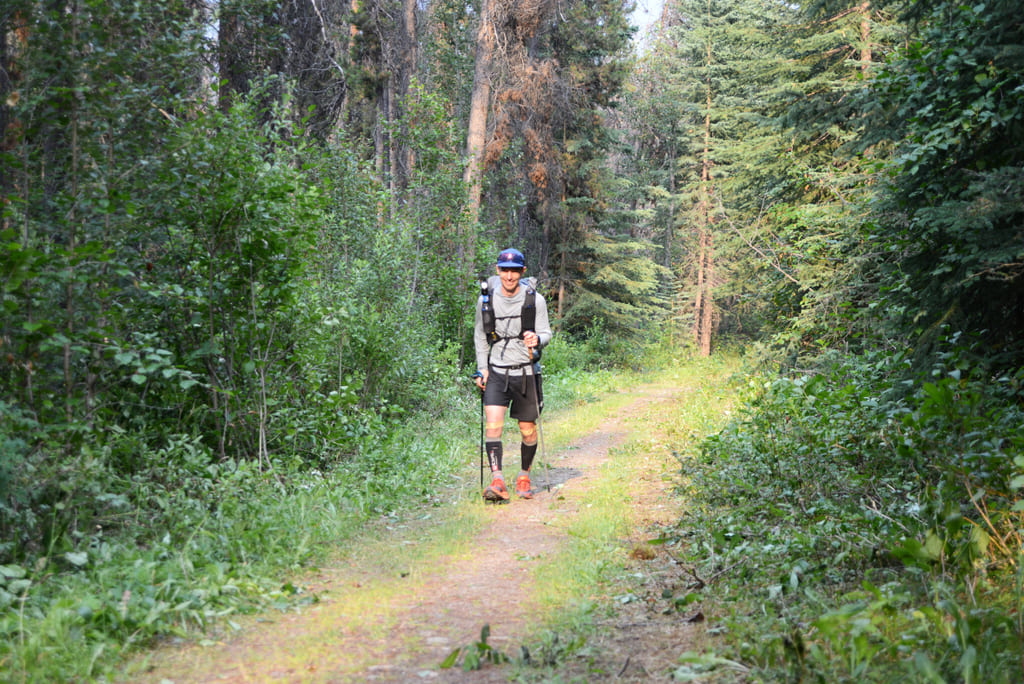 By the time he made it to Jasper from the GDT's northern-most starting point, at Kakwa Lake in British Columbia, Cotterell had covered 360 kilometres in just five days. By 6 p.m., when The Jasper Local caught up to him on Signal Mountain, he had already hiked 66 kms that day, and had another nine to reach camp.
"I thought it would be 25 km of easy downhill but that trail is overgrown with deadfall, muddy and nasty," Cotterell said about the Miette section.
He wasn't complaining. Cotterell loves spending time outdoors, a passion that led him to setting his audacious goal in the first place. The main reason for his record-setting challenge, however, is to help get young people into the wilderness who otherwise can't.
"I thought it made sense," the 32-year-old said. "I get so much from being outdoors. Giving other people the opportunity to do that feels pretty good."
Cotterell's journey will benefit Crossing the Divide (a co-incidental moniker, but unrelated to the GDT), a Calgary-based charity that takes at-risk youth into the backcountry of the Rocky Mountains for life-changing experiences. By the time Cotterell was setting up camp on Signal Mountain, his initiative had already raised $4,000.
"That's about two weeks worth of programming," he said (14 days later, as he was preparing to hike the last 150 kms of the GDT, the fund had grown to $7,150).
Cotterell, who sits on the board of directors for Crossing the Divide, said many of the charity's clients rarely get the chance to leave the busy city.
"For many of these kids it's the first time they're experiencing the calm of nature," he said.
Cotterell certainly found that calm while on the GDT. He encountered exactly zero other hikers on the trail until he got to Jasper, a trend that was soon to reverse as he readied himself for the popular Skyline Trail. The trip hadn't been entirely tranquil, however. Deep river fords, difficult route finding, rugged bushwhacking and plagues of mosquitoes brought out Cottrell's animal instincts.
"There was swearing, there was screaming, there may have been some crying," he laughed.
For all the tough sections of trail, however, the scenic, serene parts were far more prolific. Cotterell described the hanging glaciers of Moose Pass as "spectacular," and couldn't say enough about the remote, seldom-visited Kakwa.
"It's like the Rockwall plus the Iceline plus the most beautiful alpine meadows you've ever seen," he said.
Those sites are far behind him now, as is Jasper National Park—and Banff and Kananaskis, for that matter. On July 29 Cotterell hiked into Coleman, Alberta, on schedule to arrive at the end of the GDT in Waterton Lakes National Park exactly 21 days after he set out. If he succeeds, he will have shaved two days off the previous GDT through-hike record, which was set in 2019.
However, having already surpassed his fundraising goal, and knowing more young people will be able to discover the types of places he's been hiking through for the last three weeks, Cottrell knows his trip is already a success.
"Some of these kids are going to the mountains for the first time," he said. "Can you imagine?"
To donate to Cottrell's cause visit his fundraising page, here.
---
Bob Covey // bob@thejasperlocal.com