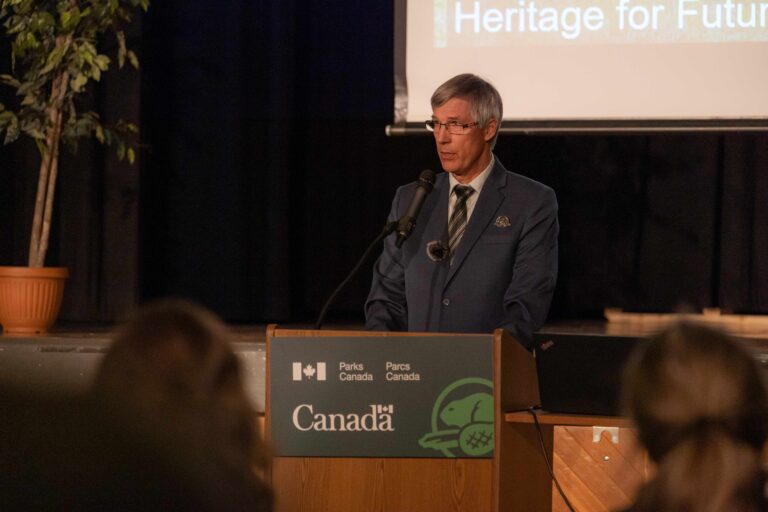 Friday, May 5, 2023
Fully funded bridge proposal rebuffed by Jasper's superintendent
Jasper National Park Superintendent Alan Fehr has declined a private offer to rebuild a washed-out bridge at Simon Creek, a structure which would allow access to Athabasca Pass National Historic Site.
Trevor Willson, a professional engineer and backcountry enthusiast based in Calgary, has designed a 100-foot long, six-foot wide, fibreglass replacement bridge that would be provided to the park for free. He says the engineer-stamped drawings would be consistent with Parks Canada's requirements and that complete project management and construction plans are also included.
"This bridge will last 50 years," Willson says. "We've figured out all the details."
The 49-kilometre Athabasca Pass Trail, which originates southwest of Jasper townsite, was the main fur trade route through the Rocky Mountains from 1811 to the 1850s. But the trail has been impassable since the Simon Creek bridge was wiped out by ice in 2016.
"Building [a bridge] is the easy part," Fehr told The Jasper Local. He explained that the Treasury Board requires JNP to also take into account future costs. "Anytime we create new infrastructure we think long and hard about it."
---
---
But after Willson's experience building nine other trail bridges in the backcountry of Alberta and B.C., he doesn't think the project needs to be over-analyzed. Using an anonymous donor's $250,000 commitment and another $50,000 in potential donations from wilderness and history enthusiasts, the bridge and its future maintenance will be fully funded. Willson has written a detailed maintenance plan and another plan for the bridge's eventual end-of-life decommissioning. In the meantime, he says that a Parks Canada bridge engineer would have to assess the bridge once every five years to approve its continued structural integrity and continued safety.
---
---
But Fehr says there are other infrastructure needs in Jasper National Park and that the remote nature and very low number of visitors using the Athabasca Pass Trail make a new bridge over Simon Creek a low priority. He also told an online audience at last year's annual forum that there's no budget in the next three years to fix the Simon Creek bridge.
"I really appreciate someone coming forward and saying 'here we've got some money for you'," says Fehr. "It would be really helpful if they said 'What's [Jasper National Park's] priority?'"
Since Willson can't state his priorities as a trail user any louder, he's appealing to other trail users, history buffs and the public, to speak up.
"Write to Mr. Fehr," Willson says. "Ask him to approve the Simon Creek bridge, contingent on someone taking care of the maintenance costs."
---
---
Ken Groat has written to Superintendent Fehr and says installing a replacement Simon Creek bridge would result in consequential use of the Athabasca Pass Trail. He's a descendent of the Métis and Indigenous People who originally inhabited what's now Jasper National Park. He also represents the Upper Athabasca Elders Council and is president of the Rocky Mountain Wilderness Society which has cleared more than 400 kilometres of trails in Willmore Wilderness Park, adjacent to JNP.
"Rocky Mountain Wilderness Society has witnessed an abundance of hardcore hikers in recent years [because] the trails are clear," says Groat.
He also says that re-establishing the Athabasca Pass Trail would further the government of Canada's reconciliation efforts.
"Reconciliation is a government word," Groat says. "You don't have to sit and meet and smudge together. Do something so that people can use the park. That's reconciliation."
According to the Parks Canada mandate, JNP has an obligation to ensure the park is accessible to the public by "protecting and presenting heritage that fosters appreciation and enjoyment for present and future generations." The 2022 JNP Management Plan includes a key objective that 'The trail network provides a range of opportunities to experience the park'.
"Jasper park has some of the best country in the world and people can't see it," Groat says. "That park belongs to Canada, not to the people who manage it."
---
---
There's a precedent for Jasper National Park accepting help from third parties to enhance its 1,000-plus kilometres of backcountry trails. In 2018, the Great Divide Trail Association cleared thick willows and dwarf birch along a severely overgrown section of the Maligne Pass Trail.
Other backcountry jurisdictions have benefitted from volunteer power, too. In 2022, the Alpine Club of Canada's Columbia Mountains Section fully restored and marked the 16 km trail on the west side of Athabasca Pass under a stewardship agreement with the Province of British Columbia. That work included building a 96-foot bridge over Jeffrey Creek.
"Visitors need to experience the parks away from the highways," says Willson. "But trails need to be in adequate condition so people don't get hurt while using them."
Many of Jasper National Park's remote wilderness trails are uncleared and have wind-fallen trees, head-high willows, and thick unrelenting overgrowth. They also have unbridged river crossings.
"Simon Creek is nasty," Willson says. "It's 80-feet wide, super fast, has big boulders and is opaque. Horses trying to cross it have been swept downstream and died."
Parks Canada knows this. Jasper National Park's resource conservation manager nearly got swept away by a fast-flowing Simon Creek, post-rainstorm. Despite this hazard—and the barrier it represents to experiencing Canada's history first hand—Fehr is noncommittal about approving a permit for the free bridge. What he has committed to, is more roadside signage.
"Given that the vast majority of visitors are unable to travel this route, Jasper National Park has invested in the Athabasca Pass National Historic Site viewpoint located approximately 15 kilometres south of the Municipality of Jasper which hosts several interpretive and pointer signs to foster recognition of the historic importance of the area," Fehr wrote to Willson in January.
"Fehr says the [Athabasca Pass Trail] isn't being used, but I guarantee if it was fixed, the trail would be used," says Groat.
Willson agrees.
"Write to Jasper National Park," he said. "Ask Mr. Fehr to help facilitate visitors using this beautiful, historic valley."
---
Bob Covey // thejasperlocal@gmail.com