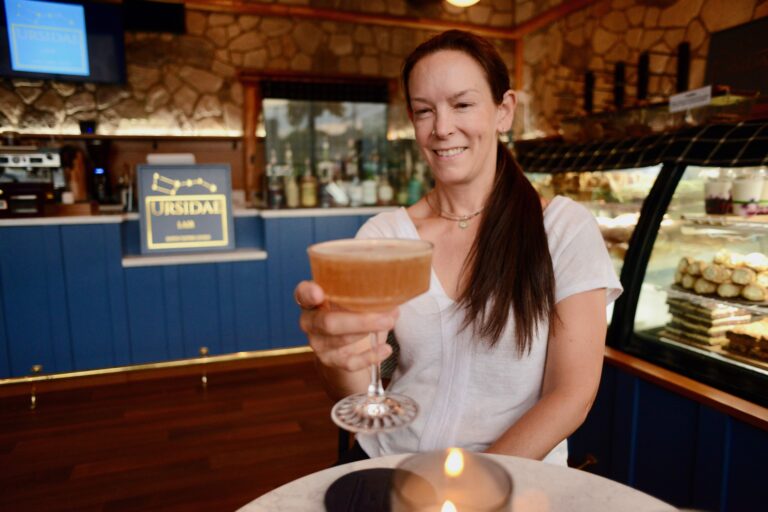 Tuesday, August 15, 2023
Time to switch to whisky: Local entrepreneur hoping new Scotch lounge takes flight
Kim Stark, owner of two bakeries in Jasper which are cornerstones of the community's culinary landscape, is once again raising the bar.
Or in this case, opening the bar. With the launch of Ursidae Lair—every night, the landmark Bear's Paw Bakery transforms into a sultry speakeasy—Stark has created Jasper's first ever Scotch lounge. It's a concept she's been swirling around for a few years, however, only in the tail-out of the economic mashing the COVID-19 pandemic put Jasper businesses through, has Stark felt adding another business to her stable is worth the risk.
"My theory in life is 'If you don't try, you don't know,'" she said.
That goes for sampling Ursidae Lair's main offer: malt whisky made in Scotland. Stark knows 80-proof grain alcohol is not for everybody—which is why she's built a bevy of beginner bevvies into her cocktail menu. The Forest Fire, for example, combines two styles of Scotch with lemon, ginger and honey. It's sweet, with lingering earthiness. Like sipping from a spring-fed creek in the sunlit canopy of an aspen grove—post-prescribed burn, obviously.
"All the cocktails are intended to provide a nice introduction to Scotch," she said.
Stark's own fondness for single malt goes back to a signature Jasper in January event which only residents and visitors of a certain vintage will recall: Scotch and Cigars, hosted at the long-since-closed Embers Steakhouse, was where she first realized that there was a niche market opportunity—but one with room for expansion.
"I was the only woman in the room," the volunteer with the Jasper Fire Brigade recalled. 
With respect to the cigar-chompin' fellas who want to post up at Ursidae Lair, that's not exactly the vibe she's going for with her new business. Stark's hoping, along with the aprés-golf crowd, that the moody atmosphere and the simple but scrupulous wine and beer list will attract ladies night revellers, too.
"I'm hoping we see guys out for dads' night, or groups coming by after fishing, but I hope we also get a younger crowd who wants to try something new."
It's all new for Stark, too. Since she decided to renovate the Bear's Paw space, ushering out what had become somewhat cluttered and kitschy in favour of country-cottage-chic, she hasn't stopped learning. Prior to getting her ProServe certificate from Alberta's Gaming and Liquor Commission, the 49-year-old hadn't poured a drink in a licensed restaurant since she worked in a dive bar in Winnipeg. That was a quarter century ago. Now, as she mixes drinks with quarter cask single malt whisky and gets schooled on which cigars go with what Scotch, the award-winning entrepreneur admits she's just trying to soak it all in.
"I'm not pretending," she says. "I've got lots to learn. And I want to learn from my customers."
Stark is ok with steep learning curves. This is, after all, the woman who built her powerhouse bakery businesses from scratch, who completed a 160-km ultramarathon only six years after starting to run and who jumped into motherhood—times three—after her 45th birthday.
"I like a little bit of pain with my pleasure," she laughed. "I like to feel the burn."
For a sip of Jasper's neatest new offer, drink in the atmosphere at 4 Pyramid Lake Road.
---
Bob Covey // bob@thejasperlocal.com