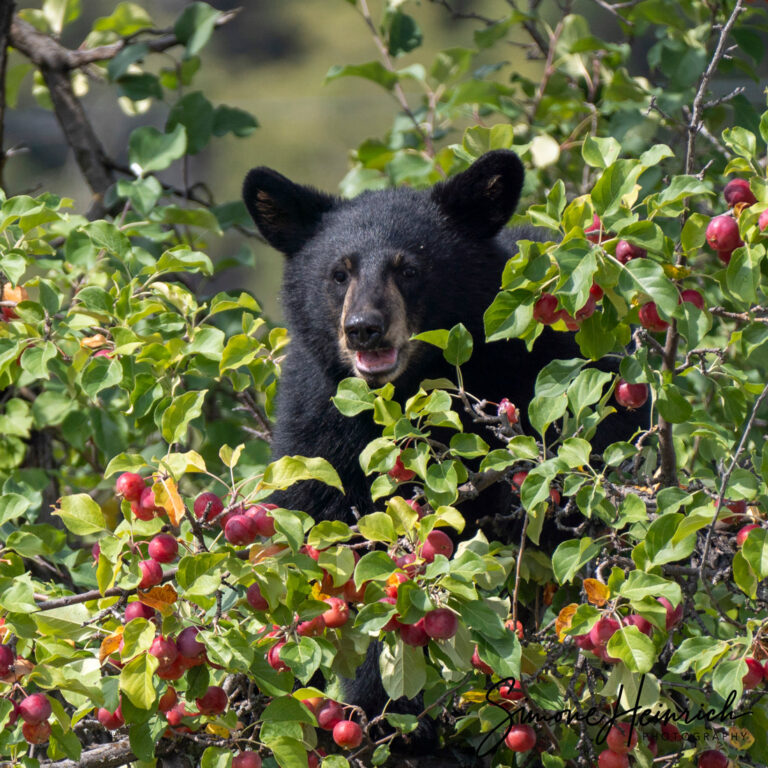 Friday, October 6, 2023
Bears and trees. What are we willing to lose?
What's it going to take for Jasperites to start managing their wildlife attractants responsibly?
All this fall, once again, bears have been running amok in Jasper. Morning and night—and even in the bustle of midday—bears are darting in and out of residential neighbourhoods, feasting on the easily-acquired bounty of calories which are ripe for the picking on more than 700 non-native fruit and berry trees around the townsite.
Last week, at a school bus stop, a black bear which had been gorging itself in the Cabin Creek neighbourhood darted back to the surrounding forest, travelling a path not more than 100 feet away from a cluster of backpack-toting schoolchildren, aged three to 11-years-old. I stood there, uselessly, shaking my head in disbelief, trying not to think about the what-ifs.
Three nights prior, I spotted a sow bear and her two cubs slinking out of the fenced yard where a family with small kids I know likes to have happy hour. A day before that, a juvenile bear was running down our street, having been shooed out of a neighbour's yard, causing every dog on the block to lose their collective minds. And on Wednesday, October 4, a blonde-backed, 300-pound grizzly bear was casually grazing on the grass that separates the space between our condominium strata and the town's water services road. My head nearly spun right off as I whirled around to make sure our three-year-old wasn't try to ride his scooter nearby.
I've seen more bears than ever this year in Jasper's front yards, back yards, alleys and avenues, and these are just my own observations. Parks Canada has had 301 reports about bears in the Jasper townsite this year (so far!). That compares to 285 in 2022, 95 in 2021 and 93 in 2019.  It's surreal when you come upon one of these big beasts romping around the same spaces used by dog walkers, strolling seniors and chariot-pushing parents. But I fear we're getting so used to the sight of bears in our town that we're becoming desensitized to how abnormal—and how dangerous—the situation has become.
Of course, right on cue, I know this is where members of the old guard are going to come in hot with their tough-guy takes: "We've always lived with bears!" "This is their natural domain, we have to learn to live with them." "Don't bother them and they won't bother you!"
I'm all for bringing to the table a bushel of local experience and a high-yielding crop of common-sense. But…
1: "We've always lived with bears"
This of course is true, but people also conveniently forget that bears which roamed Jasper's alleys for garbage in the 1950s-1970s were all-too-often destroyed when they became problematic. So we've always lived with bears, until we aren't able to, and we have to kill them. Revisionist history often skews our perspective on the present situation.
2. "This is their natural domain, we have to learn to live with them."
But the attractant trees are not natural. While technically, mountain ash and chokecherry trees are native to North America, apple trees, or plum trees, or mayberries aren't part of a bear's natural diet. Suggesting that because we're in their space we ought to give them carte blanche to do their natural thing is absurd. We learn to live with them by applying what we know to the issues that arise between us—just like when mountain towns all throughout the Rockies installed bear-proof garbage bins to eliminate the attractant of easily-accessed human refuse.
3: "Don't bother them and they won't bother you"
Tell that to the families of the Lethbridge couple who lost their lives in a horrible grizzly bear encounter while camping in the Banff backcountry September 29. I'm not trying to be flippant. Perhaps it's unfair to relate that extremely rare, predatory occurrence to the risks of a human-wildlife conflict posed by a Jasper's fruit-eating, townsite-habituated black bears, but I think it's more egregious to ignore the fact that, in the end, bears are unpredictable. If we continue to play with fire, eventually we're going to get burned. Why wait for the benefit of hindsight? It's alarming to me that so many of us are willing to put on the blinders to protect their ornamental landscaping.
Maybe I shouldn't be surprised. There are plenty of armchair experts suggesting Parks Canada has lost the plot in recent years, that their hazing efforts aren't what they used to be and that it's because of this soft-on-wildlife approach that bears are becoming emboldened—like a spoiled kid who just needs a good spanking. In my view, these keyboard warriors aren't giving the wildlife experts nearly enough credit for their endless monitoring and managing, nor are they factoring in the more recent, troubling trend of mother bears teaching the next furry generation where to find easy pickin's. Moreover, we have a crystal ball, of sorts, 300 kms south of us. In Banff, the 650-pound patriarch grizzly known as The Boss has been getting into residents' yards, hoovering crab apples and bluff charging people who accidentally come too close. Retired wildlife experts here are confident Jasper is only a few years away from grizzlies becoming similarly comfortable.
"If nothing changes this is, unfortunately, Jasper's future," said Steve Malcolm, who retired this year from his position as Jasper's human-wildlife conflict specialist.  
If there was a soft approach, it would be in how Parks Canada has dealt with Jasperites who've been resistant to the idea of removing their treasured trees. Technically, the feds are the land owner and they could just come in swinging—with an axe. Instead, they've asked politely, then encouraged, and are now practically begging homeowners to take action on their fruit trees. Many have obliged, but many more think they know better—or simply don't want to lose their favourite trees.
Ideally, a compromise of sorts can be achieved. Another retired Jasper wildlife expert, Wes Bradford, is adamant that an integrated strategy for removing fruit trees be developed by Parks Canada and the Municipality of Jasper. Bradford, who just recently took down a 70-year-old mayday tree from his own yard, says a compensation program could be developed to replace residents' attractant trees with a non-fruit-bearing variety. But for any of these ideas to work, there has to be buy-in from the community.
"Unless we get a well-planned and signed-off strategy with funding we will continue to talk about it and bears will continue to pay the price," Bradford has said. 
Let's pray the price doesn't cost even more than that.
And while we're asking for help, let's ask ourselves, for real this time: What are we willing to lose?
---
Bob Covey // bob@thejasperlocal.com