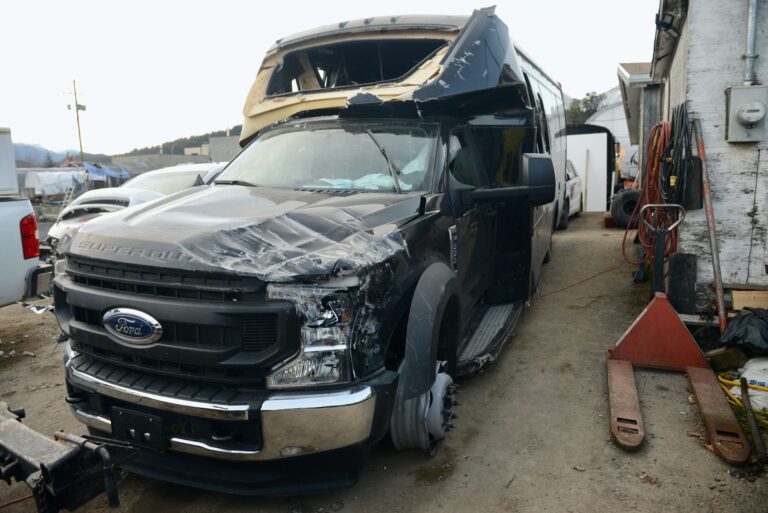 Monday, October 30, 2023
Driver "doing okay" after Jasper Transit crash
The driver of a Jasper Transit bus involved in an accident was released from hospital after a short stay and is recovering.
At approximately 3:20 p.m. on Sunday, October 29, a 24-passenger Ford SuperDuty bus crashed on Highway 16 eastbound, approximately two kilometres from the Jasper townsite. The bus, which was towed to Jasper Towing's yard after the accident, is operated by Pacific West Transit (PWT) on behalf of the Municipality of Jasper's nascent public transit service.
PWT's vice president of transit, James Vine, said the company's Edmonton-based Director of Operations is en-route to Jasper to continue the investigation into the incident. He said the driver involved in the accident was released from hospital yesterday after a brief time there.
"They are doing okay," Vine said.
There were no passengers on the bus when the accident took place.
Transit services were cancelled for the remainder of the day on Sunday. Vine said PWT does not anticipate any further service disruption to Jasper's regular transit operations.
"We still have two buses stationed in Jasper to support the contract and only one is required for service at any given time," Vine said. "We are in the process of mobilizing a replacement bus for the one involved in the incident and expect to have a unit identified for transfer within the next 48 hours."
At the time of publication (10:30 a.m. Monday, October 30), the Jasper Local had not yet received a response to a request for information from local RCMP members. We will update the story as soon as possible.
Jasper Transit recently switched to its winter schedule. Route details and fare information can be found at https://www.jasper-alberta.ca/p/transit
---
Bob Covey // bob@thejasperlocal.com