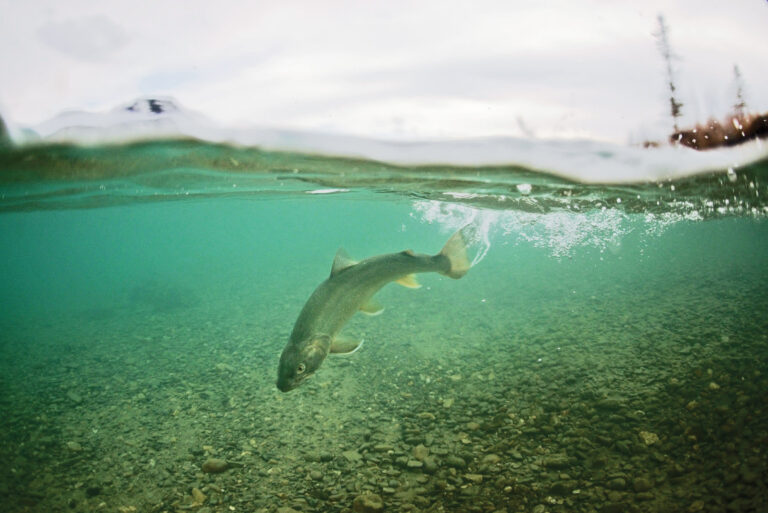 Wednesday, May 19, 2021
At risk of failure: Alberta ecologist calls bull on DFO's critical habitat order
A freshwater ecologist specializing in Alberta's native fish says a recently-issued Critical Habitat Order to protect Bull Trout in Alberta does not actually protect critical habitat or Bull Trout.
David Mayhood is a director of the Timberwolf Wilderness Society, based in Pincher Creek, Alberta. Mayhood suggests that the government's recovery plans for Bull Trout do not go far enough to protect the species' critical habitat and that the legislation has no measurable targets on which the government could base the order's success.
"If we're not actually counting the fish in some way we don't know whether we're making any advances in their recovery," Mayhood said.
On March 31 Canada's Minister of Fisheries and Oceans (DFO) and the Minister of Environment signed into law the protection of habitat of Bull Trout (Saskatchewan-Nelson Rivers populations) and Rainbow Trout (Athabasca River populations). DFO trumpeted the orders as taking strong action to conserve these fish populations.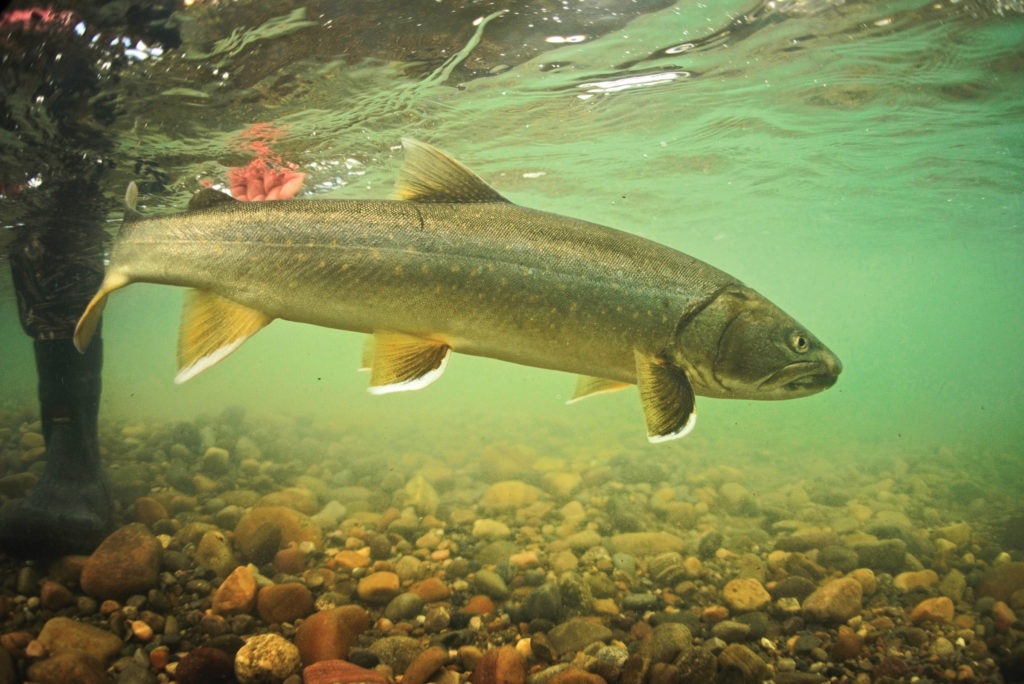 "Preserving our natural environment will always be a key priority for this government," DFO's news release stated.
However, Mayhood said that the Bull Trout recovery plan does not go far enough to protect the fish's critical habitat and that by expecting to recover an at-risk species while the lands and waters needed for that recovery are subjected to ever-increasing abuse from industry and motorized recreation, the plan does not constitute good conservation science.
"To retain any credibility at all, some recognition of these overwhelming threats to the success of Bull Trout recovery must be acknowledged," Mayhood wrote in his submission.
In the Saskatchewan River drainage basin—the headwaters of which originate in the pristine wilderness of Alberta's Bighorn Country—the Government of Alberta continues to sanction multiple uses of the public lands. A major feature of this use are roads and seismic lines.
"These land managers want to do everything in the same place, at the same time—they say we want to have mining, we want to have logging, we want to have oil and gas exploration, we want to have off-road recreation, we want to have horseback riding. It's clearly not possible, yet the ideology of multiple use is a very difficult nut to crack," Mayhood said.
Strip mining causes heavy metals such as selenium, cadmium, arsenic and chromium to leach out of rock waste and into watercourses, while clear cut logging—the preferred practice of Alberta's timber harvest—leads to increased flood flows, sediment transportation and the carving out of the channel systems fish use to spawn.
"You can't log the bejeezus out of a watershed without having an effect on flow timing and magnitude," Mayhood said.
DFO's March 31 Critical Habitat Order acknowledges that the fish's habitat includes the land surrounding the rivers, however, it only recognizes a 30 metre riparian "buffer" on either side of a stream channel, a tiny fraction of what constitutes the true terrestrial portion of critical Bull Trout habitat, Mayhood said. As long as activities damaging to the watershed are taking place on that land, recovery of fish species will be next to impossible, he says.
"When you impose something that completely changes the discharge characteristics of the stream you're going to be hundreds of years, likely, before things settle down to useable fish habitat again."
Apart from in national and provincial parks, Bull Trout have shown serious declines, range contractions and lost populations in Alberta. In spite of nearly two decades of harvest protection, the majority of Bull Trout watersheds were assessed as having either low or very low abundance of adult fish in 2014, according to the Alberta government. The government acknowledges that heavy land use—including forestry, oil/gas, agriculture and off-road vehicle access—is associated with poor Bull Trout status, yet they continue to prioritize these activities in watersheds the fish need. In 2020 the province removed 175 parks from the provincial park system, opened the Eastern Slopes to strip coal mining and called for a 30 per cent increase in its annual timber harvest.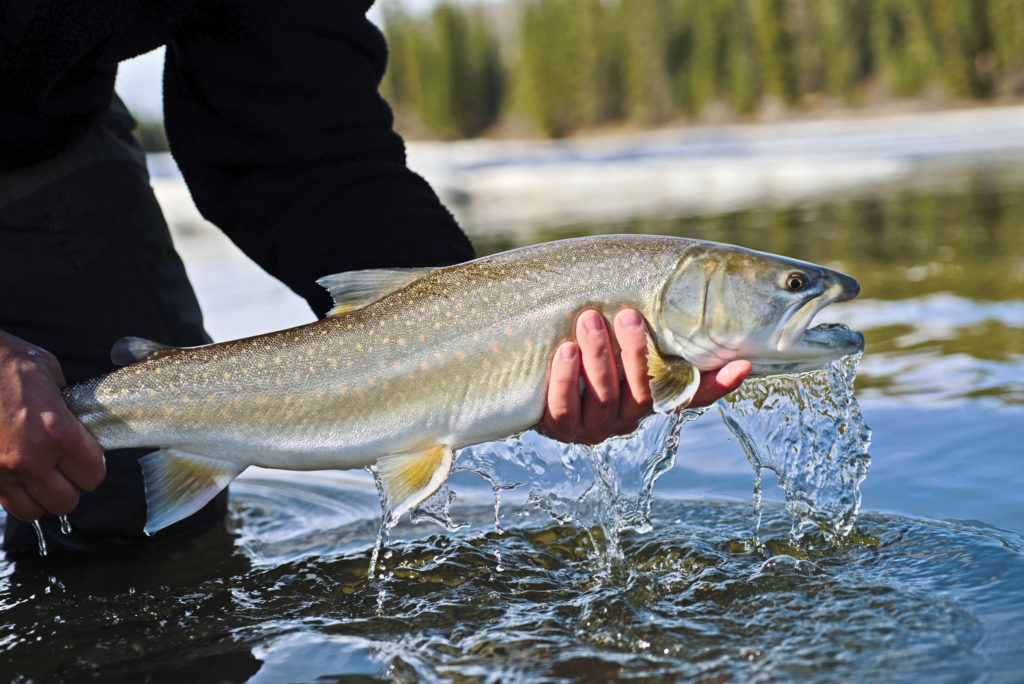 Without taking measures to mitigate the degradation to the watershed and without discontinuing the activities known to cause the problems, the greater the risk of extirpation these fish face. Without abundance targets for Bull Trout populations, government biologists won't be able to know if there are enough fish in enough places to ensure their extinction is not possible. And without expanding the definition of the Bull Trout's habitat to include the entire watershed, native fish populations in Alberta will continue to be more and more fragmented, damaged and lost entirely.
As Canada's most powerful piece of legislation to protect species and the ecosystems they need to live, the Species At Risk Act has the legal power to fight those battles. However, Mayhood isn't confident DFO is willing to make the push.
"I believe it's a deliberate ploy to allow business as usual, i.e. resource extraction and OHV use, for as long as possible," he said.
---
Bob Covey // bob@thejasperlocal.com
---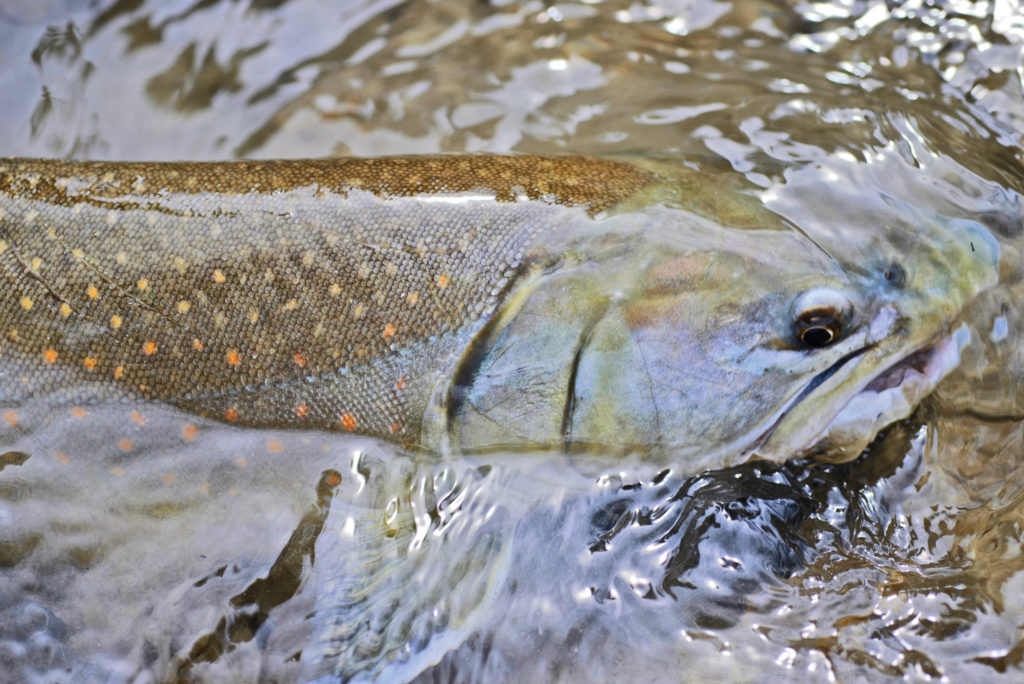 NO FISH TALES HERE….SOME FACTS ABOUT BULL TROUT
? The Bull Trout is the official fish of Alberta.
? Bulls can get big. Individuals have been measured up to 103 cm (41 inches) in length and up to 14.5 kg (32 lb), but typically an adult fish averages about 60 centimetres.
? The Bull Trout is adaptable in where it can live. Some are lake residents, others make their homes in streams and rivers, and still others live in a mixture of the two watercourses. They make maximum use of their natural habitat by having these different life-history types.
? Bull Trout can migrate hundreds of kilometres to spawn in the fall. Like salmon, they do this in small headwaters before moving downstream to larger, over-wintering water. Bull Trout typically spawn at five years, later than most trout.
? Bull Trout aren't actually a trout. They are members of the salmon family known as char. Char are distributed farther north than any other group of freshwater fish and are well adapted for life in very cold water.
? Bull Trout are listed as a threatened species in Alberta. Over-harvesting of Bull Trout led to a decline in their population in the early part of the 20th Century, but the main threat today is industrial land use and development, habitat destruction and changes to surface and groundwater flow.
? Mortalities from catch-and-release angling also could be contributing to population declines.
? Because of their vulnerability, there is a zero possession limit on Bull Trout throughout the province; all Bull Trout caught must be released.