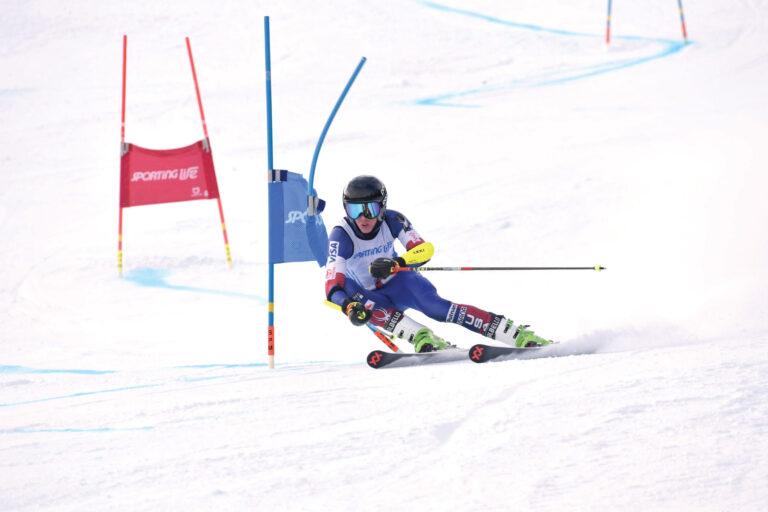 Monday, November 22, 2021
Jasper ski racer shooting for the stars
A third-generation Jasperite and life-long ski racer has his sights set on the top of the mountain.
For the past 10 years, Jesse Kertesz-Knight has dedicated his life to becoming the best ski racer that he can be.
This past spring, after posting impressive results in slalom and giant slalom, the 18-year-old was invited to train with the Alberta Ski Team. He remembers getting the call from one of the Alberta coaches.
"I was nervous," Kertesz-Knight recalled. "I wasn't sure if it was going to be a good call or a bad call."
The call wasn't just good, it was amazing. The coach let Kertesz-Knight know that he'd been selected for the provincial team and that he was invited to go to Europe this fall to prepare for the upcoming race season.
"It's a big step up from racing with the club team," he said.
Although his parents strapped on his first set of skis when he was just two-years-old, Kertesz-Knight didn't start racing with the Jasper Ski Team he was eight. That's where his love of racing developed.
"There's a feeling when you make a nice turn and you start seeing all your hard work pay off," he said.
After he outgrew what was available this community, two years ago, Kertesz-Knight joined up with the Banff Alpine Racers. There he was the top male racer selected to compete in nationals, the top U16 Alberta overall title winner and the recipient of the Rob Bosinger Memorial Ski Scholarship, awarded to the racers who exemplify passion for the sport, ambition and courage.
Now Kertesz-Knight is finding the courage to take the next jump, but he needs the community's help to get there. Kertesz-Knight is fund-raising to support his ski racing dreams. His goal is to raise $15,000.
"In order to move forward in my sport, I have to compete at a higher level," he said.
Expenses include coaching, travel fees, room and board. He's already had huge help from the Mount Robson Inn and Totem's Ski Shop, but he's hoping to appeal to the broader community by demonstrating his passion and his hard work.
"Having graduated from high school with honours this year, I now have more time to pursue my ski goals, which include improving my world ranking and hopefully qualifying for the World Junior Ski Championships," he said.
His full-time training schedule might seem gruelling to others, but Kertesz-Knight sees developing his skiing as a privilege.
"I wouldn't call it a sacrifice," he said. "I feel lucky and thankful for all those who supported me."
You can help Kertesz-Knight pursue his skiing goals at his GoFundMe.com page.
---
Bob Covey // thejasperlocal.com