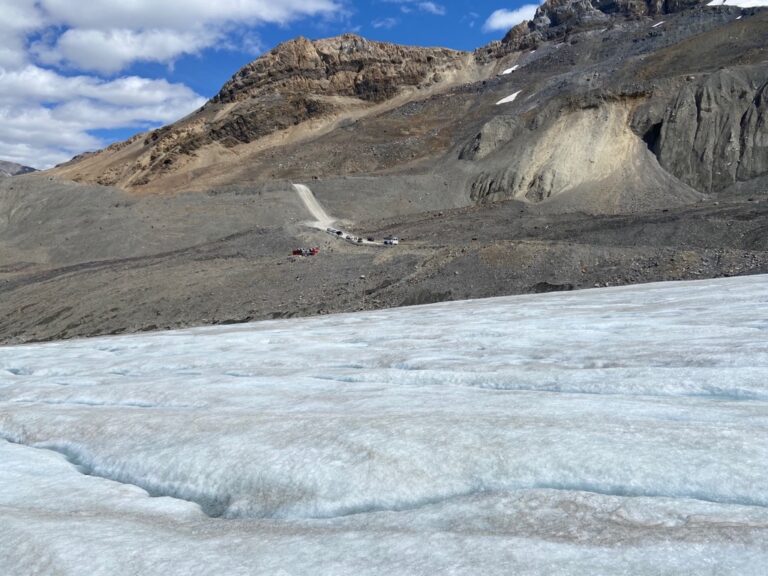 Friday, December 9, 2022
No criminal charges in Ice Explorer accident: RCMP
RCMP have determined that criminal charges are not warranted in the 2020 Columbia Icefields Ice Explorer rollover that killed three people. 
Jasper RCMP have completed their investigation into the accident and determined the evidence gathered and reviewed did not meet the threshold for criminal charges.
"The RCMP have shared all requested investigative material gathered during the criminal investigation with the Ministry of Labour as required by the Alberta OH&S Act," states a December 9 media release.
---
---
On July 18, 2020, one of the tour buses operated by Pursuit: Banff Jasper Collection lost control on the Athabasca Glacier's steep moraine and rolled down the mountainside, ending up on its roof.
Eye-witnesses of the accident told The Jasper Local at the time that the four metre-tall, 15-metre-long, 25,000 kg machine careened into an embankment and rolled several times, throwing passengers from the bus.
Three people were killed, 14 were critically injured in the accident.
A class-action lawsuit on behalf of passengers involved in the fatal bus crash was filed later that summer, alleging the defendants—which include Brewster Travel Canada Inc., Viad Corp, and Banff-Jasper Collection Holding Corp—acted recklessly and unreasonably. That $17 million claim is still before the courts, as is an investigation by Alberta OH&S which resulted in charges.
At the time of the accident, seatbelts were not required in the Ice Explorers. Since then, the 50-passenger buses have been fitted with seatbelts.
After the Ice Explorer experience reopened in May of 2021, Pursuit told The Jasper Local the company had completed a thorough examination and review of their safety protocols.
"We are confident the highest safety standards have been applied to all the activities offered by Pursuit," spokesperson Tanya Otis said at the time.
Jasper RCMP said the complexity of the investigation, including the acquisition and review of third-party records, took a significant amount of time to complete.
"The investigation was of the utmost seriousness and was complex, both factually and legally," the statement says.
"Our thoughts continue to go out to the families of the deceased and the injured, and to all who have been impacted by this tragedy."
The Columbia Icefield is located approximately 100 kilometres south of Jasper. 
Nine years before the accident, former Jasperite, author and naturalist, Ben Gadd, warned the company that the deteriorating moraine into which they cut their glacier-access road poses a danger to the people and machines which traverse it. 
---
Bob Covey // bob@thejasperlocal.com