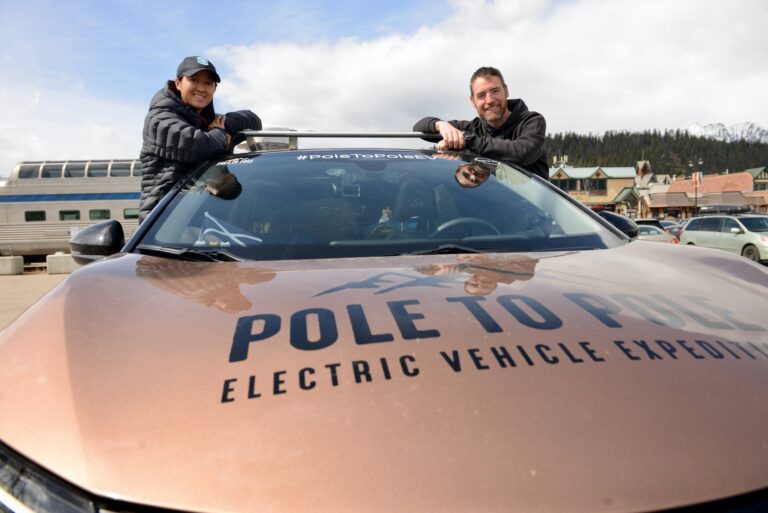 Friday, April 28, 2023
Charged up for adventure: Eco-expedition gets a boost in Jasper
On April 25, Chris and Julie Ramsey's Nissan crossover was plugged into the electric vehicle charging station on Connaught Drive.
Their car, a 2022 Nissan Ariya, stands out: besides the BF Goodrich 39-inch fat tires and the Iridium "sat-comms" dome atop their roof, stickered on the rig's copper sidepanels are the words "POLE TO POLE ELECTRIC VEHICLE EXPEDITION."
As a UNESCO Heritage site, and at the intersection of the world-famous Icefields Parkway and the TransCanada Yellowhead highway, Jasper sees plenty of unique rides roll through town.
Many of those vehicles are expedition-worthy; increasingly-more are electricity-powered. Rare is the automobile that is both. And, until Tuesday, no driver that came through Jasper could say they had come by way of the planet's magnetic north pole, and that they had just driven to the top of the globe without an internal combustion engine (although their support team did).
That claim is Aberdeen, Scotland's Chris and Julie Ramsey's. And theirs alone.
"This is the toughest thing we've done," Chris Ramsey said, recalling a terrifying day of driving their EV over thawing arctic sea ice, northeast of Nunavut's Cambridge Bay. "Unfortunately, we've had zero time to soak anything in."
Such is the life of a cross-country, all-terrain, marathon driving team—although the couple is quick to point out the Pole to Pole EV Expedition is not a race. Instead, they say their epic journey is one of discovery, learning and hope—an opportunity to show the potential of EVs while inspiring people wanting to take climate change action.
"The aim is to demonstrate the capability of EVs to the wider public," Chris said.
They've got their work cut out for them in Alberta. Although EV charging infrastructure is expanding, the Yellowhead highway has been called a "wasteland for EVs," and the province is still far behind neighbouring British Columbia, in terms of rolling out fast-charging infrastructure. Compared to the UK, where the Ramseys come from, the country on a whole has a lot of catching up to do.
---
---
"I naively assumed Canada would be ahead of the EV game," Julie said. "I was taken aback by the lack of chargers from Yellowknife to Edmonton, in particular."
They were also taken aback by Canada in other, more positive ways. Seeing a polar bear in the wild was one such instance. But another was when their car was almost out of juice in High Level, Alberta, where the EV chargers were unfortunately down, and the townsfolk rallied to save the Ramseys' day, eventually plugging the vehicle in through an adapted dryer socket, at the back of a Canadian Tire.
"It was that small town friendliness you hear about," Julie said.
Sometimes clichés are true. Other times, however, a myth needs busting. In imagining the Pole to Pole Expedition, the Ramseys wanted to discredit common misconceptions about EVs—the most typical ones being that EVs don't have enough range, and that they don't work in the cold. Face still red with arctic wind burn, Chris rebuts those fallacies.
"EVs are capable, they're reliable and they can go for long distances, although it's certainly more challenging in minus-39 degree Celsius temperatures," he said.
The proof is in the pictures: images of their EV crawling over snow-covered pressure ridges on arctic sea ice; parked under aurora borealis at the Arctic Circle; and pulling up to the place where scientists have determined where the earth's magnetic north pole would have been in 1823—a place which has, until now, only been accessed by human, canine or fossil fuelled-power. Like they did in 2017 when they finished the 10,000 mile Mongol Rally in a Nissen LEAF, the Ramseys are shattering EV preconceptions.
---
---
"We're demonstrating that EVs are not what people think they are," Chris said. "Make no mistake, this is a proper adventure."
How else would you describe plodding along over roadless tundra for eight days? Or driving over a massive, frozen but thawing lake, hoping the ice is thick enough that your car doesn't break through? Or keeping the heat off inside the car in sub-zero temperatures to eek out every drop of range of the car?
"We are pushing the car and ourselves to the limit," they said.
To the couple's delight, they haven't had to literally push the car—they've had no breakdowns, save for a sheared steering rack when they bottomed out on a sharp rock ("you can blame the driver," Chris joked). That strong track record bodes well for navigating whatever dirt, mud, snow or otherwise hazard-covered roads that North and South America—not to mention Antarctica—are going to throw at them.
Follow the Pole to Pole EV Expedition on Instagram and Twitter as they set their sights on phase two of their mission: to become the first people to drive an EV to the south pole. They also graciously accept donations.