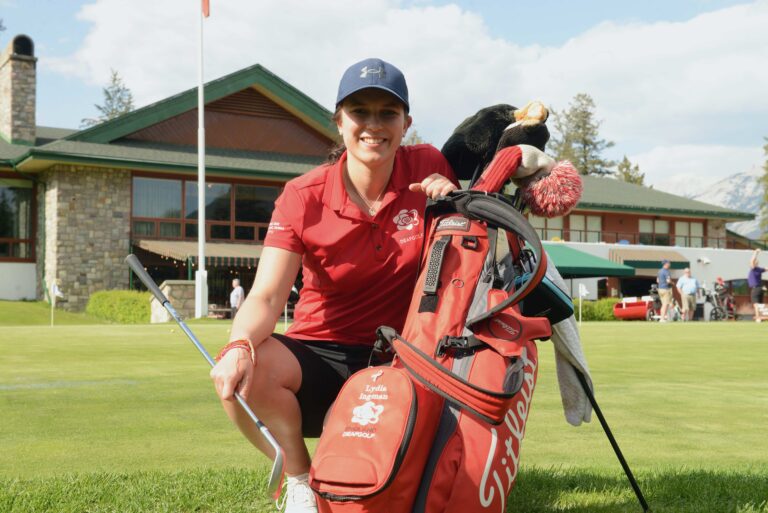 Wednesday, May 31, 2023
Perfect pitch: Jasper golfer an ambassador for women and deaf athletes
Dressed in Sunday red, balanced perfectly on her follow-through and watching her golf ball arc above a stand of aspens on the hardest ranked hole at Stanley Thompson's Jasper Park Lodge Golf Club, 27-year-old Lydia Ingman is in her element.
From dead centre of the pinched fairway on "Tekarra's Cut," as the bunkerless Hole 8 is named, Ingman has just played her second shot onto the elevated, hillside green. Her ball lands softly on the narrow putting surface, stopping 15 feet away from the pin. She'll putt for birdie.
---
---
"Great shot! What club was that?" one of her playing partners asks. 
Ingman doesn't respond—she didn't hear. But suddenly she's aware there's a question hanging. "What club?" comes the query again.
"Sorry," she smiles, holding up her pitching wedge. "I'm deaf."
Born in Chesterfield, England, Ingman was born without being able to hear. Until she received a cochlear implant when she was three-years-old, her first forms of communication were signing and lip reading. She still uses those tools to communicate, and although her disability has helped make Ingman the person who she is, at age 27, she doesn't let being deaf define her. However, neither would she change her circumstances.
"I wouldn't change being deaf for the world," she said after posting two-over-par on the JPL Golf Course's front nine (she barely missed the birdie putt on hole eight). "I wouldn't be the person I've come to be if I wasn't deaf."
As a team member with the England Deaf Golf Team, Ingman has seen her share of success on the golf course. In 2016, at age 20, she won the Ladies World Deaf Golf Championships in Copenhagen, Denmark, then she won the European Deaf Championships in 2017 at Ganton Golf Club, England. Three times she has been a part of a team which has taken the World Deaf Championship title. This past year, in Hawaii, her team came in third.
---
But more than chalking up wins, Ingman hopes she can lift up her community. Ingman wants to inspire deaf and mute girls who are thinking of taking up the sport. Seeing her success as a deaf woman could make the difference for a girl wondering if they're able to achieve their own goals, Ingman said.
"We all come from different backgrounds," she said. "We all have different strengths."
When it comes to golf, Ingman's strength is on the tee decks—she drives it long and straight, setting her up to throw darts with her short irons. Her putting, on the other hand, is where she needs to keep practicing, she says. But if she has no problem admitting she has work to do on the greens, she also sees ground to be made up when it comes to equity in the sport. Although that's changing, she says.
"I'm noticing more women in golf," she says. "I think it's good to recognize that."
This year, the Fairmont Jasper Park Lodge Golf Course—along with golf organizations around the world—is recognizing June 6 as Women's Golf Day. But the third-best golf course in Canada is not limiting the awareness to just one event. Ingman is one of 13 female employees at the Jasper Park Lodge Golf Club this season—more females than ever before, in a year where female memberships are on the rise, said her playing partner and fellow Fairmont JPL employee, Delainey Hart.
When she's not shooting low numbers, Ingman is working in her role as golf administrator. Part of her duties include helping keep the pro shop stocked with product, paying invoices and creating purchase orders. She also works with the head professional and director of golf, but it will be alongside Jasper Park Lodge golf professional Brenda Dew where Ingman will help make Women's Golf Day—an event to engage, empower and support women—a success.
"Regardless of age, or what we specialize in, it's nice to get together as women and celebrate," Ingman says.
---
Bob Covey // thejasperlocal@gmail.com