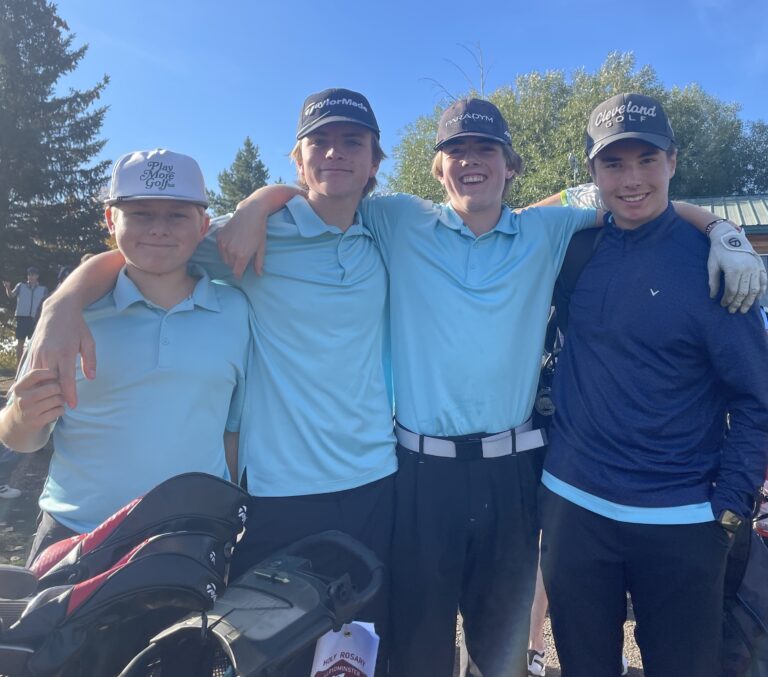 Monday, October 2, 2023
Provincial tournament a tough test for junior golfers
Four dudes, 1,200 kilometres, two golf courses, 6,450 yards and 506 strokes.
Those were the numbers for the representatives from Jasper Jr./Sr. High School at the Alberta Schools Athletic Association's (ASAA) 2023 Provincial Golf Tournament.
Four dudes: Drew Kovacs, Casey Peel, Lincoln Radloff and Austin Schmidt.
1,200 kms: From Jasper, to Lloydminster, on the border of Alberta and Saskatchewan, and back.
Two GCs: Lloydminster Golf & Curling Center (par 72) and Rolling Green Fairways (par 71).
6,200-6,450 yards: The Grade 10 boys from Jasper played from a combination of white and blue tees
506 strokes: Read on
---
On September 18, the Jasper golfers, aged 14 and 15, played their way into a tee time at the ASAA Provincial Championship by going low at a qualifying tournament. On that day, conditions at the creekside Edson Golf Club were forgiving. Not that the course and the weather were playing easy, but the company they golfed with was familiar: the Jasper boys all played together (with an adult score keeper, mind you).
"At zones they all played together, so I think the pressure was off, they were relaxed," said Jasper golf mom, rental van driver and Junior Golf Night organizer, Ali Mason. "When they got to Provincials, they were grouped with other kids. It was a different dynamic."
Not one to be intimidated, Casey Peel put together his best ever rounds in Lloydminster—a 91 followed by an 88—pretty decent considering he'd never played there before. But Kovacs and Schmidt, who typically shoot in the 80s, and sometimes lower, at their home track, were victims of the course's narrow fairways. Lloymintster GC assistant pro Jason Kim confirmed that landing your ball wide of the mark can be costly at the well-regarded facility.
"It's thick rough," he said. "Hitting fairways is a big part of any success you can have here."
As is keeping the ball in bounds, as Kovacs found out—the hard way. Although his first round included a bunch of birdies and an eagle on the par 5 ninth for a tidy 82, on the second day, more than a couple times he bombed it off the tee, figured he could locate it, but then had to take a penalty when he was forced to drop a new ball. As a result, Kovacs had to mark down some double-digit numbers on his scorecard, something he hasn't done in a few years. He reluctantly added up the second day's shots to score a 91.
"It was embarrassing," he lamented, over speakerphone, from the back of the rental van.
Schmidt's two days took opposite turns. He played uncharacteristically poor on the first day, then cleaned up his game by 10 strokes on the second, shooting an 87. Like Kovacs, Schmidt got into the red numbers on multiple holes, but on other holes, he got into the water and into trouble OB.
"They were both hanging their heads a little low," Mason said.      
Radloff, meanwhile, was just happy to be there, even though the 14-year-old was one of only seven Grade 10 students in the field of 136 golfers. He wasn't happy, however, that the club ran out of rental pull-carts. Although he always walks his hometown Jasper golf course, Radloff's clubs are usually on wheels. The added burden of carrying his clubs for 36-holes was just another factor in him chalking up a two-day total of 203, Mason said.
"He was tired!" she said.
The winner of the tournament, 16-year-old Jared Code from Ernest Manning in Calgary, carded a 69 and a 72 for a stealthy minus-two over the two-day contest.
Seven of the top 10 golfers were from 4A schools—schools with more than 800 students.  The Jasper crew was representing a 1A school: fewer than 100 students.
Mason thanked a bevy of local businesses including the Jasper Brewing Co., Jasper Source for Sports, Jasper Fire and Ice (JFI) Foods, Earls in the Rockies, AnnaLea's Candy Lane, the Jasper Liquor Store and Wine Cellar, Mexicangler and SunDog Tour and Transportation Co. for their sponsoring of the boys' tournament expenses, as well as for their support of the junior golf program, which ran several Junior Nights at the Fairmont Jasper Park Lodge Golf Course this past summer.
"It was an awesome experience," Mason said.
---
Bob Covey // bob@thejasperlocal.com