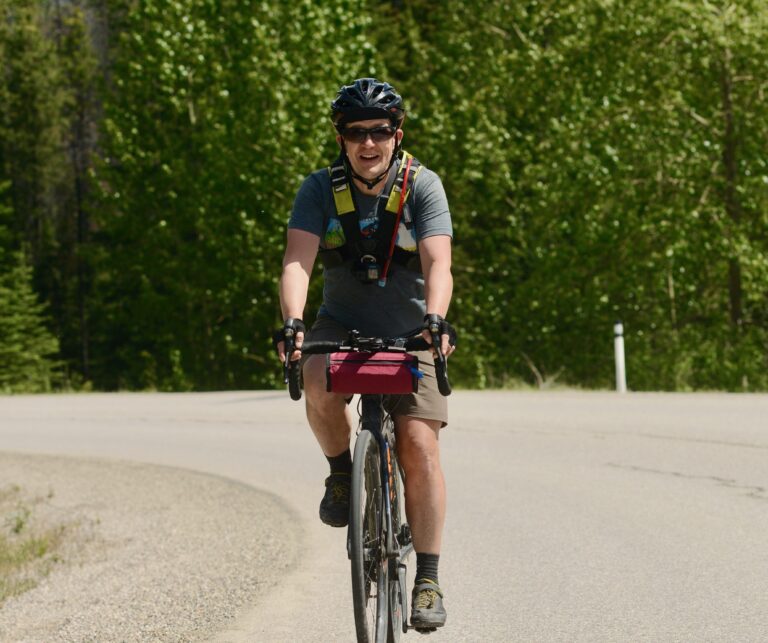 Thursday, June 8, 2023
Everesting Roam challenger gets timely tow from local legend
On a day when hundreds of cyclists with the Jasper Gran Fondo were racing all over Jasper National Park's blacktop, one lone rider was racking up kilometres with a different mountain in mind.
Dean Anderson had no racer's pinny. He wasn't part of any peloton. And there was no participation medal for his efforts.
But on June 3 at approximately 4:15 p.m. Anderson, together with his wife, Kristin, were celebrating as though the 50-year-old from St. Albert had just summited Mount Everest.
Because in a way…he just had.
Pedalling up to the Portal Creek trailhead on the Marmot Basin Road, Anderson was capping off a 34-hour, 400 km, 10,000 metre elevation epic—the equivalent of riding to the height of the world's tallest peak.
In marathon cyclist lexicon, Anderson had just completed an "Everesting Roam," a mission that differs from a classic Everesting challenge. Instead of simply lapping the same hill over and over to ascend to the apex of the Himalayas (as Dean did in 2019 on Signal Mountain and again in 2021 on Whistlers' Mountain), an Everesting Roam allows riders to get creative with their route selection. As such, Anderson's plan was to ride the 48 kms up to Maligne Lake and back from Jasper, climb up the Signal Mountain fire road twice, zip on over to the Pyramid Mountain fire road for a couple laps there (including the dizzying climb to the Palisades), hit Whistlers Road for a four-pack, then fit in the remaining vertical on the Marmot and Cavell Roads.
"I like testing my limits," Anderson said. 
But Anderson, a structural engineer by trade, was also testing the limits of his equipment—and his original planned route. After ascending and descending Signal and Pyramid, he realized his gravel tires were too skinny for the fire roads. And after giving his all on the steep inclines of Whistlers Road and the Cavell Road, he found he wasn't gaining enough distance to get to 400 km in the allotted timeframe. So he stuck to the Marmot Road, where he could grind away at his goals with each successive 14 km, 828-metre circuit.
"The Marmot road was more sustainable, more manageable," explained Kristin, who kept a steady supply of turkey sandwiches, energy bars and pickle juice—the apparent key to Anderson's hydration—at the ready. "And coffee as a treat," she added. 
Still, Anderson wasn't immune from the kryptonite of long-distance bikers, and at 1 a.m. on Saturday, June 4, the dreaded "sleep monster" came calling. Dean caught some much-needed winks (which is allowed during an Everesting Roam) and picked up the pace after he woke a couple hours later, but his body's need for rest was endangering his goal of meeting his timeline.
"Fatigue is the biggest factor in meeting the 36 hour deadline," Kristin posted on Facebook at the time. "Hopefully, the Jasper Gran Fondo riders will help him stay awake."
They did—many pinny-wearing participants cheered him on as they zipped by, no doubt with finish line burgers and beers on their minds. But not long after they passed, the sleep monster crawled out of the ditch again, threatening to drag Anderson down.
"I was weaving all over the road," he said. "I was talking to myself, trying to stay awake."
Then, suddenly, from behind Anderson, came a different type of beast—one sporting flowing hair, a broad grin and sculpted calves.
With his boundless energy, tens of thousands of miles in the saddle and propensity to reveal his heart to perfect strangers, there may not have been a better-equipped motivator to help coax Anderson to the top of the mountain than local cycling legend, Jasper's Doug Hammell. Talking about bikes, family, spirituality and anything else that came to mind, Hammell towed Anderson up the mountain on a winch of wise words and will power.
"We just got chatting and hit it off," Hammell said. "We didn't even notice we were climbing."
Luckily, Anderson's Garmin was still keeping track. As such, just after 4 p.m. on June 3, having ridden 407 km, his cycling computer registered his 10,000th metre ascended. The Everesting Roam challenge was complete.
"He likes doing hard things," Kristin shrugged. 
Stay tuned to his social media page, Dean on Wheels, to see what hard thing Anderson will get up to next.
---
Bob Covey // thejasperlocal@gmail.com