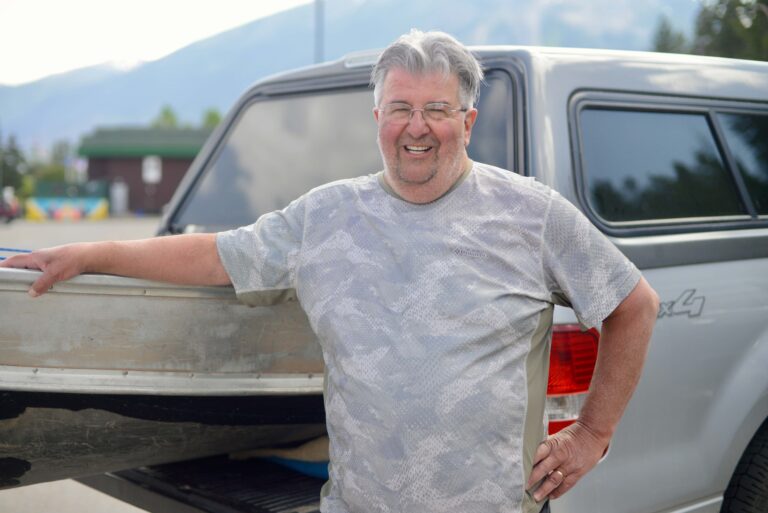 Friday, June 16, 2023
Going off-line: 40 years of fishing, fighting, retailing and ranting
Opening weekend, 1995:
Jasper National Park fishing guide, Mike Merilovich, had two clients for a half day on Pyramid Lake. Merilovich, the owner of On-Line Sport and Tackle, had a good feeling about the trip. He'd already landed one lake trout first thing in the morning—as he tells it, the fish hit the lure as soon as he flipped it into the water.
"I hadn't even turned the motor on," he recalled. "I thought 'this is my lucky day.'"
Little did he know how lucky it would soon get.
"We were in 28 feet of water, fishing a Spin-N-Glow," he recalled. "All of a sudden…BANG!" 
The client's rod buckled. Fish on.
"It went bang, again!" Merilovich said. "She yanks it, sets the hook, the reel is screaming!"
The rod was pulsing maniacally, the line was spooling off the reel. But his client was panicking. In the excitement of the moment, she froze.
"I said 'lady, you've gotta keep reeling!'" Merilovich laughed. 
Eventually, she did. Fifteen minutes later, a 12 pound lake trout was in the net. It was the biggest fish ever caught on a guided trip in Jasper. Merilovich remembers bringing it down to the local newspaper of the day—The Jasper Booster—for a photo.
"What a fighter," Merilovich recalled.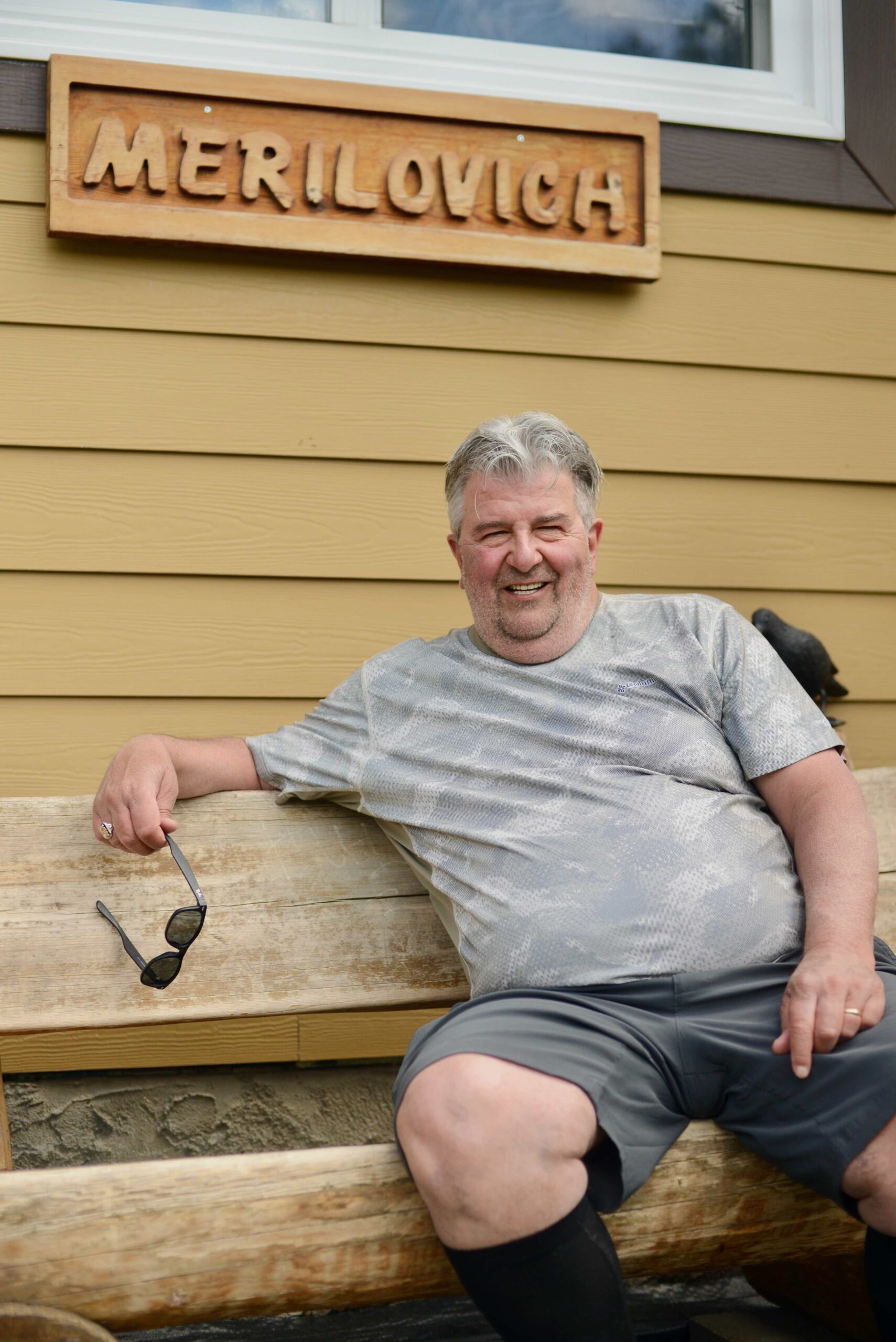 As he settles into his first summer as a retiree, looking back, the same could be said about Merilovich himself.
For 40 years from his Patricia Street store, Merilovich fought for his business. He fought with Parks Canada, he fought with competing outfitters, he fought with other leaseholders and he fought with the local taxman. But from his point of view, Merilovich was always on the side of the angler—and the fish they angled for.
"I'm for the fish," he said from the "bragging bench" which, upon retirement, he had moved from outside his former store to outside his current home. "I'm a man of science. I agree with the need to do the research."
Unless that science messes with a good thing, of course. Merilovich has no shortage of strong words for Parks Canada's decision to forego their robust fish stocking programs, or for their poisoning of lakes to restore local waterbodies to a natural, fishless state, or for their enforcing a bait ban. And it doesn't matter these decisions took place decades ago—when asked about it, Merilovich still spits fire.
"I was selling $25,000 worth of bait a year," he lamented. "Every 10-year-old in Jasper was packing worms for me at 10 cents a box."
Merilovich could talk a blue streak on how Parks Canada screwed up the golden era of fishing in Jasper National Park, but when asked about his well-known and bitter rivalry with legendary Jasper fish guide, the late Lorne Currie, Merilovich would rather … ahem … cut bait.
"Water under the bridge," Merilovich said. "We don't need to talk about that."
In this case, changing the subject is out of respect. Normally, however, secrecy in the fishing industry is a bugbear of Merilovich's. When he started in the business, local knowledge keepers weren't willing to tell him anything about how to find fish in Jasper National Park. No tips on lure selection, locations, depth, time-of-year…nothing. And if he asked, he'd be greeted with silent smirks.
"People wouldn't tell me nothing," he said. "I had to figure it out by myself."
He did, but instead of continuing the tradition of being tight-lipped, Merilovich decided he'd share his knowledge. He took pride in helping people hook up with trout, pike or whitefish in Jasper. He drew countless maps to fishy spots on Maligne Lake, showed countless customers his favourite flies.
"I liked showing young families," he said. "When you show a dad, who doesn't know his ass from a tea kettle about catching a fish, how to do it, and then he comes back successful and now his kids think he's a stud, he's never going to lose that."
Merilovich didn't learn everything he knows about fishing in Jasper first hand. He was too busy manning the shop for that. To fill in the gaps, he pumped his guides for information. And one of the richest sources of fish facts in Jasper was (and still is) his former manager and long-time Jasper local, Wendell Dirks.
"For five years I bled him for everything he knew," Merilovich laughed. 
Between Wendell, Robin Campbell (hands down the best fisherman on Maligne Lake, according to Mike) and Georges Tremel ("the master"), Merilovich had a stable of senior guides who introduced visitors to the aquatic wonders of Jasper National Park. But he also groomed a handful of young fish heads who wanted to combine angling with summer employment.
"Some of my best guys came out of the high school," Merilovich said, noting the holder of the most-fish-in-one-day record at Maligne Lake belongs to Jasper Junior/Senior High alum, Ryan Karpluk (196 fish). 
Merilovich came to Alberta from Welland, Ontario, where he grew up fishing in nearby cottage country. After high school he worked in a steel mill, and when he came out to Jasper in the early 1980s, he worked for the railway. With those jobs, he recalled watching the clock.
"All you could think of was when you're going to be done," he said. 
On the other hand, when he got into the fishing business—through an opportunity to takeover a store that was in receivership—all of a sudden, work was no longer a chore. The fishing was great, of course (when he could get away from the shop), but he also enjoyed simply talking to whoever came into the store.
"I liked dealing with the customers, I liked my job," he said.
And while On-Line hosted the occasional celebrity on a fishing trip (Edmonton Oilers alumni Steve Smith and Jeff Beukeboom come to mind), it was the everyday tourist and local who Merilovich loved mixing it up with—bullshitting with the "you-alls," as he put it.
"It was my social life," he said.
Make no mistake: even though he's retired, Merilovich isn't done bullshitting. As he finalized a sale of one of the many rowboats he's now parting ways with, the 67-year-old recalled the blood sweat and tears required to drag the fleet into Jasper's various fish-filled lakes. He remembered a rainbow trout tugging his rod right off the back of one of those boats while trolling in Hibernia Lake. And he cursed the various vandals who "busted everything that you could tie a chain onto" from his boats at Fifth Lake in Valley of the Five Lakes.
He remembers his first big fish on a fly (Marjorie Lake, two-and-a-half pounder, caught on a green monster). And if he had only one place in Jasper to wet a line, it would be Amethyst Lake, home to "the best tasting, and the best fighting" fish in the park.
After 40 years of fishing, fighting, retailing and ranting in Jasper, Mike Merilovich would know.
---
Bob Covey // bob@thejasperlocal.com