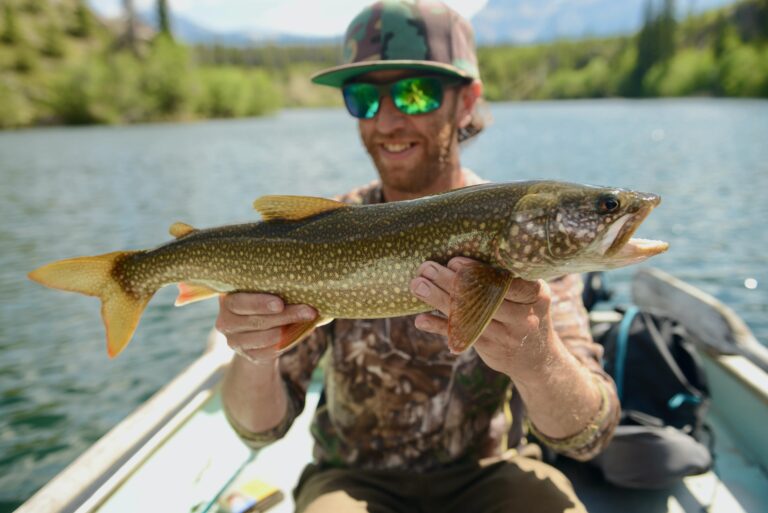 Thursday, July 13, 2023
Fish finder: Guide torch passed to passionate angling ambassador
"Bring a floating line for chironomid fishing and a sinking line for casting big streamers to lakers. This is gonna be epic!"
So came the text from Ryan "Rye Rye" Catherwood on the Friday before the May 20/21 weekend.
Few dates are anticipated as highly by Jasper National Park anglers—it's May Long to most Albertans, but to fisher folk, the last weekend preceding May 25 is known as opening weekend: come sunrise on the Saturday, it's once again legal to cast a line into several area lakes surrounding Jasper.
One of those available waterbodies is Moab Lake, seven kilometres or so up a rough road paralleling the Whirlpool River.
Moab is a bit of an anomaly when it comes to JNP lakes. Surrounded by a forest of blackened trees from a 10-sq-km wildfire that lit up after a lightning storm in 2000, the area has a somewhat mysterious aesthetic. The lake is rimmed by high cliffs and has several deep-blue basins which hint at the potential for big fish lurking in its murky depths. Moreover, its unique history as a testing place for experimental aquaculturists during the heyday of Parks Canada's fish stocking program in the 1960s and 70s adds to Moab Lake's surreal setting.
Besides the usual gamefish such as rainbow trout and lake trout, in 1966 the national park stocked Moab with 2,000 baby Cisco—a type of freshwater herring—and in subsequent years tried Arctic Grayling and even Atlantic Salmon. The Grayling and the Atlantics didn't take, but the Cisco remain—and Catherwood had the grip-and-grin photos from the season previous to prove it.
"They fight better than a rainbow," he said. "We're going to slay."
But even with Catherwood's enthusiasm, I had my doubts. I hadn't hooked anything heavier than a half-pounder out of Moab Lake, and more often than not when I dragged my belly boat the kilometre or so to the water from the parking lot, the only bites I got were from mosquitoes.
So when Catherwood looked at my backcountry fishing net and declared it was way too small for what we were going to catch that day, I raised my eyebrows dubiously. Was Rye Rye telling me a lie lie?
"We'll bring this one instead," he said, pulling a net with a circumference almost as big as a hula hoop out of his truck.
Half an hour later, after noisily flipping over one of the commercial rowboats stored on Moab's decrepit dock, we were stripping out our lines. Keeping one eye on our bobbers and another on our eerily beautiful surroundings, Catherwood told me about learning to fish Jasper's lakes, streams and rivers since he came to Jasper in 2003.
"I listen to what everybody says," he said. "I love to absorb knowledge and look around and explore."
I couldn't refute that. This is the guy who biked, hiked and pack-rafted 25 km into B.C.'s Fortress Lake to hunt big brook trout. He's forded the Sunwapta River and bushwacked into No Name Lake, just because he saw it on the regulations. ("There's no fish in there," he declared.) From the tiniest wild Athabasca rainbow trout to Talbot's monster pike, if it swims, Catherwood wants to meet it. Recently-retired Jasper tackle store owner Mike Merilovich says Rye Rye could find a fish in a puddle in a ditch.
"He's obsessed," Merilovich said.
All that is to say I probably shouldn't have laughed at the massive articulated streamer fly that Catherwood pulled out of his tackle box with intentions of sticking it to a lake trout's lip.
Because two casts later, while simultaneously smoking a cigarette, he was winking at me with a bent rod.
"Fish on!" he grinned. Good thing we had the big net.
Catherwood came to Jasper from Hamilton, Ontario, where as a boy he fished the bountiful waters of the Great Lakes and their surrounding rivers and tributaries. He learned to fly fish from his grandfather. In Ontario there were steelhead, there were salmon, there were muskies…there were even alligator gar. But when Catherwood arrived in Alberta to take a job at the Jasper Park Lodge, as he started poking around with his rod, it was like he was starting over.
"I thought I knew freshwater fish," he said. "But I didn't know what a bull trout was."
He knows now. As he transitioned from Lodgie to local—chatting up Merilovich and his staff at On-Line Sport and Tackle—Catherwood started to learn how to locate fish in Jasper's various waters. Soon enough, he was talking about angling from the other side of the counter—Merilovich hired him in 2012. And not long after he put in his time in the shop, he was taking clients out on guided trips to Maligne Lake, the upper Athabasca River, and everywhere in between.
"I like helping people catch fish," he said. "I like seeing the smile on their face."
Like when he helped a nine-year-old from Arizona make the memory of a lifetime. It was November—bull trout season—and the youngster's grandma made the booking. Stepping into the clear, cold river, pretty quickly, they were connected to a healthy bull trout. Then another one. These quarry alone would have made the trip. But the next day, Catherwood had them at a different spot. And the 10 pounder they found there put up an entirely different fight.
"I didn't realize how big it was until I tried to put it into my tiny net," Catherwood remembered. 
But of all the fish he's pulled out of Jasper waters, inarguably, Rye-Rye's best catch happened where the Maligne River enters the main stem of the Athabasca. Like many of his luckiest hookups, it wasn't necessarily skill that allowed him to make a connection. Instead, it was merely the fact that he was on the right river at the right moment in time. It wasn't a bull trout, Alberta's official fish. Nor was it a native Athabasca Rainbow. It wasn't one of the big pike that are known to haunt the AthaB, nor was it a hardy whitefish. Rye Rye's best catch is tall, blonde and loves fishing just as much as he does. Her name is Nicole.
"We met at sixth bridge," he remembered. "We talked fish. I sent her a picture of a bull trout. A year later she moved to Jasper."
Reel forward to today, and Catherwood is making more moves in the Jasper National Park angling industry. In May, when On-Line Sport and Tackle closed its doors, Catherwood bought Merilovich's guiding ticket. Operating under the business name Jasper Park Fishing and hanging his shingle at Pure Outdoors on Connaught Drive, Catherwood is bringing his learned knowledge and his love for adventure to an expanding clientele. He'll take guests anywhere his permit allows, but like most Jasper guides, his bread and butter will be at Maligne Lake, where he'll put visitors onto rainbows and brook trout beneath the snow-capped peaks he's come to call his office.
"There's so much variety, scenery, wildlife, history up there," he said.
As Catherwood would say: This is gonna be epic.
---
Bob Covey // bob@thejasperlocal.com