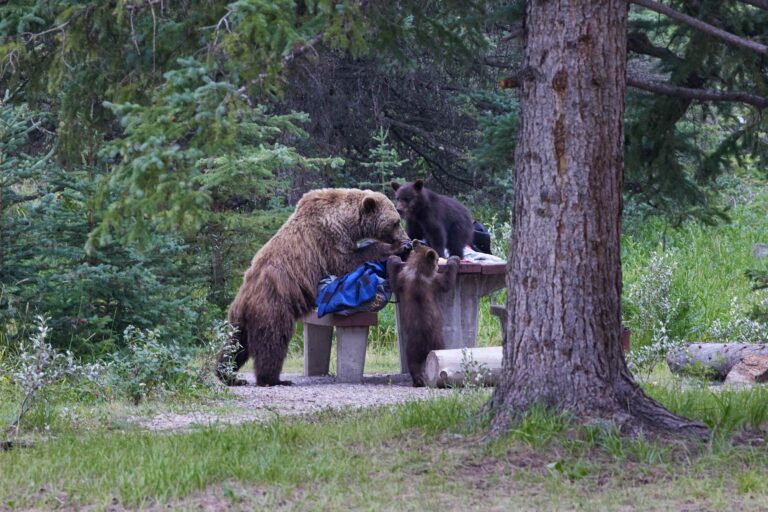 Wednesday, July 26, 2023
Picnic problems: Bears at large after close call
Parks Canada is reminding the picnicking public to remain vigilant in bear country.
On Monday, July 24, a family of grizzly bears approached a family of visitors who had just laid out their lunch on a picnic table at Lake Annette.
When the bears got close, the people bolted, leaving their food and enticing the sow and two cubs to take a closer look.
Jasper photographer Mike Gere, who runs Jasper Photo Tours, was in the area with a client after he'd heard there was a family group on the beach at Lake Annette. He drove to the picnic area parking lot and saw the three bears heading to the table.
"Mama bear was the first to investigate, then the cubs followed," Gere said. "They were only at the table a minute before moving on."
Parks Canada staff is urging the public to always keep a clean campsite and never leave food unattended. Besides food, other everyday items can attract bears, including garbage, coolers, dishes, pet food, barbecues and toiletries.
"By leaving your scented food items unattended, you attract bears to day-use areas and campgrounds," Jasper National Park's media officer said. "This poses a safety risk to both people and wildlife."
Parks Canada staff want to hear from the public if bad bear behaviour is spotted.
"Timely reporting is essential for staff to be able to manage and change behaviours early," a statement said.
Report concerning bear sightings to Jasper Dispatch, 780-852-6155 and in the meantime, check out Parks Canada's "Bare" campsite program.
The Lake Annette day-use area was closed following this incident so human wildlife specialists could locate the bears and potentially relocate them. This particular family has been spotted in high visitor-use areas all summer, including the Jasper Park Golf Course.
Parks Canada officials had not located the bears by The Jasper Local's deadline.
---
Bob Covey // bob@thejasperlocal.com