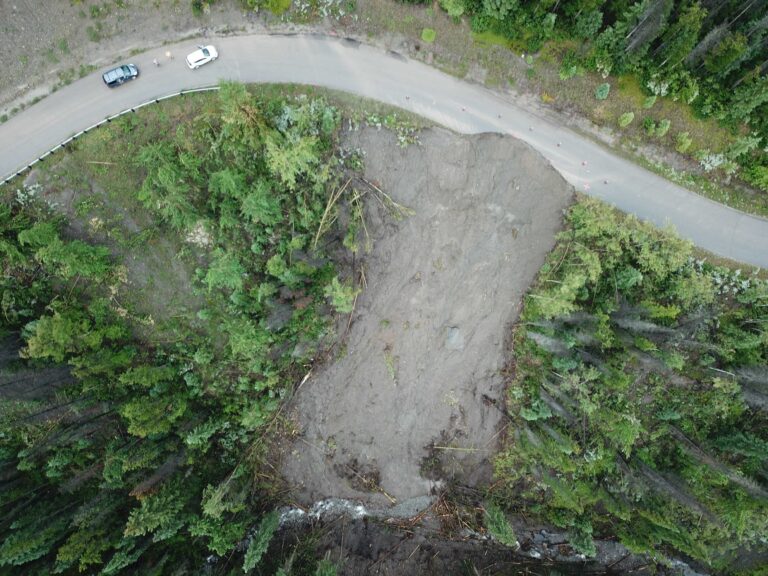 Friday, August 18, 2023
Miette Road to open at end of August
The Miette Road will reopen by the end of August and Parks Canada is attempting to reopen the Miette Hot Springs by the September long weekend (September 2-4).
The Miette Road has been closed since June 19, after sustaining significant damage due to a mud slide in the wake of a heavy storm which brought more than 100 mm of precipitation in Jasper National Park over a 24 hour period.
The mud slide washed out a portion of the Miette Road and knocked over hundreds of trees, making the road unsafe for vehicle traffic. An area closure remains in place.
"The washed-out slope has been deemed stable by geotechnical engineers however some rerouting is required for traffic to pass safely," Parks Canada said in an August 18 statement.
Parks Canada has engaged a contractor to complete the work required for safe single-lane alternating traffic use. The agency is anticipating reopening Miette Road by the end of August.
"Once the road is reopened, Parks Canada's goal is to reopen the Miette Hot Springs prior to the September long weekend or sooner if possible," the agency stated.
Mitchell Heighway, Asset Manager for Jasper National Park, said Parks Canada recognizes this situation continues to impact visitors' travel plans and is difficult for businesses and their staff.
"Parks Canada is working diligently to provide safe and secure short-term access on Miette Road and are working on the long-term rerouting of Miette Road to provide full capacity access to the area," Heighway said.
Once the road reopens, there will be automated traffic lights to direct single-lane alternating traffic. Parks Canada urges visitors and park users to plan their trips and check 511.alberta.ca for up-to-date road conditions.
---
Bob Covey // bob@thejasperlocal.com