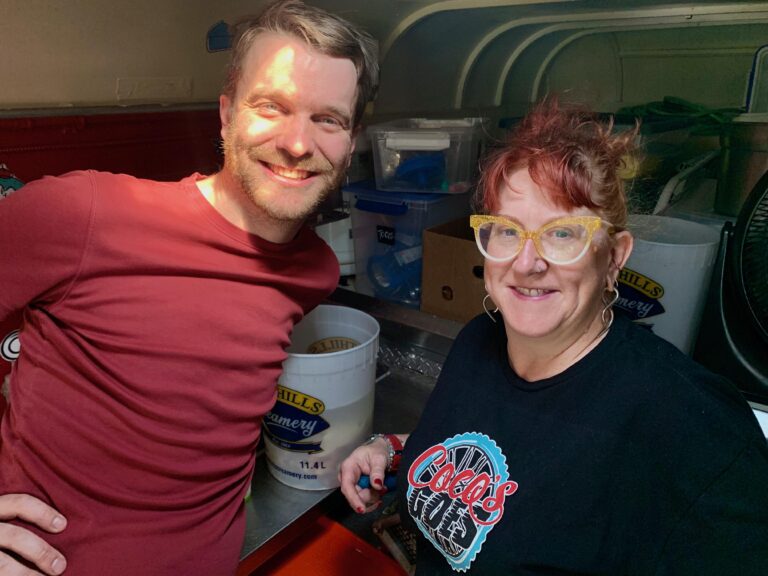 Tuesday, August 29, 2023
Coco's owners calling it a (breakfast) wrap
Coco's Cafe is for sale.
For 16 years, owners Lynn and Andrew Wannop have put in the daily grind at their landmark restaurant on Patricia Street. The café has become more than a coffee shop—Coco's is one of Jasper's community hubs.
"We've made so many lasting friendships, I'm proud that we've build a reputation as a cool, fun, inclusive place."
But now, the couple is ready to do something else.
"I'm tired," Lynn admitted. "People have a romantic idea of owning a café but it's long hours."
Back in 2007, it was Lynn who had romantic idea of owning a café in Jasper. When she and Andrew were having breakfast at Coco's while on a ski vacation from Vancouver, where they lived at the time, they struck up a conversation with the café's previous owner. The owner was planning on listing the business for sale.
Less than a year later, Andrew and Lynn had the keys.
"It was an opportunity to have a life in Jasper," Lynn said. "It was a dream of mine."
Now they want to give someone else the chance to pursue that dream. The couple isn't leaving town—Jasper has too much to offer their family, they said—but they want to focus on other endeavours: their catering and food truck business, for example.
"I'm not getting out because I don't like it anymore, I'm getting out for my kids," Lynn said. "This is 100 per cent a family decision."
Along with many businesses in Jasper, Coco's Café was hit hard by the drop in business levels due to the COVID-19 pandemic. Numerous other economic pitfalls hurt their bottom line, but they knew when they bought the business they weren't going to get rich.
"When you buy a café you're buying a job, you're buying a lifestyle," Andrew said. 
Over the years, they built the skills needed to live that lifestyle. Lynn took baking courses, learned how to make wedding cakes and became a sourdough specialist. Andrew figured out the abstracts of schedule-making, bookkeeping and appliance repair.
"When the espresso machine broke on a weekend, Andrew fixed it on a Sunday night," Lynn recalled.
Their proprietorship has also given Lynn, who has always been active with the LGBTQ+ community, a larger platform from which to give marginalized individuals a voice.
"I don't think we would have had as much impact without the café," Lynn, the current chairperson of the Jasper Pride and Ski Festival, said. "Coco's definitely allowed me to have a longer reach."
Now she's hoping another individual or family will reach out to her and Andrew to talk about the benefits of operating one's own café in a small, connected community. They are eager to tell interested parties about Coco's' loyal customer base, supportive landlord and good will within the community.
"It's a turn-key business, the next owner will have the ability to walk in and start operating," Andrew said.
---
Bob Covey // bob@thejasperlocal.com