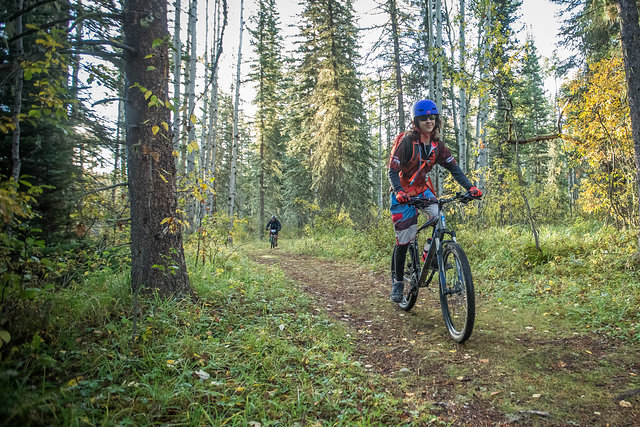 Friday, September 1, 2023
Compassion and research driving cyclists in MS Bike Ride
Ahead of the September Long weekend, in the foothills of the Canadian Rockies, a group of dedicated volunteers are clearing trails, building bridges and erecting signage.
The big push is in advance of another big push—a unique event with an important mission.
The Hinton MS Bike Ride is a two-day, 90-kilometre mountain bike ride. As an entirely off-road, off-grid event, it's the only MS Ride of its kind, according to this year's trail coordinator, Jasper's Greg Van Tighem.
"It's a mixed bag of terrain covering old Grand Truck Pacific rail beds, cut lines, single track, gnarly downhills and logging roads," said Van Tighem, who was Canada's top MS fundraiser in 2013 when he raised more than $96,000 for the charity. In total, Van Tighem has raised more than $400,000 for the organization.
"The Hinton event is a really important event for our area," he said. "It helps support MS services and people living with MS."
MS, or multiple sclerosis, is a disease that impacts the brain, spinal cord and optic nerves. Damage that MS does to the central nervous system disrupts signals to and from the brain. This can cause unpredictable symptoms such as numbness, tingling, mood changes, memory problems, pain, fatigue, blindness and/or paralysis. There is no cure for MS.
Nicole Sullivan, director of community fundraising for MS Canada, said MS is the most common neurological disease among young adults in Canada. More than 90,000 (or one in 400) Canadians live with MS.
"It's unpredictable, episodic and progressive," Sullivan said. "It makes navigating life difficult, not only for those with MS but for friends, families and communities of those living with the disease."
Michael MacFynn is a loved one of an individual living with MS. His wife, Bonnie, was diagnosed in 2015. He said the diagnosis, when their kids were six and three-years-old, was a crushing blow.
"It changed everything," MacFynn said.
Bonnie immediately went on leave from her job, a move which had a big impact on the family budget. More critically, they were in new territory in terms of what supports they would need. Bonnie was experiencing debilitating pain cycles. Often she wasn't able to participate in family events, activities and milestones.
"That's hard for kids—to watch their mom in the fetal position, rocking back and forth," Michael said.
No matter what MS threw at them, the MacFynns were resolved to put an honest face on the disease. Michael said from day one, they wanted to let people know what it's like to live with MS.
"We talk about what it means to have support, what donations to the MS Society mean for us and what it means to have community," he said. 
In other words, they practice gratitude. One thing that's made their resolution easier has been the Hinton MS Bike Ride. Not long after Bonnie's diagnosis, Michael joined the SG Front Forks—a Spruce Grove-based team that operates under a big tent. For years, SG Front Forks was the biggest team, and raised the most money, for the Hinton MS Ride. Michael was honoured to ride with them, through whatever conditions the rugged course and Mother Nature through at the riders.
"That's a big part of why we do this ride," he said. "It's something which reminds us how challenging one day can be for a person living with MS."
So far this year's MS Ride in Hinton has 98 cyclists signed up and more than $150,000 has been raised. In addition to the regular mountain biking course, Van Tighem said there are several more intense route options—essentially, stiff climbs and technical descents—for experienced mountain bike riders wanting a tougher test.
The ride's most important goal, of course, is to raise funds for the MS Society. Alberta's researchers—who lead studies at the UofC and the UofA, primarily—are world renown, according to Sullivan. Although in the 75 years since MS research began a cure for the disease has not been discovered, Sullivan said it's critical to keep up the fight.
"These funds improve quality of life for people with MS," she said.
That's a goal that every rider can pedal towards.
---
To register for the Hinton MS Bike Ride, donate (fundraising is open until September 30) or find more information on the MS Society and the ride, go to msbike.ca and click on Locations-Hinton. 
Bob Covey // bob@thejasperlocal.com