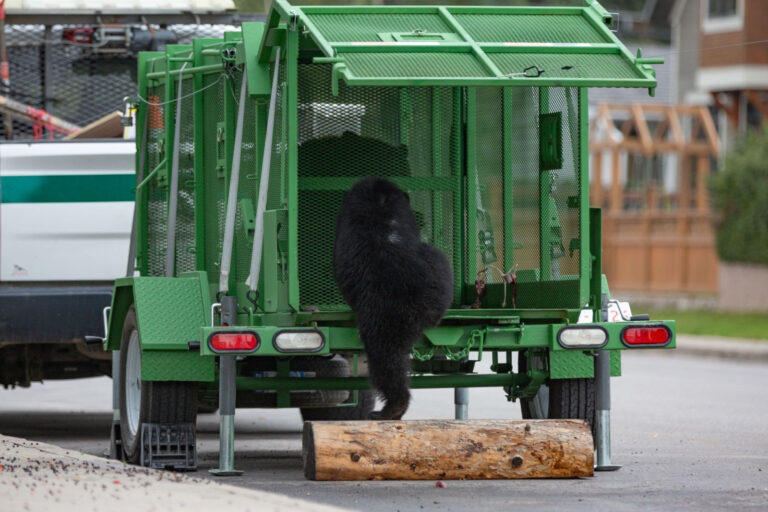 Friday, September 1, 2023
Fruit tree bears trapped, relocated
A mother black bear and her cub have been captured and removed from the Jasper townsite by wildlife officials.
It's a second-to-last-ditch effort to give these bears a chance at living their life in a more natural environment, said JNP's resource conservation manager, Dave Argument. The last resort is destroying the animal.
"These bears were targeted specifically because these mothers are raising their cubs in town, teaching the subsequent generation that this is an appropriate lifestyle," Argument said. "That's a big concern."
Human-wildlife coexistence specialists have moved the mother bear and its cub to the eastern portion of the national park, imposing a "forced break from the food source," Argument said.
The food source, as most Jasperites know by now, are the apples, berries and other fruit which grow on ornamental, non-native trees planted in residential neighbourhoods and on municipal property. Parks Canada has been working the the town to cut down attractant trees, but has a long way to go in terms of removing the more than 700 remaining ornamentals in the townsite.
"It's a fairly large-scale problem," Argument said.
To chip away at it, Jasper National Park is offering residents help with tree removal. At the very least, Argument would like to see fruit harvested before it ripens and begins to attract bears—a mitigation effort which is unfortunately too late for the mother and cub who are now in new territory.
"Moving these bears is not something we do easily," he said. "It comes with a risk as any time you move a bear into another bear's habitat it decreases their chance of survival."
In August, there were 10 black bears, including two family groups with young cubs, frequenting the residential areas of Jasper. With the relocation, that number is now at eight, but Argument fully expects more bears to find their way into town. While the relocation was deemed necessary in part because the mother bear's behaviour was becoming increasingly concerning—she was becoming more and more resistant to hazing efforts, and more and more tolerant of being separated from her cub—the decision also had to do with park resource allocation. Wildlife staff have become overwhelmed with the amount of work required to manage these fruit tree-habituated bears.
"At this point, and with the elk rut coming, we need to give ourselves time for other issues," Argument said. 
Parks Canada is hoping more residents will get on board with attractant removal. Every year in North America, people are killed by black bears and as school comes back in session, Argument said living with such a risk is something that nobody in Jasper should be OK with.
"This is a case of people with a bear attractant on their properties leading to an unsafe situation. We have children walking to school in the early hours of the mornings in a town where we have eight bears in the area. We're fortunate there have not been aggressive encounters but we know that black bears are a dangerous animal. 
"This is not a situation we can sit back and be comfortable with."
Parks Canada advises of the following bear-safe practices:
Check your yard for wildlife before you leave your house.
Travel in groups and supervise children.
Make noise while travelling.
Stay alert for bears; do not wear headphones or earbuds.
Do not approach or surround bears.
Always maintain a safe distance (100 m or 10 bus lengths) from bears.
Dogs must be on leash.
---
Bob Covey // bob@thejasperlocal.com