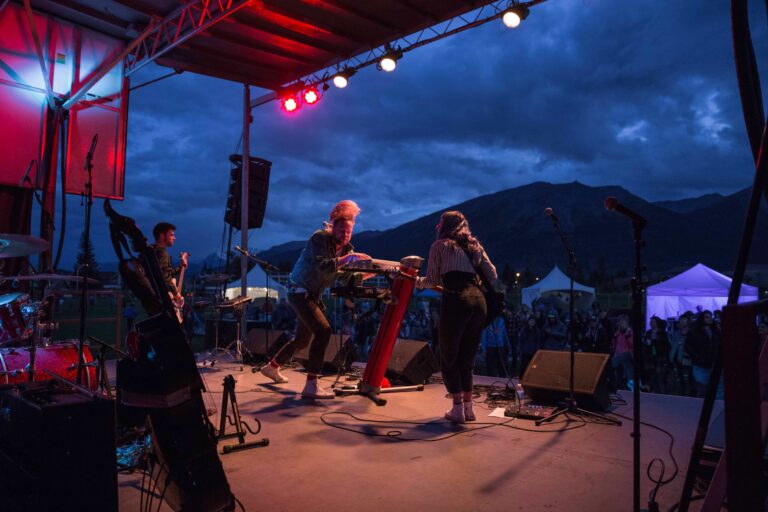 Tuesday, September 5, 2023
HEADLINERS: Jasper Folk Music Festival artist profiles
The 2023 Jasper Folk Music Festival kicks off September 8. The Jasper Local puts the spotlight on four bands which have the two-day festival's top billing.
Moontricks—electronically-honed organic folk
Hailing from the Kootenay Mountains, Nathan Gurley and Sean Rodman of Moontricks bring a folk-based twist to the world of electronic music.
Or perhaps it's an electronic twist on folk music. Combining digital accents with an assortment of live instrumentation, Moontrick draws from nature's patterns: their sound is inspired by change and contrast, and celebrates the chaos of the natural world around them.
Between their 2013 debut single Home and their most recent release, Nebulizer, the duo has released over 20 singles, as well as a full length album entitled Currents, which was released in 2022. Having cut some deals with television networks such as Netflix and Fox Sports, some of their material might ring a bell.
Alongside their studio releases, Moontricks is recognized for their dynamic live performances, where they combine organic instrumentals such as guitar, keys, banjo, and vocals with a honed, electronic edge. These performances have taken them across the world, with shows spanning as far as Australia and across the U.S.A.
The combined elements of nature-based tradition and polished futurism don't stray far from what Jasper does best. Moontricks will be closing out this year's festival with a 9:30 p.m. show on Saturday, September 9.
Whitehorse—driving, playful, country-psychedelic
With a guitar-centric, folk-n-blues sound, Whitehorse brings a unique sense of whimsy to this year's festival lineup.
Members Luke Doucet and Melissa McClelland have extensive experience in the Canadian folk rock circuit: McClelland's voice can be heard alongside Canadiana heavyweights such as Sarah McLachlan and Blue Rodeo, as well as on her four solo records (three of which were produced by Doucet). Doucet, meanwhile, moved from rock-focused projects such as Vancouver indie band Veal to a more folk–centric solo career, before eventually settling into Whitehorse alongside McClelland.
Whitehorse draws from genres such as psychedelic country, old-fashioned blues, and traditional folk, creating a driving, playful sound. When paired with their quirky, skillfully crafted lyrics, their musical presence is a standout force.
Between their more folk-inclined early works and their country-flavoured 2023 release, I'm Not Crying, You're Crying, Whitehorse's sense of variety and experience create a distinct feel to their music. Despite their musical explorations, they create a through-line of identifiable sound.
See Whitehorse at the Jasper Folk Music Festival on Friday, September 8 at 9:30 p.m.
Miina—fresh and danceable
Miina is taking the stage at 8:15 p.m. on Saturday, September 9. A five-piece act formerly known as Carmanah, Miina brings a slicker, groovier version of themselves to JFMF. Carmanah enjoyed a number of milestones, including performances across North America, two number one placements on CBC's Top 20 list with their songs Roots and Nightmare, and radio play on platforms such as SiriusXM, Toronto's Indie88, and Vancouver's The Peak.
The COVID-19 pandemic brought a period of reflection and change for the group, during which they sought out fresh inspiration. Since then, Miina has developed a reduxed sound through a number of 2023 releases, including singles such as Pressure and Hiccup, along with an EP titled Slow Motion, produced by Gus Van Go.
Miina features members Laura Mina Mitic, Pat Ferguson, Lo Waight, Graham Keehn, and Jamil Demers. Together, they combine retro sounds and aesthetics with a modern production style. With elements of vintage R&B, funk, and rock, the band is bringing a fresh, danceable vibe to the Jasper Folk Music Festival.
Danny Michel—an optimistic nook between folk, pop and rock
Danny Michel's musical interests aren't easily summarized. Between more than 75 performances on Stuart McLean's The Vinyl Cafe, recording an album onboard a Russian icebreaker in the middle of the arctic ocean, and sold-out North American tours with Belize-based Afro-Amerindian cultural group The Garifuna Collective, variety truly seems to be the spice of Michel's life.
Originally from Kitchener-Waterloo, Ontario, Michel's decades of musical and creative exploration have led him around the world. Whether filming for his web-series, Dan's Space Van, which is based out of a 1978 Star Trek-themed van, or enjoying a host of Juno awards, Michel finds consistency in his enduring sense of change.
Danny Michel's music finds a thoughtful, often optimistic nook somewhere between folk, pop, and rock, with frequent nods to international and classical music. With stacked vocal lines, layered instrumentals, and clever lyrics, his music combines a massively-varied catalogue of creative experiences.
It's difficult to not identify with some aspect of Michel's music. Whether it be on the basis of the music, the world experience it's steeped in, or the lyrical themes of humanitarianism and love for the world around us, his discography is never lacking in options. See Danny Michel perform at the Jasper Folk Music Festival at 8:15 p.m. on Friday, September 8.
---
Jack Mastrianni // info@thejasperlocal.com