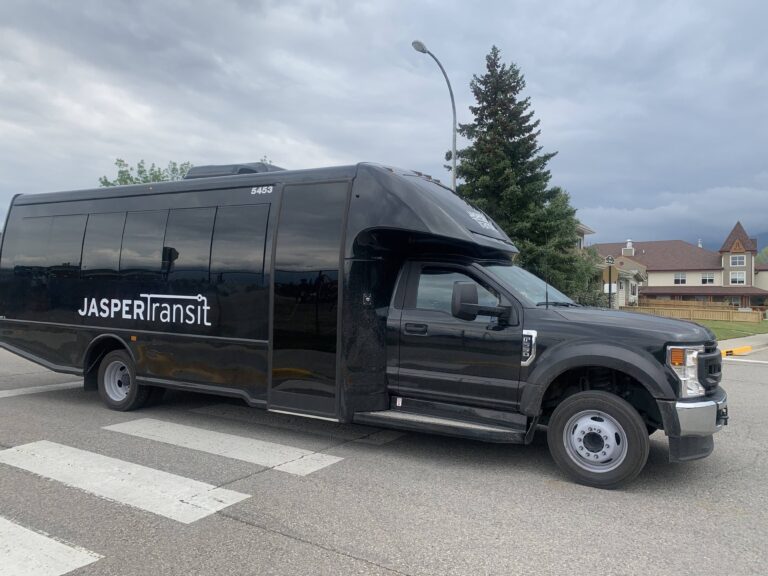 Tuesday, September 19, 2023
Details from bid scores shed light on Jasper Transit RFP
New details about the awarding of the Jasper Transit contract call into question information circulated in a widely-shared social media post by a local transportation company.
The post, "An open letter to the Jasper community," shared on SunDog's Tour and Transportation Co.'s Facebook page, has more than 50 comments and more than 250 "likes." Published on Facebook on September 4, the letter takes the position that the Request for Proposal (RFP) process undertaken by the Municipality of Jasper to deliver the community's first public transit service was "shoddy" and "inadequate."
"In my opinion the process … was an embarrassment and it did a disservice to the community," SunDog Tours owner Paul Hardy wrote.
The letter claimed the RFP's date was a "mystery," that the RFP process was "advertised and promoted absolutely nowhere, with the exception of a little-known provincial procurement website called Alberta Purchasing Connection," and that it contained a "litany of shortcomings, contradictions and misrepresentations."
Hardy suggested the town's administration was not working in good faith when they awarded the contract to Pacific Western Transit (PWT), a company based out of Prince George, B.C., which operates municipal transit services in several other small and medium sized communities across western Canada.
"Do I trust that Jasper Municipality administration is conducting procedures and negotiations in an honest, open, engaging, transparent, unbiased and professional manner? NO," Hardy wrote. 
Hardy's letter called into question the way the RFPs were scored. An RFP evaluation committee's findings were presented to council in May, when the recommendation came from administration to engage PW Transit in a contract to deliver transit services. Those findings scored SunDog's proposal 15 points lower than PWT's. Hardy questioned how those scores were tabulated, noting that his company's bid had the smaller price tag of the two submitted, and that only his company had local infrastructure and staff.
Hardy has also drawn attention to the way the bids were evaluated in relation to how the cost of fuel was accounted for. He took issue with the CAO's explanation that administration first looked at the bids with fuel included, then elected to evaluate the proposals exclusive of fuel, because of the better rate the MOJ could get from their federal government partner (Parks Canada). He said the CAO's rationale  "amounts to economic nonsense and a stunning level of recklessness with community funds."
Hardy pointed out in his letter that SunDog piloted a shuttle bus program in 2021 with the MOJ and that he personally consulted, uncompensated, on the final transportation strategy which informed council's decision-making on public transit in Jasper. He said his company would have started small and scaled-up with demand for local transit.
"Ultimately, the real victims are the taxpayers of Jasper," he lamented.
Since the September 4 post, The Jasper Local has learned that SunDog Tour and Transportation's proposal was scored 15 points lower than PWT's on the service component of the RFP, in part because it was "lacking in detail and asking for faith," according to the evaluation committee's comments.
Those comments contrast with the bid committee's evaluation of PWT's service proposal, which they judged to be "detailed," and demonstrating "solid policy and practice."
Thirty possible points were available in the service component. SunDog's proposal, which scored 15 points in this category compared to PWT's 30, had "no illustration of policy, process or systems," according to the document.
The scoring gave SunDog's proposal a 30/30 for its budget component, but only 22/30 for the fleet component, noting a "lack of detail" and that the SunDog proposal "explicitly stated that accessible units would have to be sourced – no timeline indicated."
As for the related project experience component, SunDog scored 8 of 10 possible points with comments noting "Good Jasper local experience but no apparent experience operating a public transit system." PWT's related project experience was evaluated as "extensive across Alberta, Canada and also in Whistler."
The RFP did not require that the operator own its fleet storage infrastructure. This detail was discussed by council; at the May 16 regular council meeting, for example, the Mayor questioned administration on whether PWT had solid subcontracts in place for storage and maintenance. CAO Bill Given replied that those are the type of terms which would be written into the operational contract.
The Jasper Local has since learned that PW Transit's original bid included an arrangement with a different local operator for fleet parking, washing and maintenance. PWT did not share which local business they had made those initial arrangements with.
"We understand the Jasper business community is tight-knit and I won't disclose other local businesses we communicated with in the preparation of our initial RFP response as I don't want it to create issues for them," said James Vine, PWT's vice president of transit.
Since the awarding of the contract, PWT has made arrangements with SunDog Tours to use SunDog infrastructure to ensure delivery of storage and maintenance services.
"While our initial operating plan was suitable and sufficient to support the work, a partnership with SunDog was deemed advantageous for us to explore (once we were awarded the business and were no longer competing for the same contract) as they are more expert in the maintenance services (stocking a similar parts inventory, for one example) we require under the contract with the Municipality," Vine said. 
Much of Hardy's focus in his September 4 letter was on the fact that local operators were not made aware of the RFP when it was posted to the Alberta Purchasing Connection website. Council discussed at length the thoroughness of the RFP promotion process—the RFP was not advertised in local newspapers. Councillor Rico Damota brought up on several occasions during the months-long transit discussion that he felt the bid process was inadequate because of this fact. But council ultimately decided that they were comfortable that the bid process met Municipal Government Act (MGA) standards, even thought council has since adjusted its procurement policy to ensure RFPs are circulated locally.
"We have recognized that the process could be better," Mayor Richard Ireland said at the July 18 regular council meeting. "But that is not to say the outcome was flawed because the process could have been better."
That message is of little to comfort to Hardy.
"If the bare minimum is good enough, they did a great job," he said. 
When The Jasper Local inquired with Jasper's Freedom of Information and Privacy officer about how SunDog was notified about the RFP (they were not among the 29 vendors that downloaded the RFP), Director of Legislative Services Christine Nadon said there is no requirement in the MOJ's procurement policy to notify individual proponents of active RFPs.
"It's kind of like a job posting – the onus is on the prospective applicants to look for that information and know where to look for it," Nadon said. 
Though it wasn't advertised locally, Bill Given did, eventually, alert SunDog to the RFP. The CAO said he emailed Hardy on April 11, three days before the proposal deadline, to direct him to the RFP and to highlight its submission requirements.
SunDog Tour and Transportation Co.'s Facebook page has more than 7,000 followers. Shared widely by local residents, the company's September 4 post accrued a high user engagement rate as social media commenters ran with the narrative of an unscrupulous procurement process conducted by municipal administration. One former municipal councillor suggested the episode was "almost scandalous;" another commenter posted that the CAO "needs to be held accountable to our citizens;" and a general theme of council and administration wasting taxpayers' money on an unfair procurement process is prevalent throughout the thread. The post was shared 100 times.
In response, through its own, much less "viral" Facebook post, on September 6, the Municipality of Jasper addressed the questions and comments circulating on social media regarding the Jasper transit RFP process. The statement from Mayor Ireland on behalf of council directed residents to a link of frequently asked questions about the process, and which explained the rules that Alberta municipalities must follow in selecting a service provider. Like all municipalities in Alberta, Jasper must follow the regulations set out in the New West Trade Partnership Agreement. One of those rules states that municipalities cannot give preferential treatment to local suppliers.
The mayor's statement also addressed the issue of public trust. Ireland said every presentation by municipal administration to council, every question of council to administration, and every decision of council based on the information provided, is recorded and available for review, in its entirety, on the town's website.
"Misinformation is a challenge in our society today, and everyone is well-served by seeking out reliable sources for factual information," Ireland said.
---
Bob Covey // bob@thejasperlocal.com