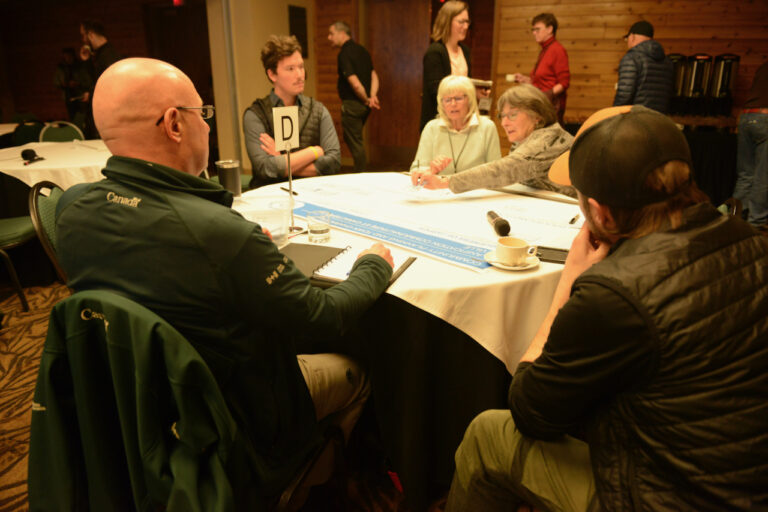 Friday, November 3, 2023
Land Use consultations puzzling, perfunctory and poorly-attended
Recipe for a Parks Canada consultation
1. Combine one part outdated regulations with two parts perfunctory dialogue
2. Sprinkle liberally with jargon
3. Stir awkwardly (by as many Parks Canada cooks as can fit in the kitchen)
4. Serve cold. Tell whoever has to swallow it how good it is for them 
---
Will Parks Canada ever relinquish control of local land use and planning to the Municipality of Jasper?
A few months ago, the answer to this question seemed like a genuine toss-up. With the Municipality of Jasper officially requesting (on top of their unofficial lobbying) that Jasper National Park consider sharing control of land use and development services, it looked like Parks Canada was genuinely willing to contemplate relinquishing its grip on some of these important files.
"There is a unique opportunity to explore an alternative service delivery model," Parks Canada said earlier this year. 
As such, in March, the feds invited input from all Canadians on sharing responsibility of land use management with' get this: the officials who are actually elected here! Parks hosted two public information sessions in Jasper to facilitate that input. Many Jasperites, myself included, were pleasantly surprised to see the issue being addressed. Evolving how land use and planning services are delivered in Jasper has been a long time coming, in many locals' view.
But after reading Parks Canada's What We Heard report, it doesn't appear too promising that the status quo is going to change. Instead, it appears the can will continued to be kicked down the bureaucracy-bloated bridleway.
"Following extensive outreach, there does not appear to be a strong desire to immediately begin the process to amend the Canada National Parks Act, regulations, and Establishment Agreement for Local Government in Jasper," the October 10 document's summary states. 
Parks Canada finding reasons to justify not giving up its power over community planning, zoning, permit approvals, variances and compliance responsibilities? Call me a cynic, but I didn't find this conclusion shocking.
But I did find it frustrating. Land use planning in national parks is such a niche topic. It's complex for those of us who have a vested interest, let alone someone who doesn't live here. How likely is it that clear policy preferences are going to come out of such a process? It seems to me this What We Heard document is missing a subtitle: Exactly What We Wanted.
I get that Parks has a duty to consult. But land use and planning issues are not just complex, they can be painstakingly dull—or at least that's how they're presented in these consultation settings. Why else would only 150 people have participated? Even if there is some fat to chew on these topics, Parks Canada has an uncanny ability to overcook them until they're so dry and brittle they're impossible to digest. Instead of wanting to talk openly about the specific challenges people have with the development office (and there are many), consultants stick to generalities, dance around hot-button issues and instead ask lay people for vague policy recommendations on how a large bureaucracy should manage a complex file. Not the best use of anyone's time, I'd say.
The good news is that council, finally, truly seems to have the ear of Ottawa on land use. Mayor Richard Ireland has reported as much during public council meetings—he and Jasper's top officials are engaged in ongoing discussions with Parks Canada's senior vice president of operations, Andrew Campbell, and his team.
"I think we have ample opportunity to have our voice heard," Ireland told The Jasper Local recently.
It has been a stated goal of the current council to see land use and planning authority transferred to the municipality, and before he filed his nomination papers for the 2021 election, Mayor Richard Ireland called the transfer of land use jurisdiction to the town "unfinished business" which he'd like to help see through.
Ireland knows that patience is a virtue in these circumstances. He's comfortable that a Memorandum of Understanding signed last December between the municipality and Parks Canada is helping advance a negotiation process. But these things move at a ponderous pace. Ireland said at the moment, council can't be focused on things like how long development application timelines should be.
"We'll get to that, because those are core issues for some people, but it has to all be dovetailed into a broader system," he said.
That's probably little comfort for Jasperites who are current fighting the system—builders whose development applications are in queue, trades-people whose efforts to provide services are hampered by the commercial cap, and home-based business owners struggling to prove eligible residency, for example. But in light of the dour conclusions from Parks Canada's consultations, Jasperites wanting to see changes in how land use authority is divvied will undoubtedly be putting high hopes in council's networking efforts.
Will Parks Canada ever relinquish control of local land use and planning to the Municipality of Jasper? Despite the conclusions of the What We Heard report, I still think it's possible.
Will Parks Canada take a more meaningful approach to future consultations? ? That's the real toss up.
---
Bob Covey // bob@thejasperlocal.com