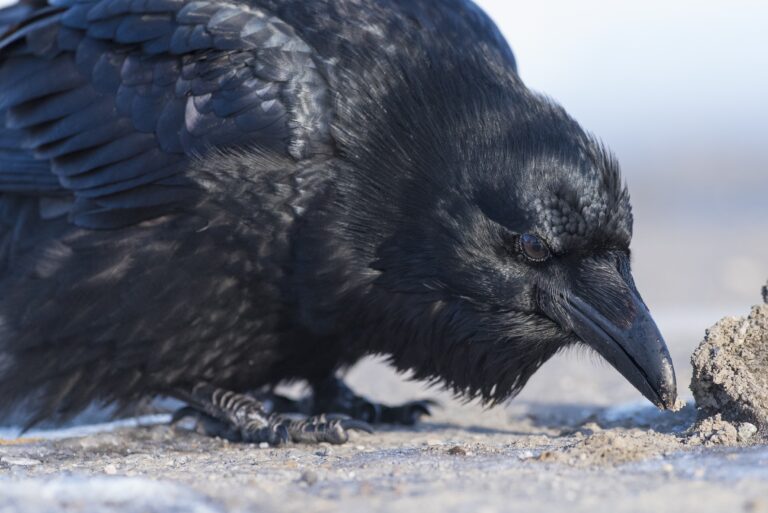 Friday, November 17, 2023
Bird Brains: The astonishing intelligence of Jasper's corvids
A number of years ago I happened to be driving through Hay River, NWT.
It was noon, so I grabbed a sandwich at a local coffee shop and sat myself down on a park bench to enjoy a leisurely lunch. Within minutes, five or six Common Ravens had gathered around me in a perfect semicircle and fixed me with pointed stares.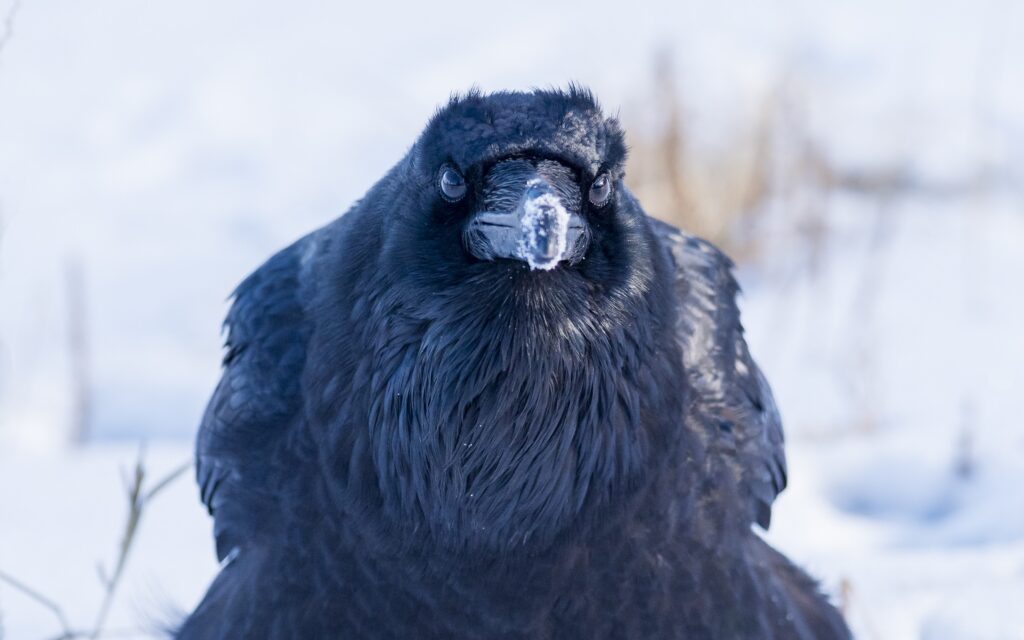 I got the distinct impression that these ravens were trying to intimidate me into sharing my sandwich (or even handing it over). I wasn't in a sharing mood, so I finished my food while staring right back at my impromptu lunch mates. They seemed to be strategizing their next move, so I spread my hands in the international symbol for "I haven't got anything," and the would-be food pirates took off in a huff.

Although we tend to think of mammals as being more intelligent than birds, it occurred to me that my dog would not have immediately understood my open hand signal—he would have been sniffing around for some time before realizing that the jig was up.
The magnificent seven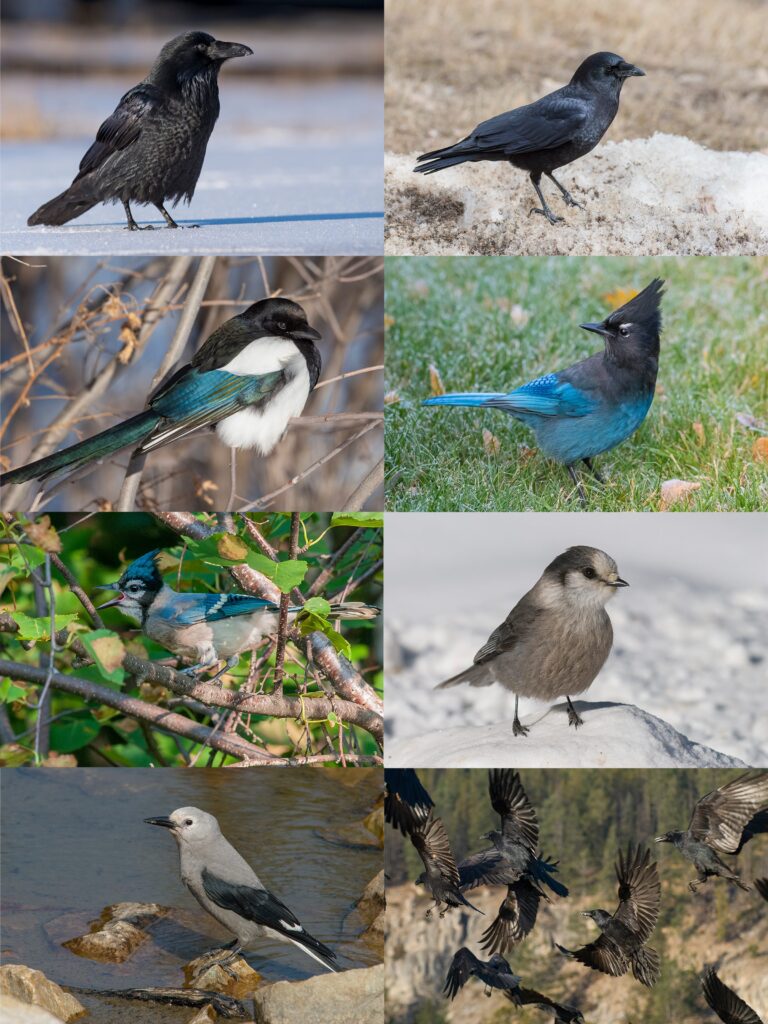 Ravens belong to the Corvid family, a worldwide group of birds that are often behaviourally dominant over other birds. They are the largest of the passerine birds (perching birds like robins and sparrows), and they often live in association with humans, having learned that we don't always pick up after ourselves (discarded human food is featured prominently on the corvid menu).
Jasper is home to a magnificent seven species of corvid: Common Raven, American Crow, Steller's Jay, Canada Jay, Blue Jay, Black-billed Magpie, and the Clark's Nutcracker.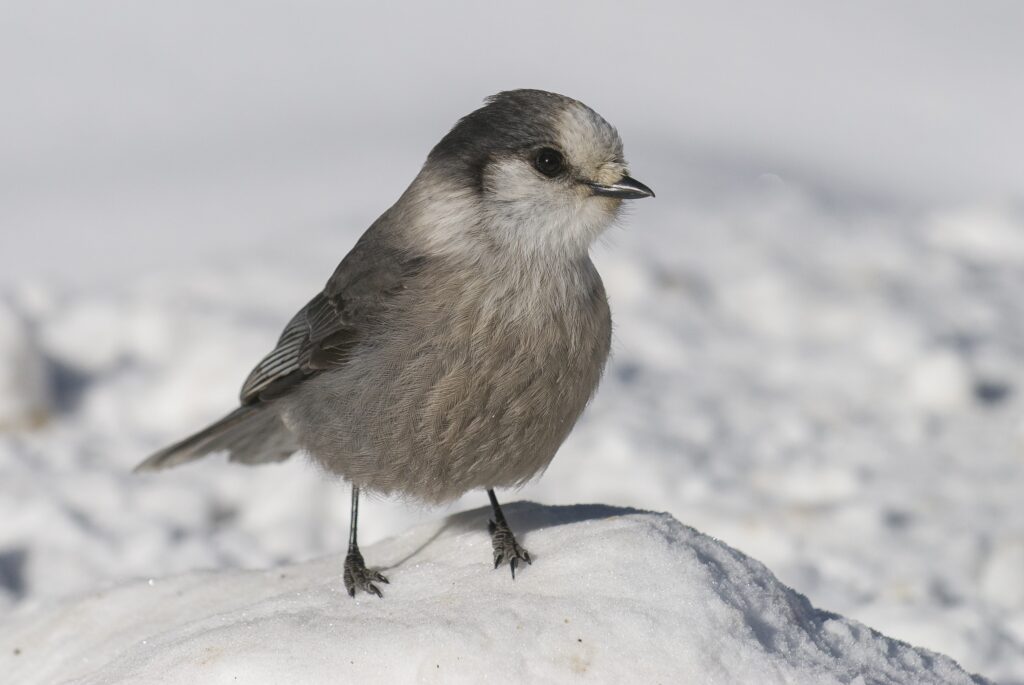 Tool time
Parrots and corvids are generally thought to be the sharpest birds on the planet, but even the brainiest parrots are out-smarted by a crow found only on New Caledonia.
A fair number of animals and birds will use tools (apes, some finches, sea otters…) but very few have the smarts to modify their tools. Since there are no woodpeckers on New Caledonia, the crows have taken over the woodpecker niche. Instead of jackhammering with their beaks, the New Caledonian crows will modify sticks to use as tools for extracting insects from trees. They trim and cut sticks to appropriate lengths and will even fashion them into hooks. New techniques will also be taught to other crows in their neighbourhood.
After their tool-making prowess was discovered, scientists began intensely studying the New Caledonian Crows. These crow brainiacs have been shown to put several tools together to make compound tools, remember previously used tools, and, use one tool to gain access to another tool (which is then used to gather food). There are literally scores of studies of these cool crows.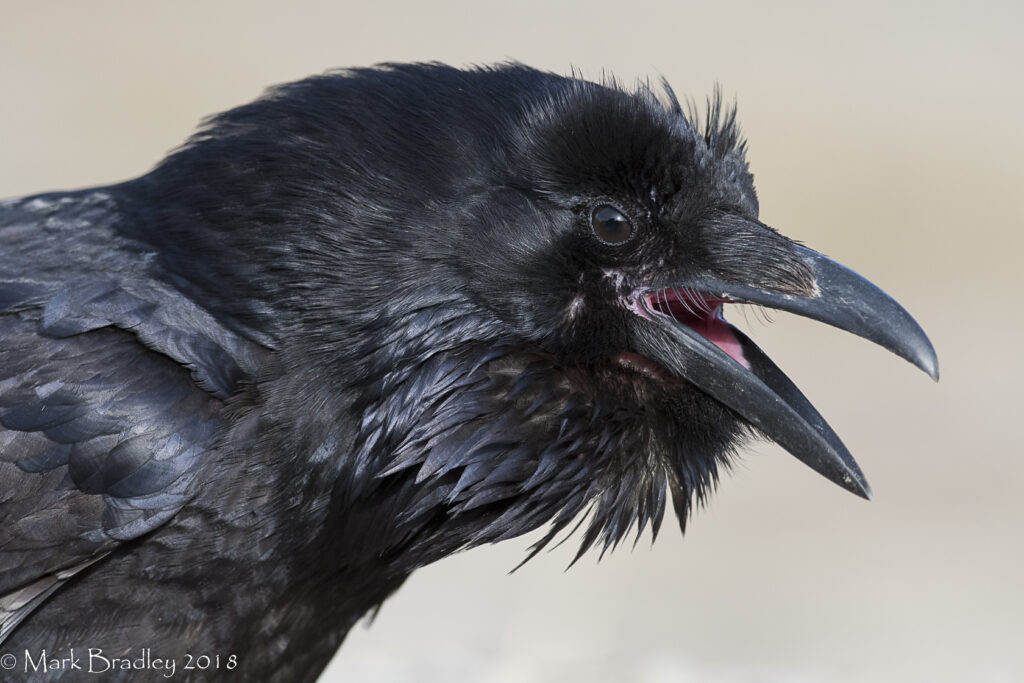 Raven mad
But what of Jasper's bird brains? Researchers have shown that ravens have what the psychologists call a theory of mind. In other words, they are aware of their own minds, and also realize that other individuals can have a different state of mind. Researchers proved this by showing a raven where some food was hidden, and then played some raven calls. The test raven would ignore the food … until it was sure that the vocal "ravens" were gone. Researchers have also demonstrated social ostracism in ravens. Ravens were taught to cooperate on a task to get a food reward, but if one of the ravens stole food, then the thieving raven would be shunned by the others. Ruthless!
Ravens will also hold a grudge against individual humans. Researchers ran another experiment where a group of ravens had to accomplish a task to gain a food reward. Once trained in the task, one of the researchers, instead of giving the birds the reward, ate it—right in front of the ravens. The greedy researcher was thusly ignored by the corvids, and the resentful group would refuse to perform until a new researcher was brought in. Talk about an unkindness!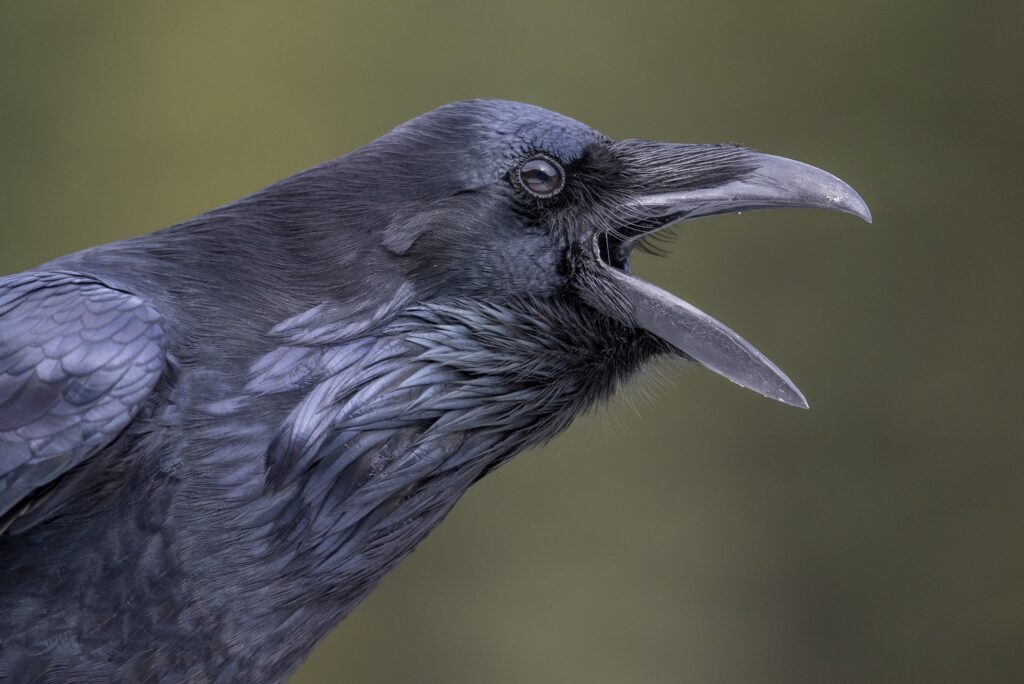 Total recall
Many birds have good memories, but there is one Jasper corvid that takes memory skills to a whole other level: our own Clark's Nutcrackers hold the world record for avian feats of recall.
Clark's Nutcrackers will harvest Whitebark Pine nuts in the summer and fall, and then bury them…all over the place! They may create 20,000 of these specific stashes and proceed to remember them throughout the following winter and spring. This retention skill is crucial to nutcrackers, because their young hatch before the next crop of pine nuts becomes available; reproductive success depends on total recall. It has also been shown in laboratory studies that the clever birds are mentally mapping the spatial relationships between landmarks to find their seeds.

Other corvids, like our Steller's Jays, can only remember about 80 food stashes. I'm pretty certain my own spatial memory is considerably worse than either of them…as evidenced by how often I lose my keys!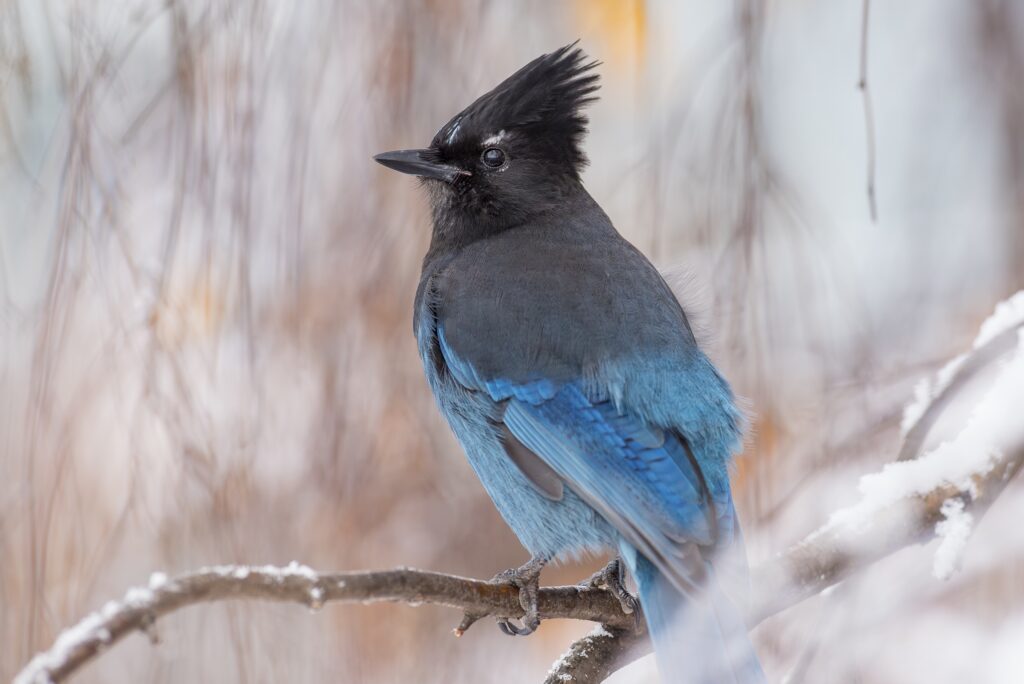 Know your crow
If you're keen to go out Corvid watching around Jasper, the various species are fairly easy to distinguish because of their varied colour schemes (see the collage above). The same cannot be said for ravens and crows, however, as they are both uniformly black and similarly-shaped.
Size is your first clue; the raven is about twice the weight of a crow. However, in the field, size can be less reliable. If you see only one bird, for example, its relative size may still be elusive. Season is another clue: crows generally only hang around Jasper in the summer (though a few hardy crows will occasionally stick it out through the winter).
To make sure you can differentiate your jet-black, wily corvids, there are a couple of plumage "tells." In flight, the tail of the raven is shaped like a wedge, while the crow's tail is fan-shaped. Also, the raven has a "beard" of ragged feathers on its throat, as well as a pointy bit on the back of its head. Lastly, you can use bill size in relation to their heads—the raven's bill is longer and thicker compared to a crow's. There's also this old adage: "crows look at you like they want to steal your food, while ravens look at you like you owe them food."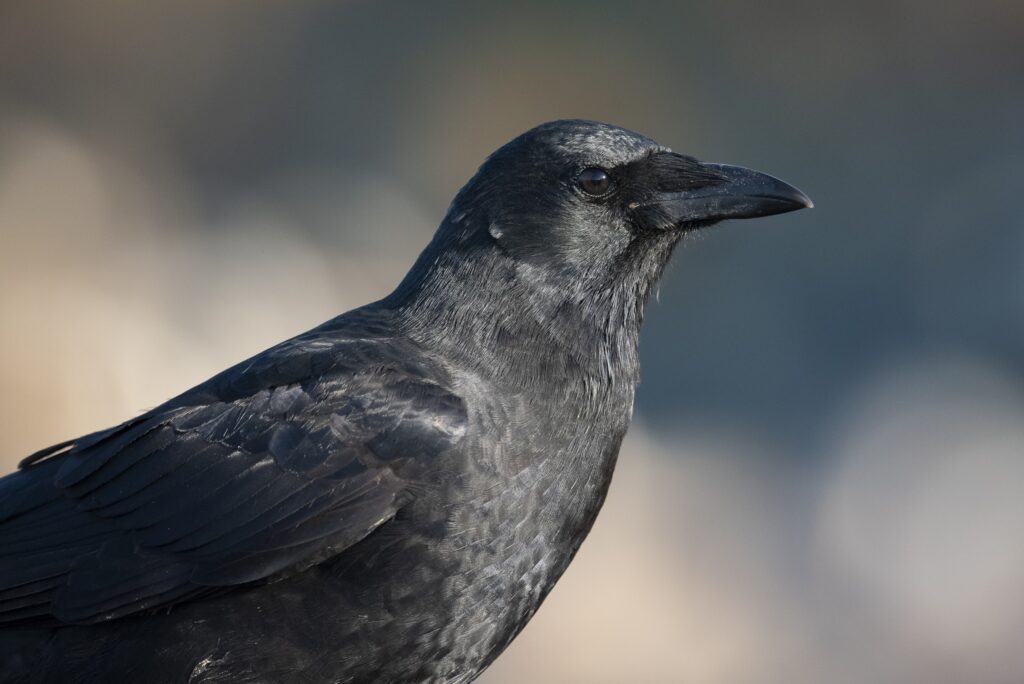 Bone cold
A few years after my lunch with the ravens in Hay River, another group of ravens showed me just how smart they are in relation to canines. On this occasion, I had just poured myself the first coffee of the day, and had opened the front drapes of our house in Fort Smith, NWT. To my surprise, I saw a small dog (a terrier type) running full speed down the street towards our yard, with a fairly large bone in its mouth. Hot on his tail was, I kid you not, about a dozen ravens—not flying, but hopping down the road after him! They clearly had designs on that bone.
When the terrier reached the middle of our yard, he stopped, put the bone down between his legs, and bravely started growling and snapping at his tormentors. The ravens, meanwhile, had formed a strategic circle around the dog, much the way the Hay River pirates had done to me. When the dog was sufficiently distracted by the ravens in front of him, one of the birds came in from behind and pecked him on the backside. This caused him to spin around to face his attacker. A raven from the front then swooped in and grabbed the bone, and all the ravens flew off with their treasure.
That poor dog never had a chance!
---
Mark Bradley // info@thejasperlocal.com