Wednesday, January 22, 2020
The ongoing issues with campsite reservations in our national parks
---
It's hard to think of spending the night in a tent when it's minus 45 degrees Celsius outside, but if you want to camp in Canada's mountain parks this summer, that's exactly what you were doing earlier this month.
At least that's what you had hoped you'd be doing: online camping reservations opened up on January 7; however, the system suffered a major slowdown and users all over the world experienced frustration as they were blocked out of the site while the software attempted to process requests.
To be fair, the delay in JNP was (according to officials) just 19 minutes long but the following day, when Banff National Park opened itself to the world, the online booking site was down for hours as tens of thousands of people trying to reserve their campsites overwhelmed the system. Parks Canada said there were over 35,000 website connections attempting to reserve campsites at 8 a.m. MST on January 8. At the end of the day, more than 22,000 reservations were completed for Banff National Park on their opening day.
Today (January 22), reservations opened for backcountry campsites in JNP, and while there were apparently less problems with the website freezing up, many frustrated users still took to Facebook to vent their anger.
If it wasn't the same problem for the past several years, perhaps we could be a little more forgiving. But it's tough to remain patient when you're trying to plan a holiday eight months in advance at 8 a.m. on a weekday morning and the same issues keep cropping up.
What's also frustrating is that when the time comes to pack the car and head to mountains, many of the folks who booked won't actually show up to their campsites. This is more of an issue with backcountry campsites than it is with those in the front country but the fact remains: there aren't enough financial penalties for people who don't cancel their bookings. The result is that many coveted campsites sit empty, despite showing as full on the website.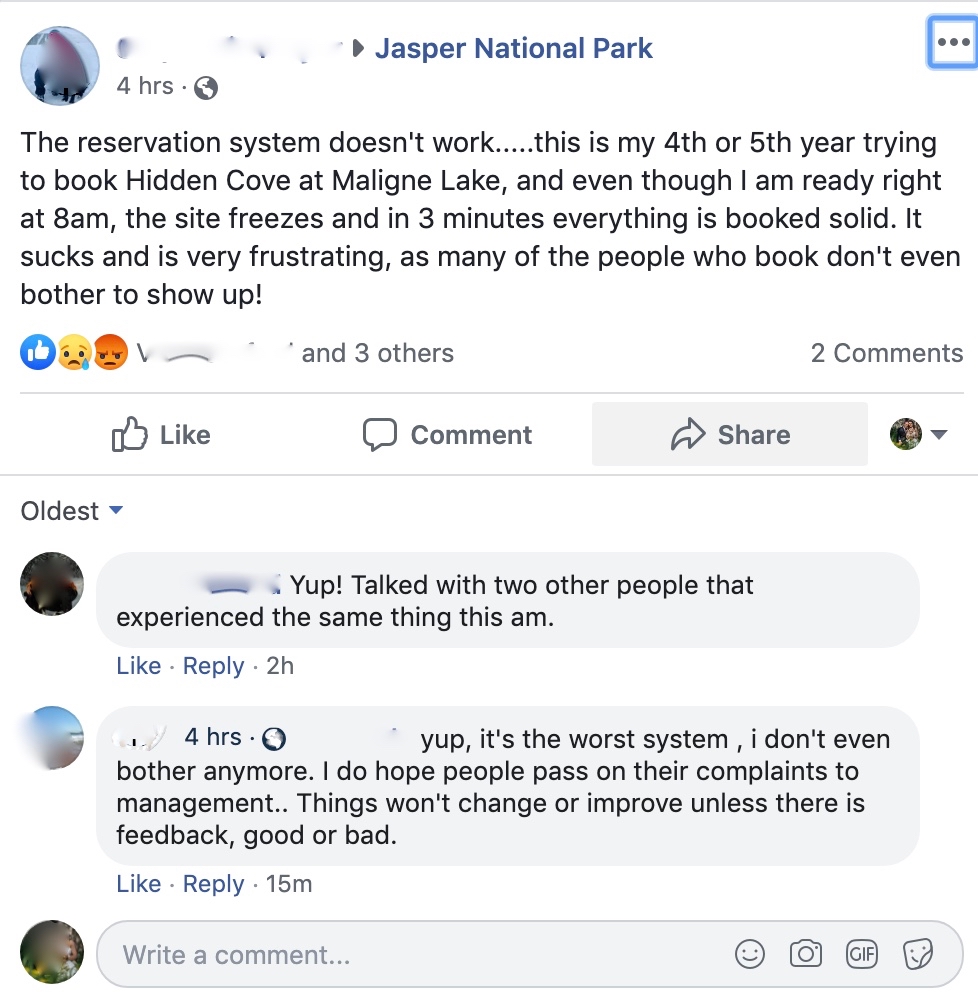 These are all problems that were bound to arise when the booking system moved online. We know the supply and demand for national park campsites is extremely askew and we accept the first come, first serve philosophy seems like the only fair way to approach it.
But is it? The Lake O'Hara shuttle bus is going to a lottery system to reduce stress on the system and the Maligne Lake Ski Club uses a random draw to book guests into its Shangri-la Cabin here in JNP. Is it time to institute something similar for our national campsites?
For the record, Parks Canada has said that they are always looking into improving the reservation service, and that "the Agency continues to evaluate the benefits and drawbacks of other options, such as wait-queues and different reservation windows to help distribute the demand."
Some have suggested dividing the booking windows between different dates and still others have said Canadians should have the first crack at national park campsites.
Something's got to give: it's embarrassing to think that all across the country, online users are simultaneously screaming at their screens, cursing the organization that is built to help people access and appreciate our national treasures. Mind you, if it took your mind off the polar vortex last week, I suppose that's something.
---
Bob Covey // bob@thejasperlocal.com