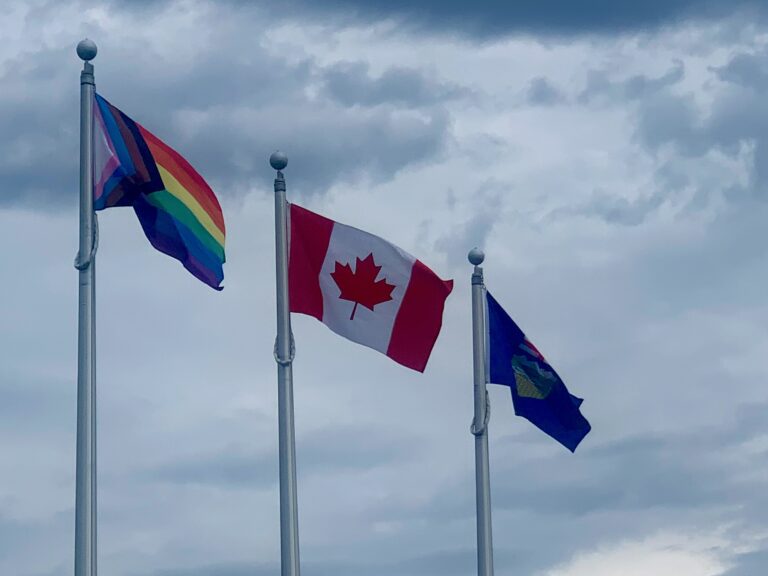 Tuesday, June 13, 2023
Students raise flag and LGBTQ2+ awareness to kick off Pride Month
Pride in Jasper was flying high on June 6 as the Jasper Junior/Senior High School's Gender and Sexuality Alliance (GSA) celebrated the start of Pride Month.
A flag raising ceremony which hoisted the rainbow colours in front of the high school also included speeches and snacks. Speakers included 11-year-old Alice Wannop, OUT Jasper's Michael Ormondy, and the Jasper GSA's Piper Davis, who recently won Jasper Pride's "Best Youth" award for their work with the GSA.
Piper's speech focused on honouring the experiences of LGBTQ+ individuals in Jasper.
The GSA is a student group aiming to bring more inclusivity to Jasper students, according to Davis. Through bake sales and weekly club meetings, the group hopes to create a sense of community and acceptance within the student body.
Davis's speech described the goals of the GSA, as well as the experience of an LGBTQ+ student in Jasper; they spoke to the benefits of creating community spaces for high school students, and their hope to continue building positive experiences within the school.
"Inclusive schools improve the mental health of the whole student body," Davis told the crowd gathered around the flag pole last Tuesday.
Davis also noted the large student turnout for the event, and hoped that it would inspire further support for the GSA.
"I hope that by raising this flag, we can continue to build this community to be the best one it can," they said.
Keep up with the Jasper Junior/Senior High GSA on Instagram: @jasperhighgsa
---
Jack Mastrianni // thejasperlocal@gmail.com