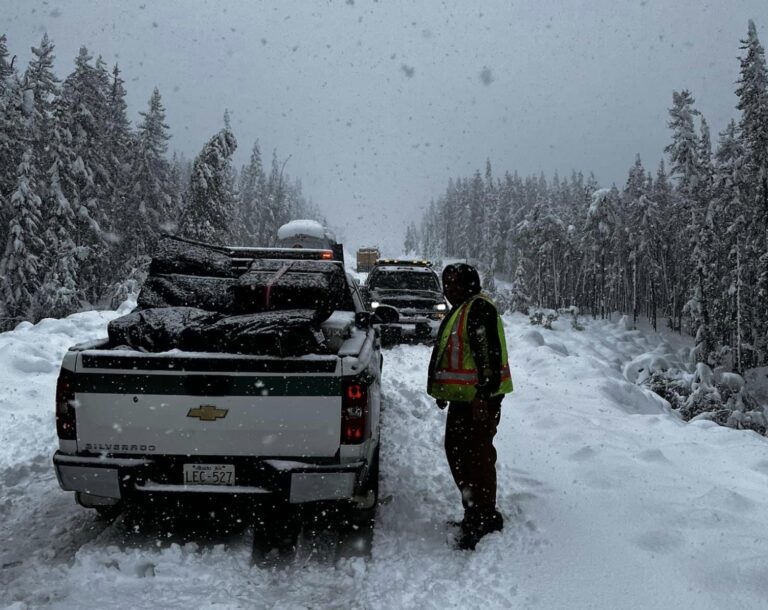 Monday, June 19, 2023
"Juneuary" rains down in Jasper National Park
Stranded tour buses, frozen campers, fallen trees and slick highways: All part of a chaotic day in Jasper National Park after a summer rain and snow event dumped more than 81 mm (and counting) of precipitation on Jasper in less than 24 hours.
More than a metre of fresh snow between Medicine and Maligne Lake, on the Maligne Lake Road, had two tour busses carrying more than 40 passengers stuck fast on the morning of June 19.
The tourists were supposed to be on the road to Clearwater, B.C., that afternoon. Instead, they were being shuttled down the Maligne Lake Road, seven at a time, by a convoy of Parks Canada operational trucks.
"They ended up having a different mountain adventure than the one they had in mind," said Jasper National Park's Resource Conservation Manager, Dave Argument. 
Meanwhile, 12 backcountry users were evacuated from their Jasper National Park campsites—six off of iconic Maligne Lake, from their campsite at Fisherman's Bay, and another six campers from Tekarra Campground, on the 44-km long Skyline Trail.
"[Snow in June] is not unheard of but it's certainly not what most people plan for when they're planning a summer hiking trip," Argument said.   
Fisherman's Bay campground is a 13 km paddle from the Maligne Lake trailhead. A helicopter was used to fly two public safety staff to the Maligne Lake warden office. While those officials sped down the lake in JNP's warden boat, the helicopter was then used to whisk six nearly-hypothermic hikers off of the Skyline Trail.
"It's a good reminder that when travelling in the mountains you've got to be prepared for all conditions at any time of year," Argument said. 
Both parties called in their emergencies to Parks Canada with a satellite messenger device—something more backcountry users are learning the utility of, according to Argument.
"Emergency communication tools are key to keeping your group in contact with us," Argument said.
Down in the Jasper townsite, municipal staff had their hands full cleaning up downed trees which had fallen on public sidewalks, streets and green spaces. Operations staff were also busy ensuring storm drains were flowing, said MOJ's John Greathead.
"We're working with ATCO and Parks Canada to address hazardous trees and trees fallen on power lines," added Greathead, the town's operations director.
Trees were down all over town—the Southview Co-ops were buried in branches and Cabin Creek Drive yards were littered with woody debris. Sidewalks were obstructed on Geikie Street, Miette Avenue and Connaught Drive, among others, and the green space at Cabin Creek was still piled high with fallen tree limbs eight hours after they could be heard snapping from half a block away.
The excessive snowfall caused several power outages in Jasper and surrounding areas, according to an ATCO spokesperson. Some customers may experience longer outages due to access challenges. The restoration of critical customers is being prioritized.
"Unlike winter months, excessive snowfall during the summer can cause havoc for ATCO's electricity system as the accumulated weight of the wet, heavy snow is caught by tree leaves that bend or even break branches onto wires," said Amanda Mattern, ATCO's Vice President of Operations. "At a minimum, sparking, followed by momentary outages can occur, but we've also had wires brought down altogether, meaning that actual repair work is needed before we can restore power."
The Icefields Parkway (Hwy 93S) was snowy and icy all day and 511 Alberta was not recommending travel between Jasper and the Columbia Icefields, where at least 50 cm of snow fell, according to Parks Canada. Driver Josie Henderson, from Lethbridge, AB, reported heavy snowfall and poor driving conditions at Tangle Falls hill, where traffic was at a standstill at 11 a.m.
"Do not attempt the parkway today!" Henderson warned members of the Hwy 93N/Jasper Area Road Conditions Facebook group.
Argument said plows and sanders were working as fast as possible but echoed the travel advisory offered by 511 Alberta.
"Those crews deserve a bit of space and time," he said, noting JNP's Edith Cavell Road and Miette Hotsprings Road will both remain closed until the weather improves.