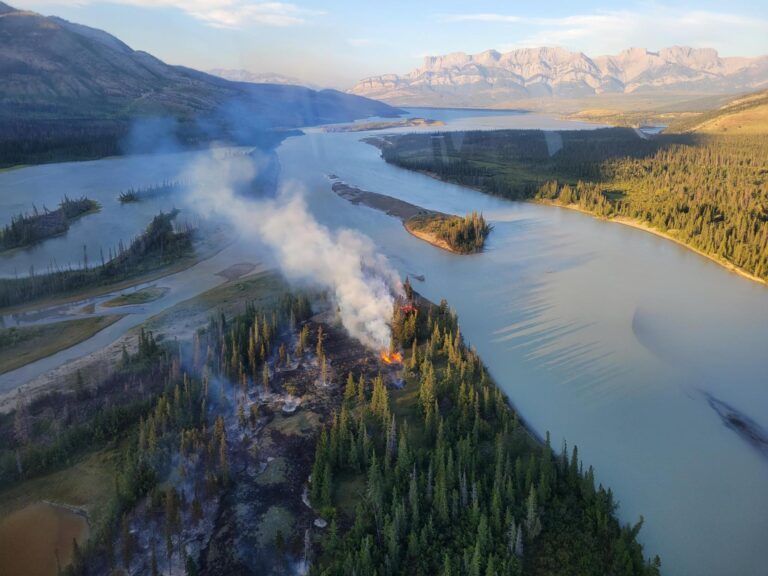 Wednesday, September 6, 2023
Corral Creek wildfire under control, not expected to grow
A wildfire which ignited in the east portion of Jasper National Park after a lightning storm is under control.
On Friday, September 1, Parks Canada fire crews responded to a wildfire south of Athabasca Island, along the Athabasca River, approximately 20 kms northeast of the Jasper townsite.
The fire was estimated to be three hectares in size. Smoke was visible from Highway 16. It was determined to have been caused by lightning.
The following day, on September 2, two fire crews and a helicopter actioned what the agency is now calling the Corral Creek wildfire. Despite batting strong winds, crews made good progress, Jasper National Park communication staff said.
"Conditions are favourable to continue reinforcing the perimeter and extinguishing hot spots," the agency said in a statement.
Yesterday (September 5), another fire crew did mop up duties, "cold trailing" the fire to confirm it wasn't going to spread. Cold trailing is a method of controlling a partially-extinguished fire by carefully inspecting and feeling, by hand, for any heat. Cold trailing includes digging out every live spot and trenching any live edge of the fire.
"With current weather conditions and resources, this wildfire is not anticipated to grow," JNP said today (September 6).
---
Bob Covey // bob@thejasperlocal.com