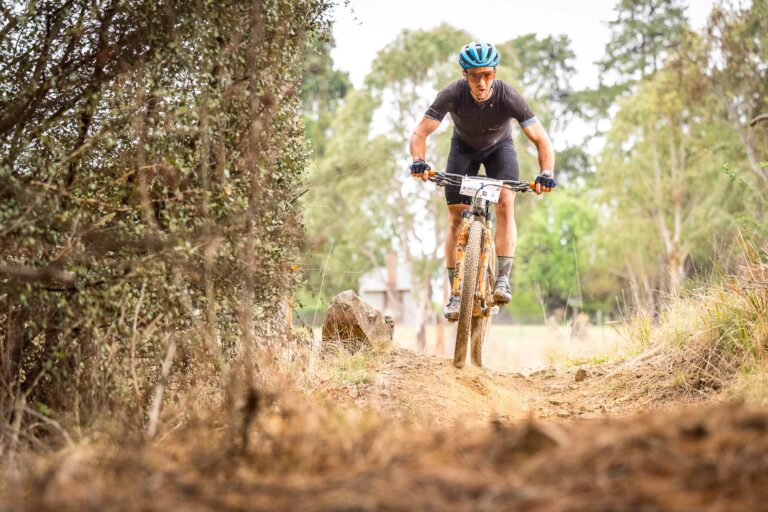 Wednesday, November 8, 2023
Jasper marathon cyclist wins fifth 24-hour world title
Cory Wallace is a world 24 hour solo mountain bike champion again.
The Jasper athlete defended his title at the World Endurance Mountain Bike Organization (WEMBO) World Championships on November 4-5, held this year in Armidale, Australia. It's Wallace's fifth time standing atop the elite men's podium.
"A 24 hour race is a big undertaking," the 39-year-old said from a beach in Sri Lanka, three days after taking home WEMBO gold. "It's nice to get another one in the bag."
Wallace wasn't the only Jasper marathon mountain biker to have a strong race in Armidale. Andrew Bovard, who also calls Jasper National Park's peaks and valleys his home training grounds, placed second in his category (male 45-49-year-olds).
Bovard, who said in the 12 weeks leading up to the event he trained harder than he had ever done in his life, subsequently had the best 24 hour race performance of his 15-year-plus endurance mountain biking career.
"Keys to my results were a positive mindset … and having the right people around me during the race," Bovard said.
The Australian race course largely set up as twisting technical single track, a course so serpentine that riders had to watch their speeds. Because of all the berms and turns, Wallace said it was difficult to make up ground.
"It's a race you wouldn't want to get behind in," he said.
Apart from a short stint at the beginning of the contest, he didn't.
Wallace was racing in a field of 11, but soon after the starter's pistol sounded, it became clear it would be a three-man contest. His long-time race rival, Australia's Jason English, who has seven WEMBO world titles under his belt, attacked early and led for two laps, but Wallace soon tracked him down.
"I realized right away that chasing someone on that course sucks," Wallace said. "I wanted to be in the lead."
Another racer who had posted impressive results was Australia's Jon Odams. Odams had recently bested English, so Wallace was wary that the 40-year-old could pose a serious challenge to his five-peat. However, Odams had bad luck when he snapped his chain not once, but twice during the event. Wallace said when he saw Odams' mechanical issues, he and English agreed to pour it on.
"I told Jason 'we've gotta make him pay for this, we have to demoralize him,'" Wallace recounted.
Soon after leaving their contemporary in the dust, Wallace and English separated. Wallace gained 45 minutes on his rival, but then through the night, English clawed back to within 15 minutes of Wallace.
"I got a bit complacent. Jason got wind I was doing some slower laps and closed the gap," Wallace said.
That fired the Jasperite up. Wallace pulled away again, this time for good. By the 23rd hour of racing, English conceded the victory. They came to a gentlemen's agreement to stop—although Wallace kept his kit on and his bike close by.
"I trust Jason, but…I wasn't going to shower just yet," he laughed.
Wallace arrived in Australia with his body, bikes and pit crew all in top condition. His high-octane training regiments in Jasper and McBride had been on point, and his race strategy and food plan, he believed, was sound.
In fact, the only hiccups in his pre-race routine were in the nights leading up to the 24-hour World Championships. Right around Halloween, Wallace discovered the 136-year-old house he rented with his friends gave off the kind of energy he didn't need for race day.
"I swear it was haunted," Wallace said. "We were all having really rough sleeps there."
While Wallace and his flatmates were trying to rest up in advance of the big race, the house had other ideas. Shutters would bang open in the middle of the night, neighbourhood dogs would start howling and the whole place was giving everyone the creeps, Wallace said.
"It felt like the house was alive."
Despite the paranormal activity, Wallace's own energy didn't wane. His fifth WEMBO world title was the first one he snagged down under—a feather in his helmet considering Australia has been known as the 24-hour racing hub.
"I've had back luck and bad races here," he said. "It makes number five pretty sweet."
Wallace's next few weeks will also be pretty sweet: He's helping tourism officials in Sri Lanka configure a rideable route for a 10-day mountain bike tour, and then he'll fly to Nepal, where he has helped that country establish a mountain bike racing culture.
Wallace's stay in the Himalayas will include "some kind of adventure, not sure what," and also mark the start of the racing season, which begins in earnest with races in Mexico and South America. Then, 12 months from now, he'll hope to once again defend his World 24 Hour Solo Mountain Bike Championships title.
---
Bob Covey // bob@thejasperlocal.com