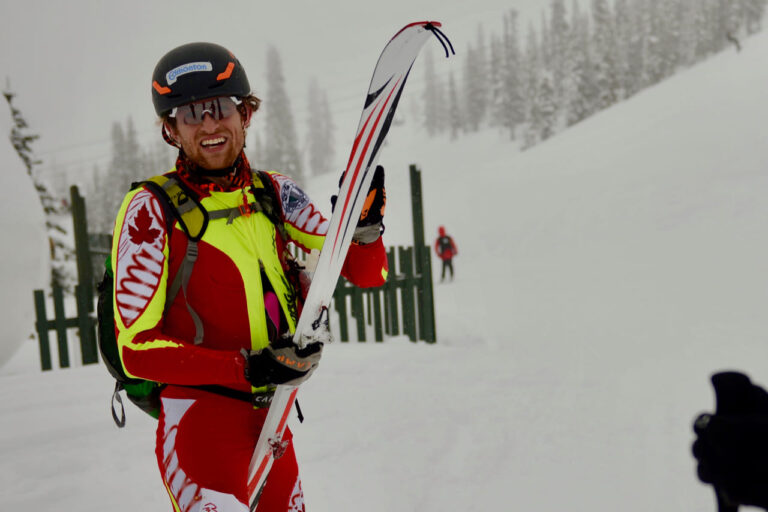 Tuesday, February 18, 2020
Whether making kick turns or killer memes, SkiMo athlete is roasting the competition
SkiMo athlete Peter Knight has rocketed up to number one on the SkiMo circuit in Canada, but although he's a beast on the skin track, the 30-year-old Edmontonian is arguably even more savage on social media.
Knight has already chalked up two first place finishes in 2020, his most recent win coming at Castle Mountain in January. While he prepares to burn up the competition at SkiMo Nationals at Marmot Basin on March 6-8, the 30-year-old isn't neglecting his other favourite pastime: roasting kooks on Instagram.
His latest targets include Coloradan chairlift riders, free-gear-begging newbs and the International Ski Mountaineering Federation.
"It's a pretty niche sport," Knight said. "I think that helps [make it good fodder for memes]."
Knight's absurd/spot on humour is on Instagram @peteyknight5
Indeed, most members of the Canadian public are unfamiliar with ski mountaineering. Alex Stieda, a former pro cyclist and SkiMo ambassador, calls SkiMo the "triathlon of skiing," attracting athletes from a variety of different cardio-heavy activities—trail runners and mountain bikers,
for example.
"It is unreal how fit the athletes are," Stieda said. "And their skill level is unbelievable too. Watching how fast they do their transitions to how fast they ski downhill after putting in maximum effort on the climb is amazing."
Competitors must hone their skills and stamina in three disciplines: uphill skiing, bootpacking and downhill skiing. Each race covers 1,800 metres vertical (climbing and descending); up to 10 per cent of a course can be on foot (skis on pack).
"Being proficient at the combination of everything gives you the efficiency," Stieda said.
For 2020, the Marmot's Revenge race will feature three events: a "vertical" race; a "sprint" event; and an "individual" race. The sprint, which will be set up in front of the mid-mountain lodge on March 7, is a particularly impressive event for spectators, Stieda said. Heats of four athletes will red line for several short, technical and intense laps.
"Mid-mountain will be a great place to watch athletes going full gas," Stieda said.

As Knight trains to keep his spot on the SkiMo podium, you can bet he'll also be putting a fresh, SkiMo spin on the internet's dankest memes. To make sure, follow him at @peteyknight5 on Instragram.
---
Bob Covey // bob@thejasperlocal.com