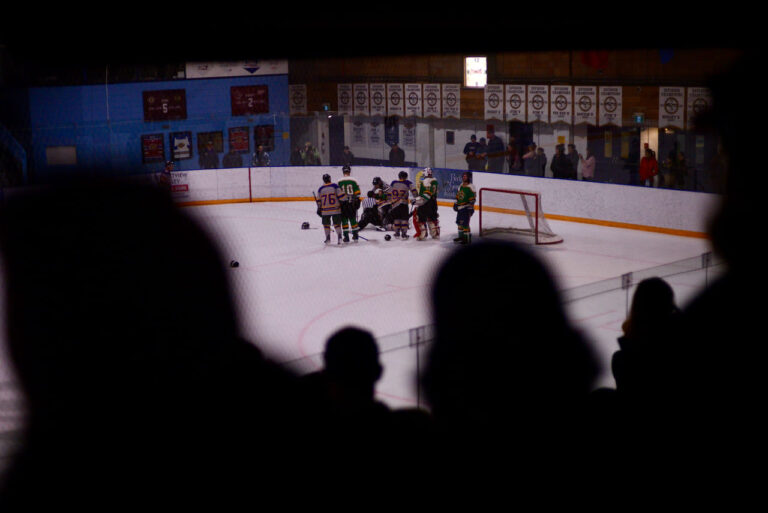 Wednesday, March 15, 2023
Super Sunday or Stupid Sunday?
On-ice antics overshadow community hockey event
---
Hundreds of hockey fans in Jasper came out for Super Sunday March 12, the culmination of a winter's worth of rivalries between the six teams which make up the Jasper Hockey League.
The community event is an opportunity for players in the league to showcase their sport to friends and family members who, typically come game time, are either sleeping or have better things to do than sit in a cold arena to watch grown-ass men attempt to live out their unfulfilled sports dreams.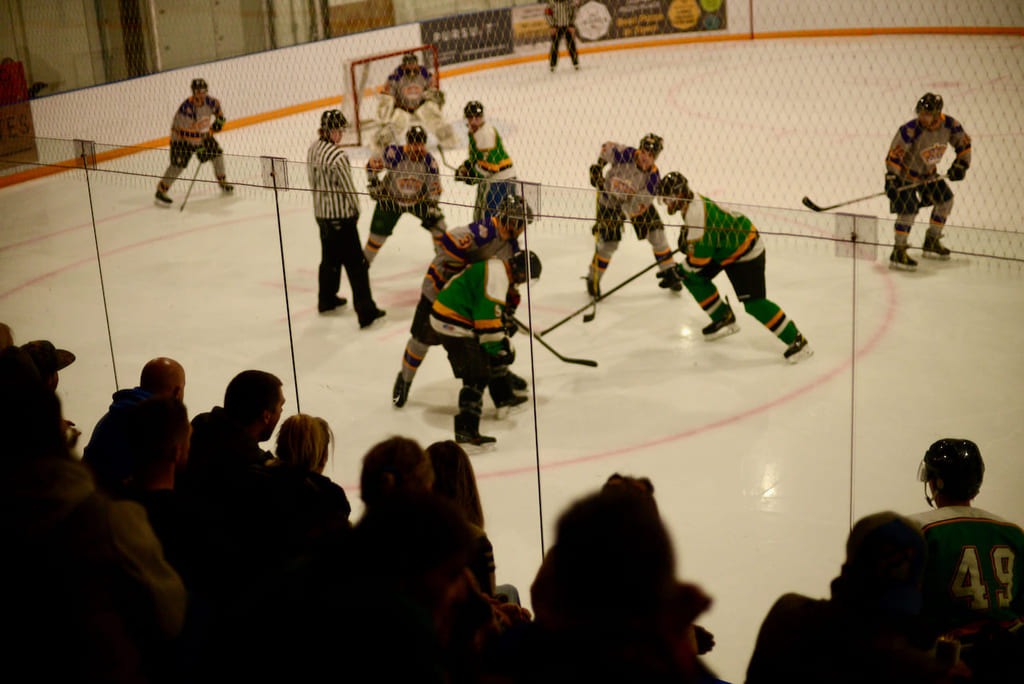 But every year, on Super Sunday, with the title of "Champion" on the line and the knowledge that a single goal, assist or save could potentially foist a team's fate from forgettable to faux-famous—or at least fuel a summer's worth of sentimental boasting—players' willingness to do "whatever it takes to win" ratchets up a few degrees.
And unfortunately, as the boys who were begging for broken sticks and the young girls selling Girl Guide Cookies in the stands were to witness, "whatever it takes" includes blatantly disregarding the basic rules, humiliating the officials and—with every f-bomb, c-bomb and p-bomb spat at opponents, referees and members of the frothing crowd—putting a stain on the very game of hockey itself.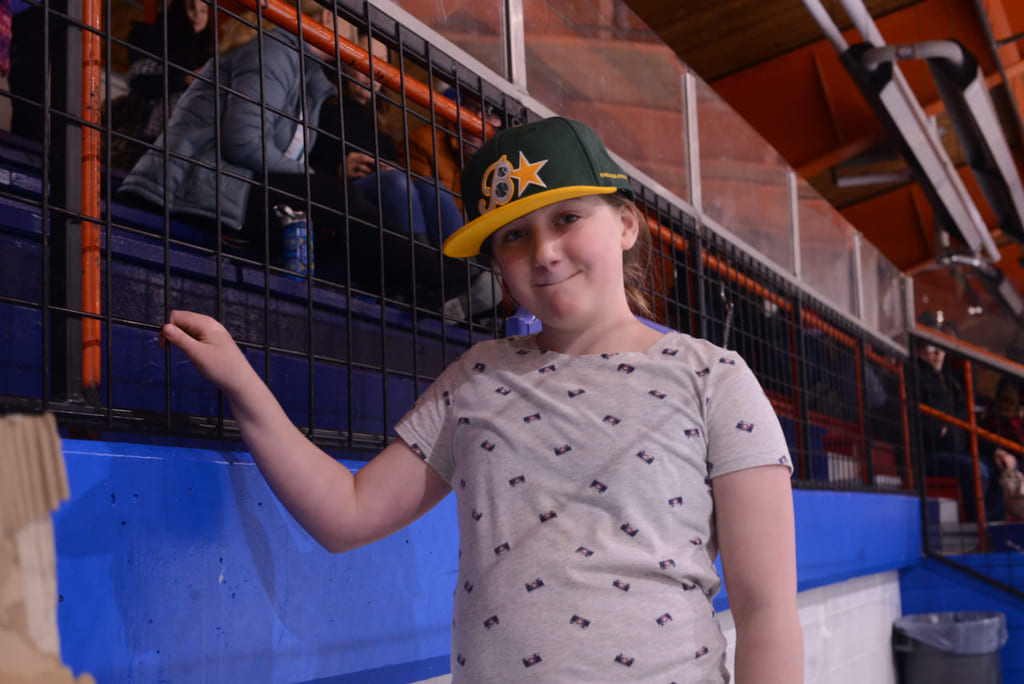 Look: it's not my intention to vilify entire teams, or to call out every player who helped push the on-ice action over the line from entertaining to embarrassing on Sunday evening. As a hockey player (full disclosure: not a very good one; and also one who has also let regrettable words fly in the heat of the moment), I can empathize with my fellow JHLers who bring their passion to the rink. Emotion is an integral part of every sport and channelled constructively, that fervour and spirit can—and often does—help bring hockey to a higher level.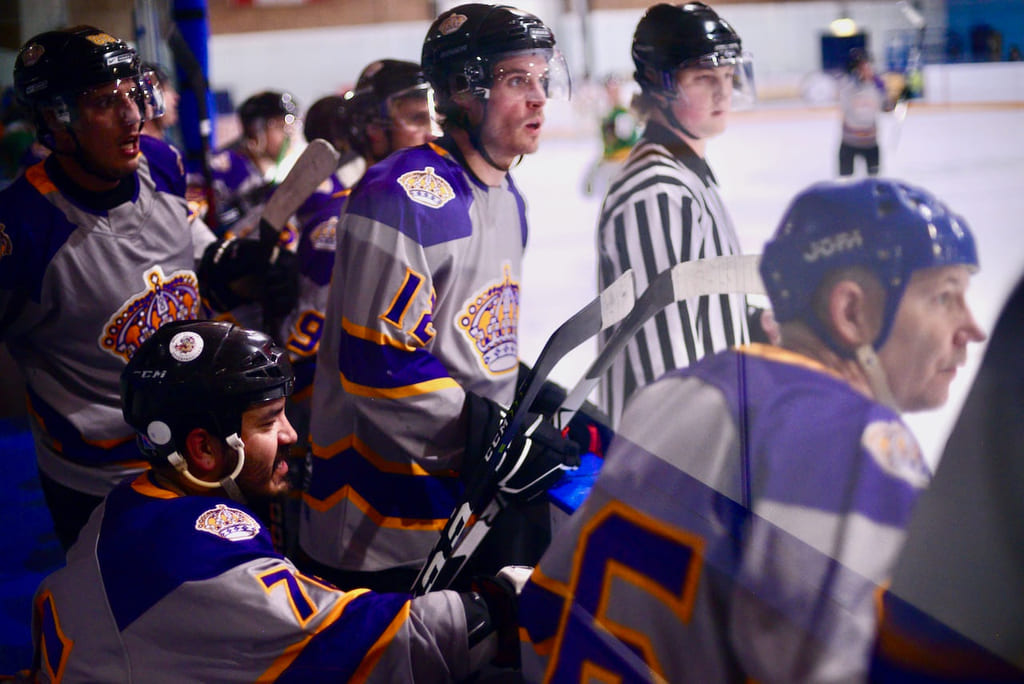 Left unchecked, however, those primal instincts can bring the game down. Worse still, when it's encouraged, those violations can leave an entire community feeling discouraged for the future of the game. Even if the immature brawls and outrageous attempts to injure witnessed in the last JHL game of the season were nowhere near the worst transgressions that took place in a Canadian arena this week, it's still safe to say the collective hockey culture in Jasper took a nose dive this past Super Sunday.
---
---
Defenders of fighting in hockey can save their breath: this isn't the pros; not even close to it. This is a group of people who, besides sharing an ice surface several times per year, share a small town. When players, instead of playing, resort to delinquent, volatile behaviour, it compromises our sense of community—which, if you were watching the JHL games over the weekend, is no small thing. For 95 per cent of the tournament, the Jasper Arena was absolutely aglow in community spirit. The atmosphere had a beautiful buzz, being enjoyed as it was by a diverse, dynamic and appreciative audience. So when it soured—by exactly the same means a hundred good hockey games go off the rails: one team goes ahead on the scoreboard, the game gets gradually rougher, the referees attempt to establish control before a spark ignites and a fight breaks out—it was a fairly demoralizing let-down. It was particularly disappointing when you considered the minor hockey players in the stands—whose parents, coaches and role models not only were excited to watch the game with them, but in some cases were the ones fighting on the ice.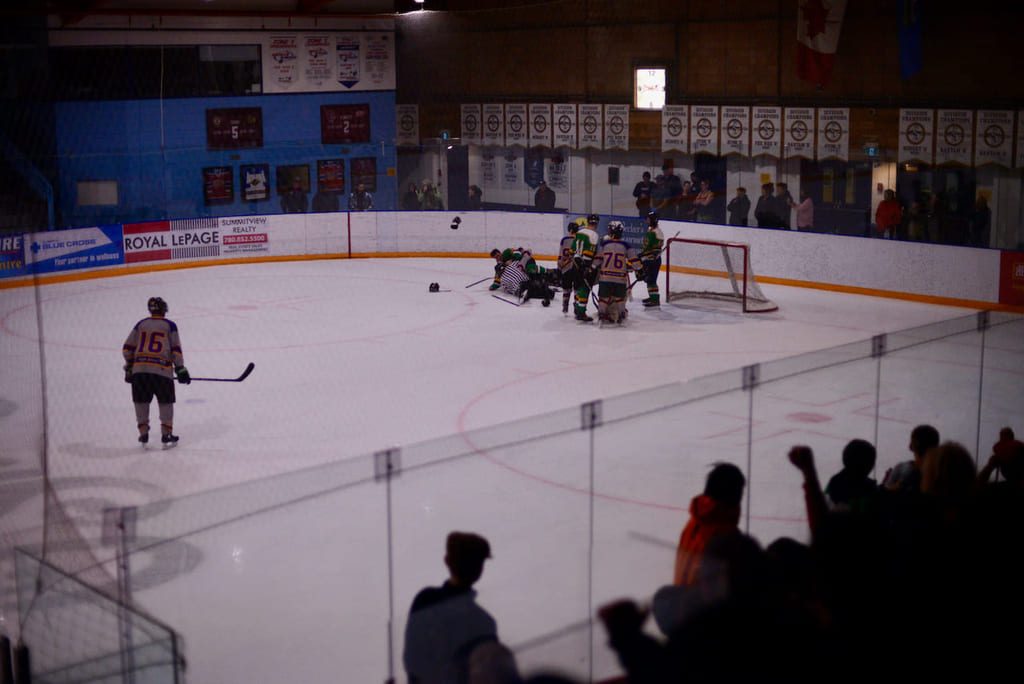 And don't blame this on the referees. Those who can't see the difference between competitive, hard-nose hockey and attempts to inflict harm are part of the problem. Shrugging off violence because seeing it unfold is somehow titillating and because holding the perpetrators to account is socially inconvenient is precisely how hockey has found itself, at the highest levels in this country, in such a broken, corrupt state. If you are inclined to cast aspersions at the officials for letting the game "get out of hand," try skating a mile in their boots.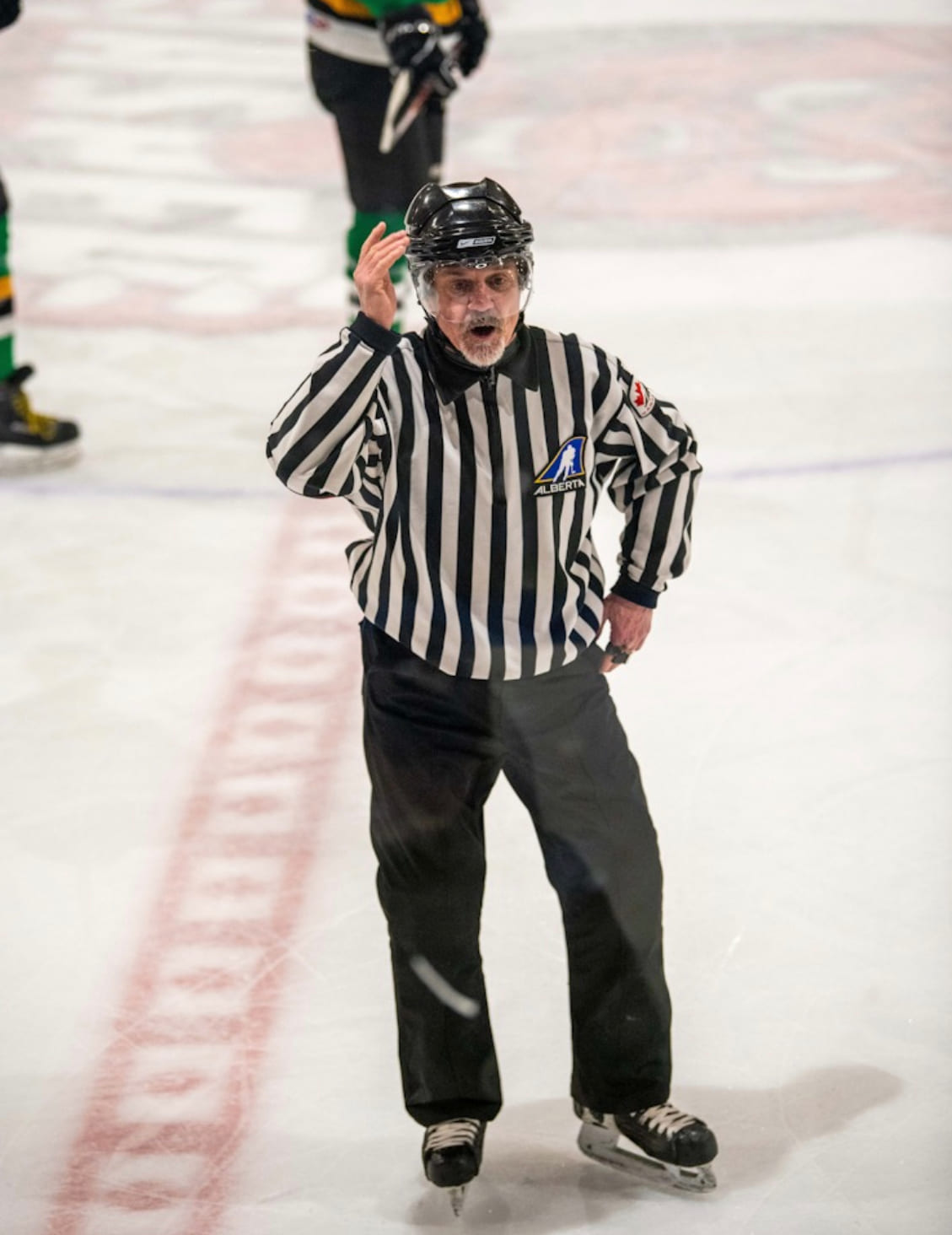 I can already picture some of the blowback to the idea that putting hockey equipment on doesn't give you permission to act like an asshole in public. I can hear the chirps about a lack of hockey skill and experience disqualifying my conviction that functioning adults should have an ability to practice an iota of self-control.
---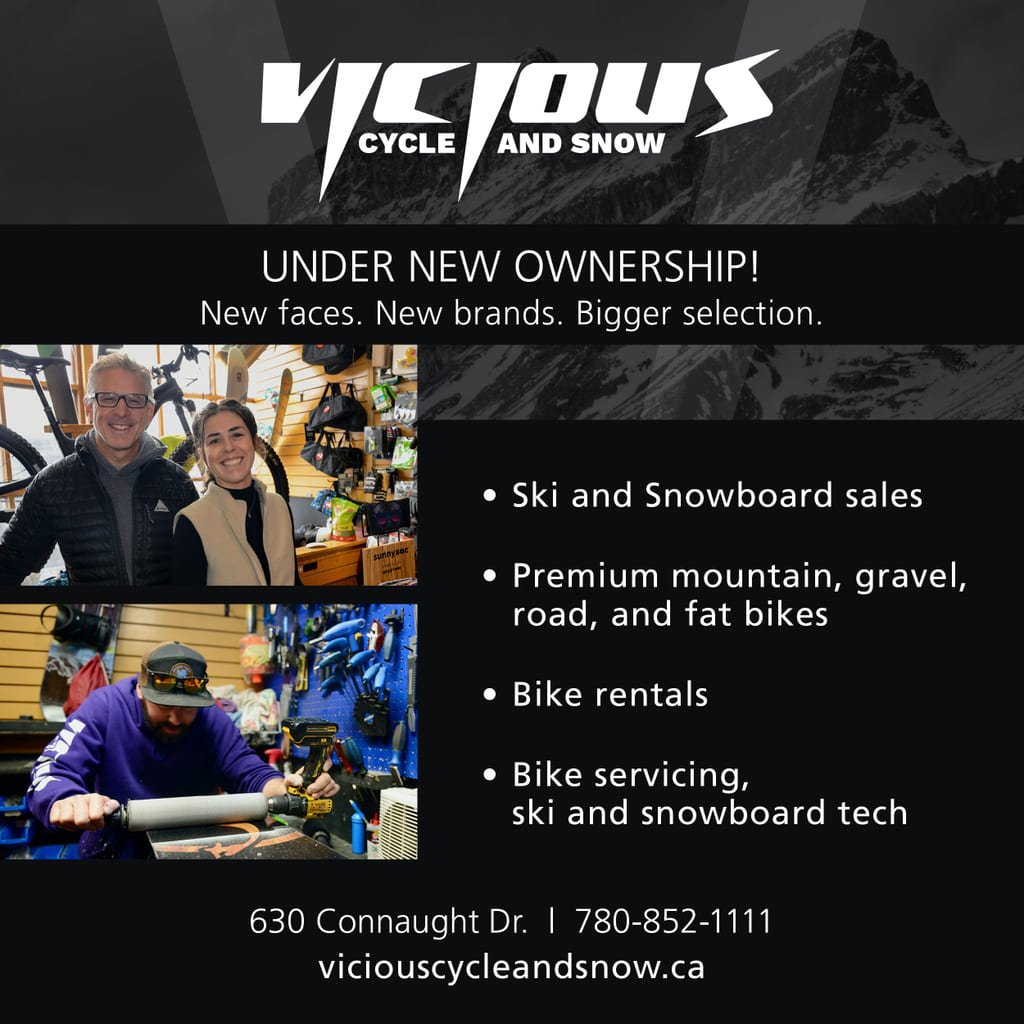 ---
And I can only imagine the old guard (every hockey town has them) rolling their eyes at the woke-ness of suggesting that what we saw with two minutes left in the last period in the last game of the season was idiotic, ignorant and unacceptable.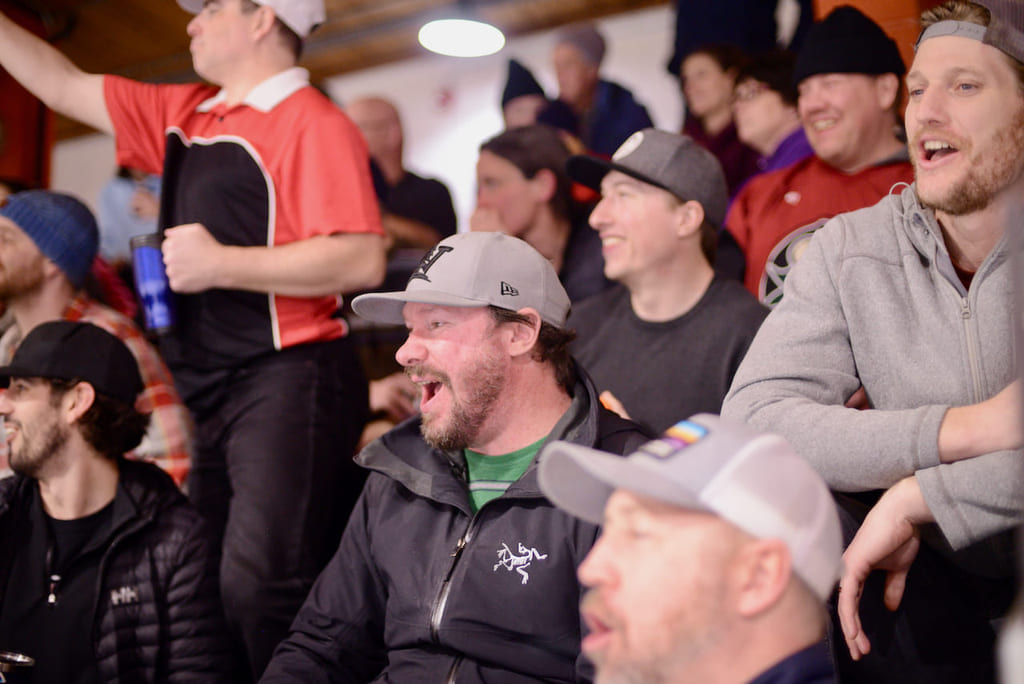 But hey: if that's the consequence of taking a stand against shitty sportsmanship and bullying behaviour, I'm happy to take those lumps. What I can't abide, is people with whom I share a hockey rink and a community putting opponents, officials and themselves in dangerous situations. The stage is set for the most exciting game of the year and you're looking to assault someone? What's broken in you?
As a hockey player, I'm empathetic to playing the game with emotion. But like many of us who lug our bags to the rink every week, I'm not just a hockey player: I'm a hockey parent and a hockey fan.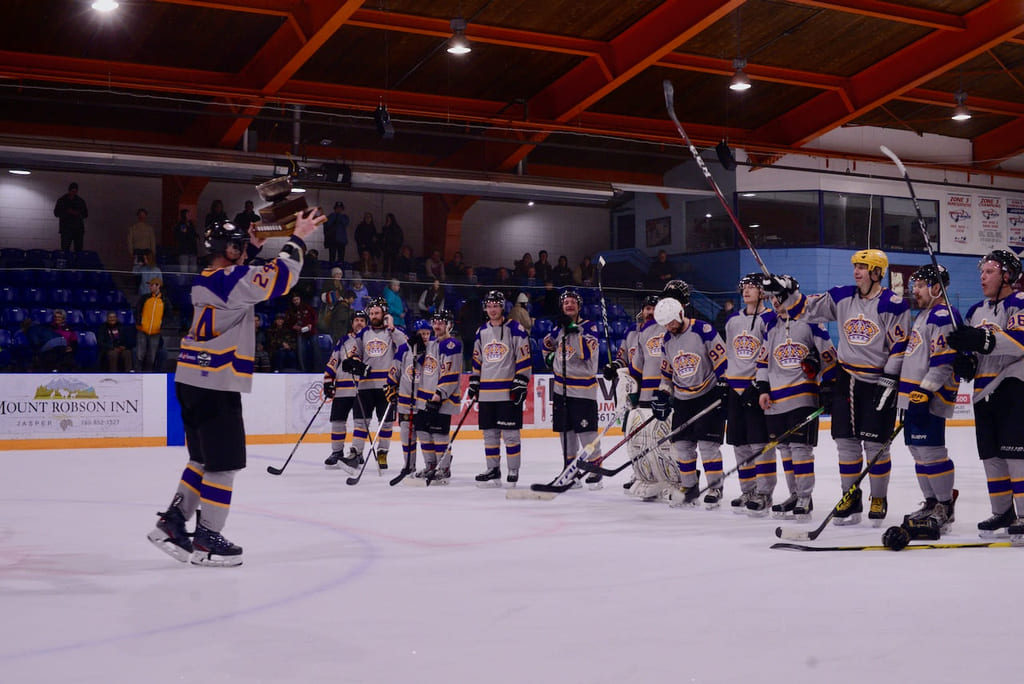 The JHL crowned its winners on Super Sunday. But when we as players forget about our other roles, disregard the example we're setting for future players and allow our worst tendencies to overtake our common sense and overshadow the incredible hockey community we can enjoy in Jasper, we all lose.
---
Bob Covey // bob@thejasperlocal.com