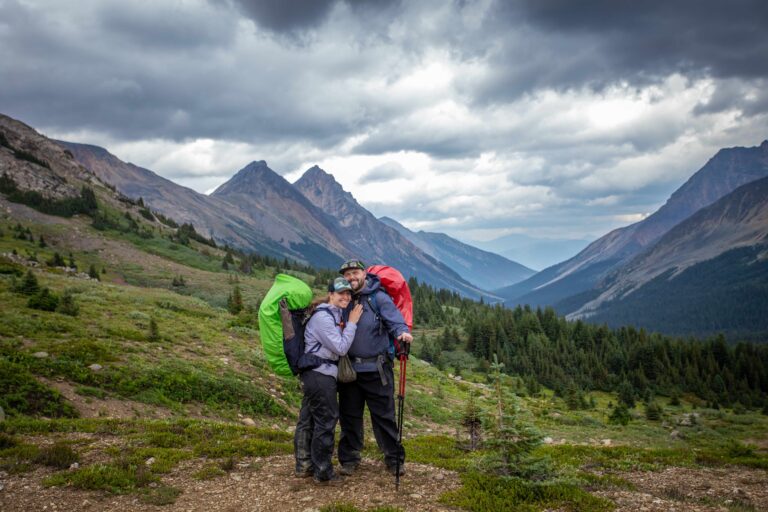 Monday, July 10, 2023
Helicopter evacuates injured campers after wind-blown tree hits tent
Four hikers are happy to be home after a wind storm knocked over several trees in their campsite in the Jasper National Park backcountry and injured two sleeping campers.
On July 1, Jasperites Jeff Baker and Megan Posein, along with their hiking partners from Calgary (who asked that their names not be used for this article), had set up their tents at the Clitheroe Campground, a 17 km hike into JNP's storied Tonquin Valley from the Cavell Road/Astoria River trailhead.
The groups did their best to select two tent pads far away from dead-standing trees, which they knew could be susceptible to being blown over by wind.
"Nothing screamed deadfall, which is something we consider every time we go out to camp," Baker said.
The night was cold and wet; the group were tucked into their sleeping bags by 10 p.m. After the long walk, Baker was soon sound asleep. But Posein lay awake, listening to the increasingly-strong wind.
"It's like a wind tunnel in there," Posein said of the Clitheroe site, which is less than two kilometres from Amethyst Lake, where the group intended to go fishing the next day. 
As she tried to drift off, suddenly, at approximately 12:20 a.m., a powerful gust blew down the valley. Posein said she could hear trees being ripped up by their roots.
"It was almost like thunder, but with a ripping sound," she said. "It was coming toward us."
Through the wafer-thin tent lining, Posein heard a tree crack and come crashing down, very close by. Then she thought she could hear people's voices. Baker, who had been roused by the commotion, couldn't be sure it wasn't more howling wind.
"Then we heard screaming from the campsite," Baker said.
Posein spent a decade working as an Emergency Medical Responder in the oil field. Although she and Baker wanted to rush into the night to help whoever was yelling for help, she remembered her training, which instead prioritizes the safety of the responder.
"We took the time to get our rain gear on—you don't want to get hypothermia," she said. 
As the couple geared up, they could see a headlamp bobbing toward their tent. Another camper—not their friends—approached and asked them if they were Jeff and Megan. He told them their friends had been struck by a fallen tree. He had just helped extricate them from their tent—which, after being crushed and entangled in the canopy of the tree, was no easy feat.
"He jumped into action mode and hauled them out," Baker said. 
Herding them into her and Baker's tent, Posein assessed their friends' injuries. Both had taken a hard knock—one had a broken nose and a very tender sternum, the other was nursing a sore arm. Posein was worried they were concussed.
"I knew she had sustained head and chest trauma, her one pupil was not reacting to light like I wanted it to," she said. 
The injured couple was carrying an emergency satellite communication tool. As they were considering the unknown internal afflictions suffered by their friends, Posein and Baker decided to call for help.
"At that point we were like 'this is it, we have to call for help,'" Posein said.
Using their Garmin inReach, they were able to text with Parks Canada's public safety team, who told the hikers that they should seek out the Tonquin Valley warden cabin, located about a half kilometre back down the trail. Baker and Posein went off in search of the cabin. When they got there at 1:30 a.m., they woke the staff who were there on a bird-surveying assignment. Using the radio at the cabin, those JNP employees called for a helicopter rescue—which would be initiated at first light, they learned.
Baker and Posein then went back to Clitheroe to check on their friends, whose spirits were buoyed by the news that they could seek shelter at the cabin with the bird biologists. Bakker and Posein then got back into their tent to rest for their long hike out.
"There was nothing wrong with us, we weren't getting on a chopper," Posein said.
Exhausted, the Jasper couple slept until they were awoken by the sounds of the rescue helicopter hovering over their camp, then land in the vicinity of the cabin.
"That was a weight off our shoulders," Baker said. "We heard it land, power down, then start up again after 10 minutes and take off."
That afternoon, as Baker and Posein hiked out and recounted the harrowing experience, they reflected on the utility of the satellite messenger device that enabled them to call for help.
"That ability to communicate saved us," Baker said. 
Other factors played in their favour: a small embankment and bramble of bushes likely cushioned the full brunt force of the fallen tree when it fell on their friends' tent. And the fact that the campground was full of helpful hikers was also fortunate, they said.
"You could not ask for a more perfect, horrible situation," Baker said.
Parks Canada said when visiting Jasper National Park, the public should be prepared for any weather, anytime of year.
"Safety is a top priority for Parks Canada and anyone travelling into the backcountry are responsible for their own safety," the agency said in an emailed statement.
Jasper National Park staff strongly recommend carrying a satellite messenger device into the backcountry, in case of an emergency.
In addition to reliable communications and proper gear for travelling in the backcountry, Parks Canada says the public should also be prepared for rapid changes in weather, trail conditions and road access; wildlife encounters, warnings and closures; variable and changing river and stream levels, as well as challenging water crossings; and low, poor or no light conditions that may require route finding and navigation.
"There are inherent risks in camping in naturally forested landscapes, especially during severe weather events," said Janelle Verbruggen, JNP's media relations officer. "This level of preparedness is commendable and an example of how being prepared can make a difference."
---
Bob Covey // bob@thejasperlocal.com