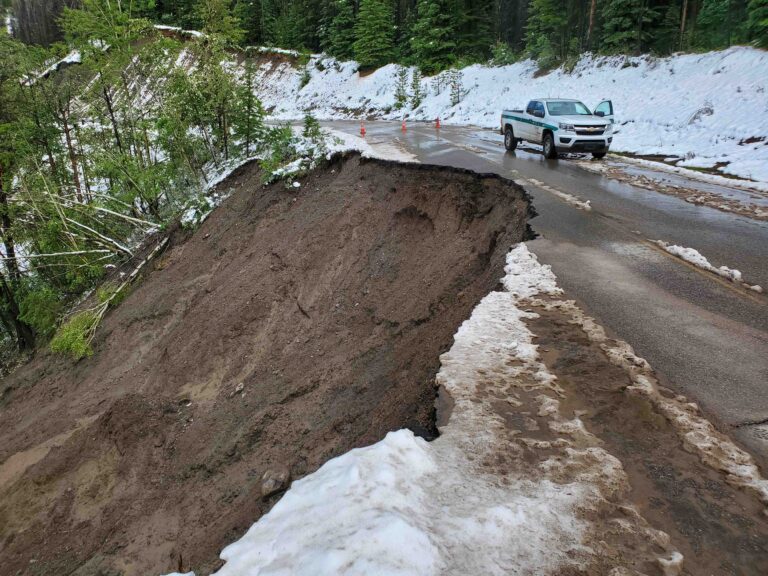 Thursday, July 20, 2023
Update on closed Miette Road expected in August
The Miette Road is still closed after significant damage sustained from a snowstorm one month ago.
In a statement, a Parks Canada spokesperson said the agency is awaiting the results of tests to determine if and when the road can be opened.
"If the report determines that a portion of the road can safely be used for single lane alternating traffic, Parks Canada is prepared to implement mitigations to allow access as soon as possible," the spokesperson said.
The report is due in early August.
During the June 19 storm which saw more than 100 mm of precipitation fall in Jasper National Park over a 24 hour period, a mud slide washed out a portion of the Miette Road, making it unsafe for vehicle traffic.
The Miette Hotsprings and Miette Bungalows remain closed and a JNP superintendent's area closure order is in place. This includes access to the Sulphur Skyline Trailhead.
"We recognize this situation impacts visitors' travel plans and is difficult for businesses and their staff," the spokesperson said. 
After the June 19 storm, Parks Canada engaged an engineering firm to assess the integrity of the road and identify options which could provide safe short term road access to the area. During the week of July 10, the engineering firm conducted borehole drilling to monitor the groundwater and slope stability near the point of failure.
The results of those tests will inform Parks Canada on how to proceed.
"The report will also provide a design for a long-term solution. Work on the long-term solution is expected to be underway by the end of the summer," the agency said.
An update on the reopening of Miette Road, Miette Hot Springs and the Sulphur Skyline Trailhead will be provided as soon as new information is available, the spokesperson said.
"Safety is a top priority for Parks Canada and safety is a shared responsibility. Parks Canada only closes roads when absolutely necessary, when weather, road or avalanche conditions present a risk to human life."
When roads are closed, gates are locked for the safety of park visitors and motorists, the agency said.
"Breaking gates or intruding into area closures is unsafe and illegal."
For the most up-to-date road conditions, check Alberta 511.
---
Bob Covey // bob@thejasperlocal.com