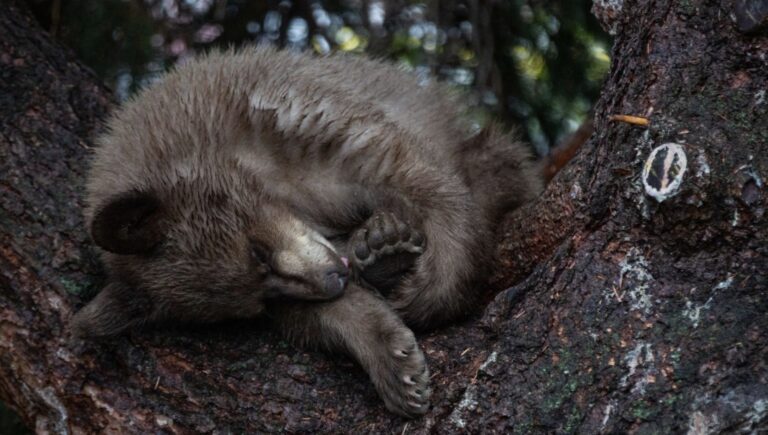 Friday, September 22, 2023
Injured black bear euthanized
Parks Canada wildlife specialists euthanized a black bear cub after it was seriously injured in what appears to be a railway incident.
For the last four weeks, a recognizable black bear family, comprised of a mother and her three cubs, had been frequenting the Jasper townsite. The family was easy to spot because the adult female and two of the cubs were a light cinnamon colour, Parks Canada wildlife officials said.
Sometime on September 7 or 8, Jasper National Park officials say, one of the cinnamon-colour cubs lost one of its hind legs due to a severe injury.
"The injury was consistent with what we'd expect to find in a railway incident, but we can't point at that definitively without having witnessed it," said David Argument, Resource Conservation Manager for Jasper National Park.
The family unit was spotted with the injured cub in the Jasper townsite on September 9, but by the next day, the mother had abandoned the injured cub. On September 11, the cub was reported alone outside of town.
Parks Canada determined the probability of the injured cub surviving was extremely low.
"Wildlife specialists…made the difficult decision to capture, sedate and humanely euthanize the cub," a statement from Jasper National Park said.
Fruit trees attracting next generation of bears
Wildlife officials point to the bounty of unnatural food attractants as the source of Jasper's consistent issues with bears frequenting the townsite.
"Mother bears are teaching their cubs that the town's 700-plus fruit trees are a good source of food," the agency says. 
Earlier this fall, a family of bears was trapped and relocated to the east part of Jasper National Park after officials determined their repeated behaviour of accessing residents' yards posed an untenable risk to human safety. Another yearling bear got the same treatment last week.
"Each day spent in town further habituates these bears and reduces their wariness of humans, vehicles and trains," Argument has said. "Once bears feed on fruit, they will repeatedly come back for more."
Tree removal reduces risk to public safety
Removing fruit trees is the best solution to this growing problem, Parks Canada states. Parks Canada is asking the community for help to secure or remove bear attractants in the townsite.
Picking fruit (including ornamental berries) is one option to help reduce the likelihood of bears accessing residents' yards. As is bear-proofing trees (electric fence or by covering the base in tin).
"[But] the most effective thing you can do is remove your fruit tree," an email to JNP stakeholders states.
Jasper National Park and the Municipality of Jasper are working together to remove non-native fruit trees from town property, but wildlife officials say the effort must encompass residential neighbourhoods, too.
"This effort must be community-wide to truly make an impact and give bears the highest chance of survival," the agency said. 
Parks Canada asks anyone who spots a bear in the townsite to report the sighting to Parks Canada dispatchers, 780-852-6155.
---
Bob Covey // bob@thejasperlocal.com